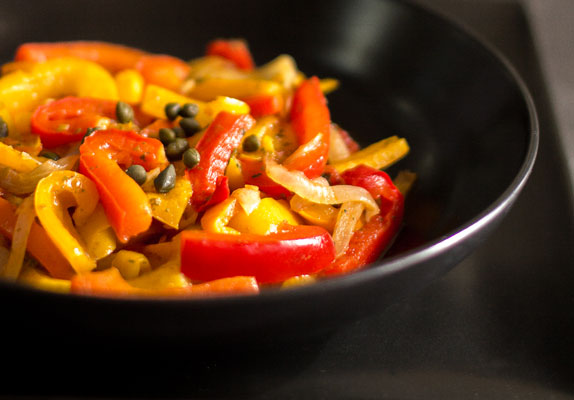 Sweet Pepper Stew is a version of the Italian dish – Peperonata – that is normally made in the fall when there is an abundance of different colored sweet peppers. However, several years ago Bobby made this lovely dish for me for Valentine's Day and it's been our traditional Valentine's Day dinner every since.
Buying organic fresh sweet peppers this time a year is not cheap, but this dish is well worth the price. To the peppers we add frozen tomatoes and basil from our summer garden, along with a few capers.  After resting in the refrigerator overnight, this sweet pepper stew becomes quite "juicy" from the tomatoes and flavorful from the melding of all of the wonderful ingredients.  You can eat it by itself, or serve it with a nice baguette or homemade bread.  It's also quite good over creamy polenta.  Finish your meal off with a Coffee Scented Chocolate Pot for a delicious and memorable Valentine's Day home dining experience.
What is your traditional Valentine's Day meal?