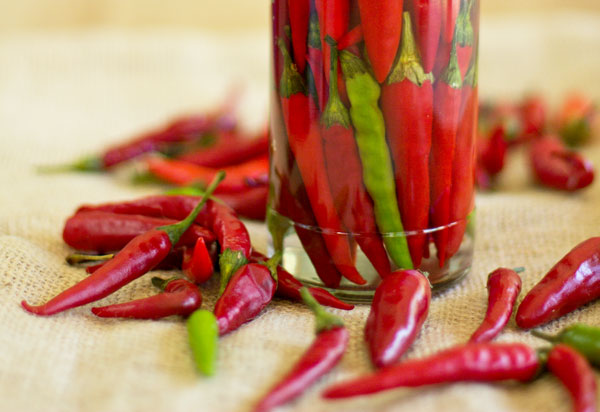 It's the first of October and it's getting chilly here, so this year's green chile crop is just about over. I roasted my last batch yesterday.

Any chile peppers still on the plants are turning red and even they are almost gone.  However, the smaller chiles, like chile pequin (above), jalapeno, and chile de arbol, are still quite plentiful which is a good thing because I recently discovered that I'm totally out of pepper sauce.  Everybody's gotta have a pepper sauce to finish off dishes like black-eyed peas, pinto beans, greens, stews, and succotash.  Just sprinkle a few or a lot of drops/dashes on top of each serving for some flavored spice, just like you would use Tabasco.
My mother taught me how to make pepper sauce when I was a kid and I've been using her method ever since.  It's easy, it's good, and you can use any type of hot, fresh pepper – chile pequin, chile de arbol, Thai chiles, jalapeno – any hot, small chile pepper.  When I went to the market to get some chiles, it had a bunch of chile pequin. So there you go – chile pequin pepper sauce it is.  To make this sauce all you need are peppers, vinegar, salt and a bottle.  Can't get much easier than that.  Make it now and it will be ready in a couple of weeks to use on fall greens.  By the time you're making those black-eyed peas on New Years Day, you'll have a really nice, hot pepper sauce.  Put it in the refrigerator and it will keep indefinitely.