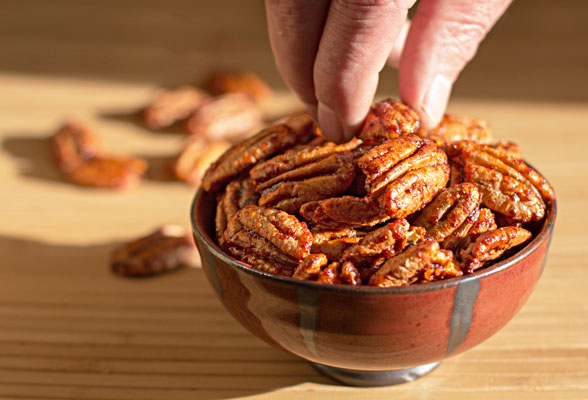 When you live in a state that is one of the top three pecan producers in the U.S., why buy pecans from anywhere else.  On a yearly basis, Bobby and I go through about 20 pounds or more of New Mexico shelled pecans.  Last week I bought my first 5 pounds of the year from the New Mexico Pecan Company and just couldn't resist making a couple of batches of these red chile pecans.
We love these pecans!  They're spicy, but not too much, and just a little sweet.  The spiciness comes from a medium hot Dixon or Chimayo red chile powder and the sweetness from maple syrup, as well as a bit from the chile.  With only five ingredients (one being the pecans), these red chile pecans are SO easy to make, but the problem is, they are addicting.  This makes them disappear as fast as you can make them.  Of course the solution to that problem is to make a double batch and that's easy to do.
If you need another reason to make these red chile pecans (which I doubt, but just in case), I'll give you several.  Pecans contain potent antioxidants, a plethora of minerals (e.g., potassium, manganese, copper, zinc, magnesium), thiamin (B1), and fiber.  Yes, they are high in fat, but over 50% of the fat content is monounsaturated.  Less than 9% of the fat comes from saturated fats.  They are relatively low in sugar compared to some other nuts, but taste sweeter.  For a complete breakdown of the nutrition of pecans, check out these charts from nutritionvalue.org.
Sweet and Spicy Red Chile Pecans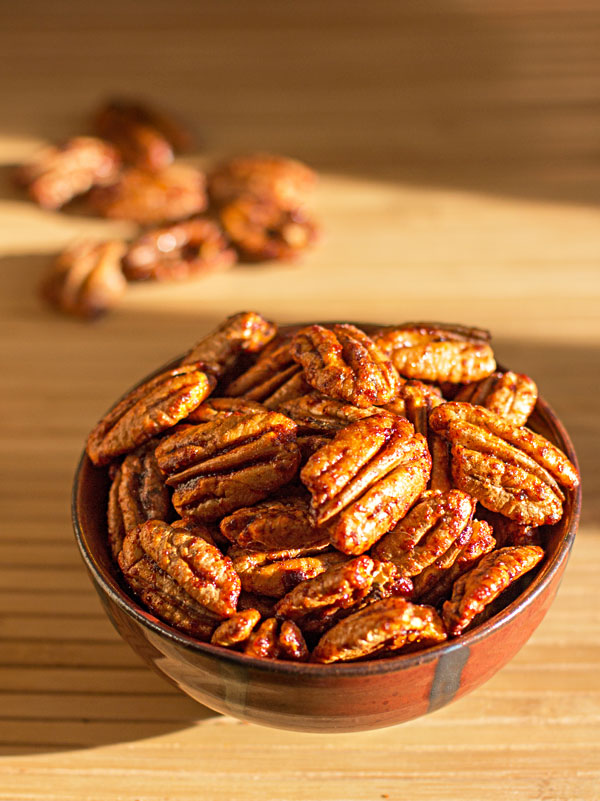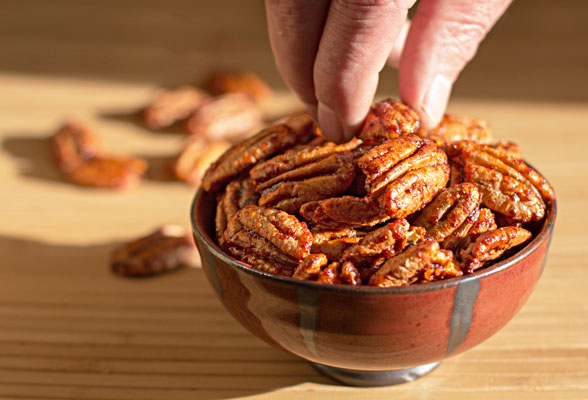 Roasted Maple and Red Chile Pecans
Red chile pecans make a nice little snack - slightly sweet, a little spicy, and totally addicting.

You may need to REFRESH page to print or save.
"*" See Kitchen Notes for more information or links to special ingredients.
Course:
Red Chile, Snack, Vegan
Cuisine:
New Mexico, Southwestern
Ingredients
1/2

pound

pecan halves*

(generous 2 cups)

1

Tbsp.

canola oil

2

Tbsp.

maple syrup

1

Tbsp.

medium to hot red chile powder*

1/2

tsp.

sea salt
Instructions
You'll need a sheet pan large enough to spread 2 cups of pecan in one layer.


In a medium size mixing bowl, whisk together the oil, maple syrup, chile powder and sea salt. Once well blended, add the pecans.


Using a spatula, stir the pecans to coat evenly with the chile/maple mixture.


Spray or wipe the sheet pan with oil.


Spread the seasoned pecans out in one layer in the sheet pan.


Place pecans in preheated oven. In 10 minutes, remove from oven and stir the pecans. They will be moist and sticky. Return to the oven.


At this point, stir the pecans every 5 minutes until done. With each stirring you'll see the pecan coating getting less and less sticky and the pecans starting to roast or darken.


After 25 minutes, the pecans should be nicely roasted, drier, and easy to separate. If still sticky, return and roast another 5 minutes.


Transfer to mixing bowl, and stir with spatula to separate and cool. Let pecans cool in the bowl, stirring occasionally to keep them from sticking together.


Once cool, transfer to an airtight container and enjoy!

Kitchen Notes
Pecans - Pecan halves are better than pecan pieces, but if pieces are what you have, then don't hesitate to use them.  However, cut the roasting time by 5 - 10 minutes.
Amount of pecans - If you are looking for a hint of sweetness and a hint of spice, then increase the amount of pecans to 3/4 cup.  Keep the other ingredients and instructions the same.
Red Chile Powder - For this recipe, I use New Mexico powders, specifically Dixon Red Chile Powder or Chimayo Red Chile Powder.  Both of these powders have a slightly sweet finish which works nicely with the maple syrup and the sweetness of the pecans.  For a little more spiciness, throw in 1/2 tsp. of a hotter chile powder such as cayenne or serrano.
If you don't have  New Mexico chile powder, other chile powders could be used - Kashmiri,  Serrano, Korean red chile, murupi amerela, or whatever you like.  Chipotle would yield a very smoky and very hot pecan.  Also, you could use a blend of chile powder for a more complex flavor profile. Just be careful not to use a bitter tasting chile or one with a bitter finish. What you taste in the chile is what you taste in the final product.
This is a good recipe to play around with different flavors.  Have fun!
Red Chile Pecans make a nice healthy afternoon snack.  They are also a great snack to take on road trips or throw in the lunch box.  If you are looking for more healthy snacks, then check out these out.
Apple, Walnut and Raisin Snack
Spicy Roast Chickpeas by Kitchen Riffs
Persian Style Candied Almonds with Lime by Ahu Eats
Quinoa Crispies (with Truffle salt) by The Wimpy Vegetarian
Parting Shots
Pecan groves of southern New Mexico.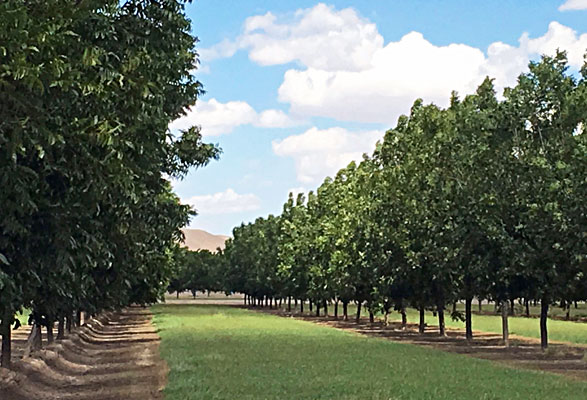 Flood irrigation is used to water the trees.  Because New Mexico is prone to droughts and water restrictions, many farmers are working on ways to reduce the amount of water needed for flood irrigation.