The bolita bean is similar to a pinto bean. It is high in protein, but a little sweeter with a creamier texture, and, from what I've read, easier on the digestive system. If you're not familiar with the bolita bean, it is a small pinkish bean similar in shape and size to the pinto (as you can see in the picture).  It's locally grown here in New Mexico and can be found at many of the Growers' Markets in the fall. It can also be purchased online from farms like Schwebach Farms and Sichler's Farms.
The stories I've read say that bolita beans were first cultivated in Peru 10,000 years ago and brought north to New Mexico by Spanish settlers. They became an important crop of the American Indians of northern New Mexico who still grow them along with many other farmers in central and northern New Mexico.  Today, bolitas are grown throughout the Four Corners area and other parts of the southwest.  Apparently, it is a good crop for the southwest because its root system is deep, making it able to withstand dry spells and drier climates like ours.
I use the bolita beans in much the same way I use pinto beans.  The dried beans can be cooked using the same recipes as those for pintos, but do take longer to cook.  Like most of my dried beans, I pressure cook them after a 4 hour brine.  For the following recipe you can use either bolita or pinto beans; however, bolita beans require a 20 minute pressurized cook and pinto a 12 minute cook.  If you don't have a pressure cooker, you can always slow cook them on the stovetop (or possibly a slow cooker), like I do with small red beans.
BTW – If this post sounds familiar, it's because you may have seen parts of it before.  Six years ago, I talked about the bolita bean within my Spicy Bean Salad Recipe, but because we love these beans and use them so much, it was time to give them their own space.
Bolita Bean Recipe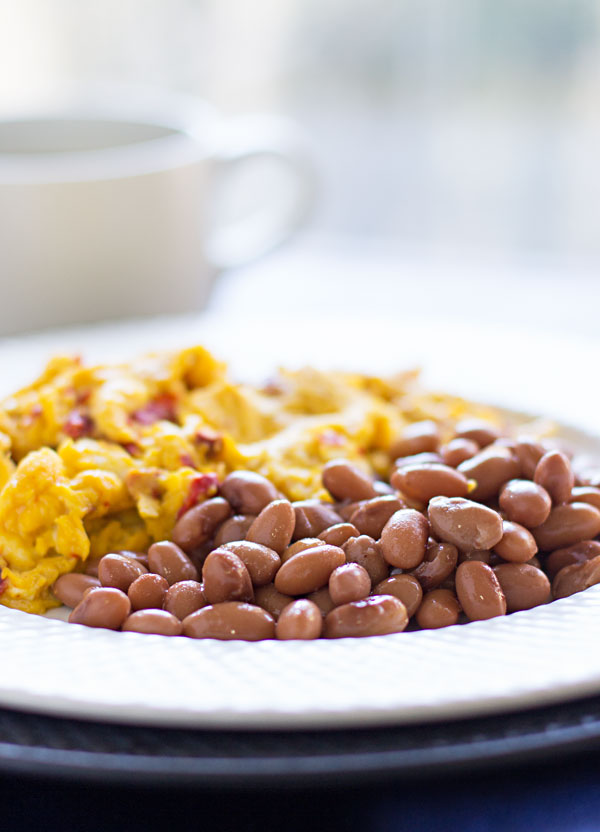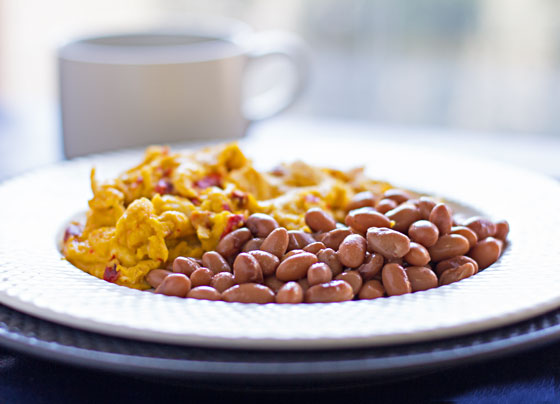 Spicy Bolita Beans Recipe
The bolita bean is similar to the pinto, but cooked, it's a little sweeter and creamier. Use in the same manner as you would pinto beans.

You may need to REFRESH page to print or save.
"*" See Kitchen Notes for more information or links to special ingredients.
Course:
Dried Beans, Side Dish, Vegan, Vegetarian
Ingredients
2

cups

dried bolita beans

6

large cloves garlic,

minced

½

onion,

finely chopped

½

tsp.

cumin

1

tsp.

oregano

1

tsp.

salt

1

tsp.

red chile powder

3

dried chipotle peppers,

stems removed or 1 Tbsp. red chile paste*
Instructions
Brine the beans in a large bowl for 4 hours in 1 Tbsp. salt and enough water to cover beans by at least an inch. After 4 hours, drain and rinse.

Transfer beans to the pressure cooker. Add enough water to cover the beans and then 1-2 inches above.

Add the remaining ingredients.

Following the instructions for your pressure cooker, pressurize the cooker. Cook for 20 minutes and turn off the heat. Let the cooker depressurize for 10 to 15 minutes to release the internal pressure.


Once depressurized, open the lid and taste beans for doneness and seasoning. If they aren't done, then continue to simmer until done. Keep an eye on the liquid. If it gets low, add about 1/2 cup water and continue to simmer. If they need salt or additional seasoning, add it now.


Once done, remove the chipotle peppers. If you want more heat, chop the chipotle peppers and return to the beans.

Once cooked to your liking, serve and enjoy!

Kitchen Notes
To learn more about brining and pressure cooking beans, see More Information About Pressure Cooked Beans.
Suggested uses (Links to recipes at the end of this post):
A hot bowl of beans with a few select toppings and a warm tortilla
Spicy bean burrito, taco or tostada
Spicy bean enchiladas
Spicy beans and rice
Topping on baked potato or sweet potato
Side for grilled meats
Ingredient in Spicy Bean Salad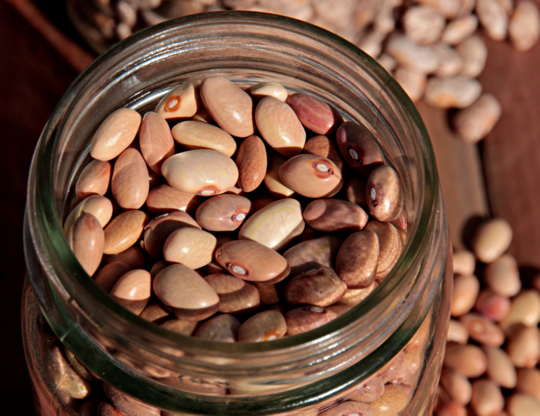 Other recipes for bolita beans:
Slow-Cooked Red Beans (replace with bolitas)
Three Sisters with Tomatillo-Green Chile Salsa
Fajita Style Bean Burritos with Red Chile
Quick and Easy Green Chile Stew
Chicos and Bolita Beans from The Taos News
Bolita Beans with Red Wine, Smoked Paprika and Jalapeno from Cooking on the Ranch
Bolita Beans Recipe from Beneficial Farms, New Mexico
For a little information about many different varieties of beans, lentils and peas, visit Purcell Mountain Farms.  It's a great resource for beans lovers.