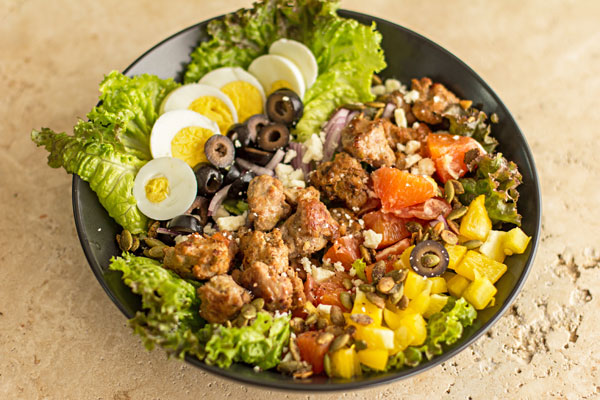 [Jump to recipe for Green Chile Sausage]
Today you're getting two recipes for the price one – a Green Chile Sausage recipe and a Composed Salad recipe that uses the green chile sausage as a salad component.  Normally, I would never have considered using sausage in a salad, but this chile sausage has a flavor profile that allows it to be used in a variety of ways, including in salads.
The composed salad shown here is just one variation of a salad using green chile sausage.  There are many other ingredients that can be used in addition to or in place of what you see here.  The recipe below lists the ingredients shown and a few other ingredients that are complementary to the green chile sausage.  Of course, putting together a salad like this usually just comes down to using what you have on hand.
Regardless of the combination of ingredients you choose, I think that once you add the sausage you'll discovered, as I did, that this green chile sausage makes a very tasty salad!  In addition to using it in a salad, this sausage can be used in many, many other ways.  A few suggestions are listed in the recipe.
Composed Salad with Green Chile Sausage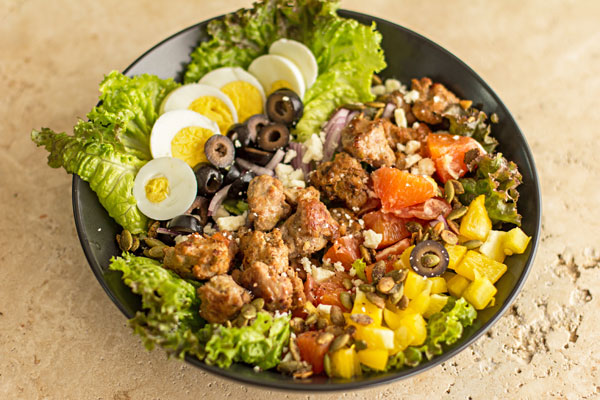 Composed Salad with Green Chile Sausage Recipe
This salad has all of the components for a hearty and healthy meal. Use the ingredients listed or make up your own.

You may need to REFRESH page to print or save.
The recipe includes the ingredients shown in the picture but also lists other components that can be used. I'm sure you can come up with some of your own.
*See Kitchen Notes for substitutions and further information.
Course:
Main Course, Salad
Ingredients
The amounts listed are for two people, but are not exact.
Lettuce

(optional)

1/2

pound

green chile sausage*,

crumbled into bite size pieces

1/2

medium

sweet bell pepper,

sliced, cut slices in half

2

hard-boiled eggs,

sliced

1

large

orange*,

wedges cut into pieces

10

black olives,

sliced

A

few

slices of red or sweet onion

1/4

cup

cotija cheese,

crumbled

1/4

cup

Sweet and Spicy pepitas*
Other ingredients you could add or use as substitutions
Home fries* or wedges

Avocado slices or chunks

Corn

Blanched Carrots

Chopped fresh cilantro
Salad Dressing*
1

Tbsp.

lime juice

1

tsp.

honey

3

Tbsp.

olive oil

salt and pepper, to taste
Instructions
Preheat a medium-size skillet. Crumble the sausage into bite pieces (as shown), and transfer to skillet. Cook over medium-low heat for about 5 minutes, stirring occasionally, until the sausage is just cooked through. Don't over cook it or else it will be dry.


If using lettuce, line two bowls or plates with torn lettuce. If not using lettuce, move on to step 3.


Divide the ingredients between two plates, arranging in rows or individual piles.




In a small bowl, whisk together the salad dressing ingredients. Taste. Adjust needed.


Drizzle the dressing over the two salads. Go light because this salad doesn't need much.

Kitchen Notes
Green Chile Sausage - This sausage is a very satisfying complement to the ingredients listed; however, you could also use Mexican chorizo, hot Italian sausage or your favorite spicy breakfast sausage.
Orange - During the winter months, we always go with with Cara Cara oranges, but you can use whatever you want as long as it's a sweet and tasty orange.
Salad Dressing - The salad only needs a simple oil and vinegar dressing if anything as all.  If you want to eliminate the dressing, just top with a sprinkle of salt and pepper.  Here are a couple of dressing ideas that would work:  Green Chile Salad Dressing and Peppered Cucumber.
A couple of other composed salads you will enjoy:
Grilled Meat and Late Summer Vegetable Salad
Green Chile Sausage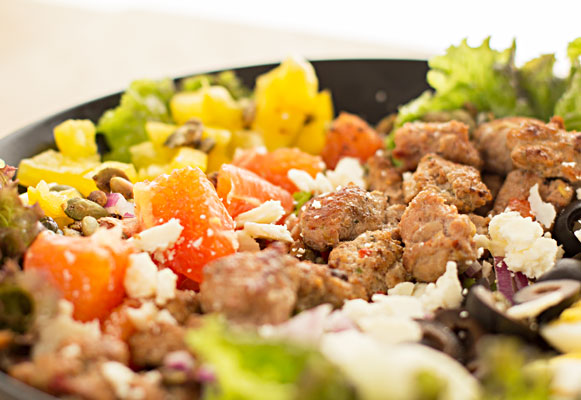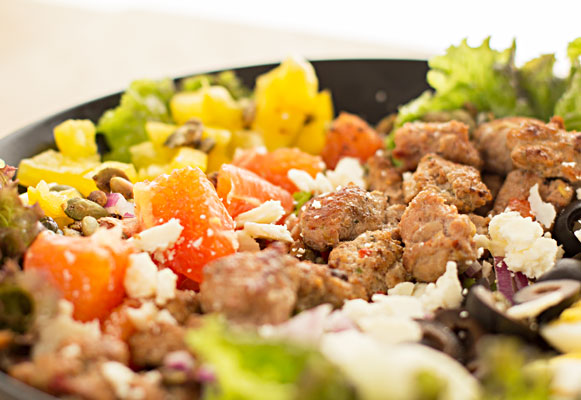 Green Chile Sausage Recipe
Green chile sausage is a spicy sausage that can be added to salads, eggs, soups, stews, burritos, breakfast bakes, and to so many other dishes. It's extremely easy to make. Just combine a few spices and some roasted chile with ground pork and chicken, let rest in the refrigerator for a couple of days, then freeze or use.
You may need to REFRESH page to print or save.
*See Kitchen Notes for substitutions and further information.
Course:
Chicken, Meat Entree, Pork
Ingredients
1

pound

ground dark chicken meat*

1

pound

ground pork*

1

large clove garlic,

minced

1

generous Tbsp. minced shallot

½

tsp.

ground coriander

½

tsp.

mild / medium green chile powder*

(optional)

½

tsp.

ground white pepper

½

tsp.

red chile flakes*

½

tsp.

smoked paprika

½

tsp.

salt

½

tsp.

crushed dried oregano

1

Tbsp.

apple cider vinegar

zest from 1 small lime

¼

cup

minced, roasted green/red chile*,

well-drained
Instructions
Place all ingredients (except for roasted chile) in a stand mixer and thoroughly mix together or do it the old fashion way and use your hands. Just be sure to use gloves because chile is involved.


Add the roasted chile and mix for 1 minute or until evenly distributed in the sausage.

Remove about 1 Tbsp. of sausage from the bowl and fry in a small skillet, a couple of minutes per side or until just cooked through. Taste. Adjust seasoning to your tastes, if needed.


Wrap sausage in plastic bags in 4 ounces "links" and squeeze out all of the air. Seal. Place in the refrigerator for 3 days so flavors can meld.

Use immediately or place in freezer bags and freeze.

Use as breakfast sausage, on pizzas, in soups and stews, salads, add to scrambled eggs or chimichanga.
Kitchen Notes
Ground meat - The combination of ground chicken and pork yields a nice texture that's not dry nor greasy and a nice flavor.  I've made this sausage with just pork and didn't like either the texture or flavor.  If you want it leaner, then use 2:1, chicken to pork.
Green Chile Powder - Use a mild to medium red chile powder if you don't have green.
Roasted Chile - And just how spicy do you want it?  That's the question to ask yourself when choosing and adding the chile.  Because the recipe only calls for 1/4 cup, a medium-hot to hot chile yields a very spicy sausage, but not inedible.  If you don't want it that spicy, then use medium.  Also, a mix of both roasted green and red yields a little different flavor profile because of the difference in flavor between red and green.
If you don't have a New Mexico or Hatch chile, substitute with your favorite roasted chile. 
As you can see from this recipe, making a homemade sausage is relatively easy.  If you haven't tried it already, you might also try my Mexican Chorizo.
Parting Shot
Every year I grow paperwhites for the holidays.  This year I added an amaryllis.  It took a while to bloom, but it was worth the wait.