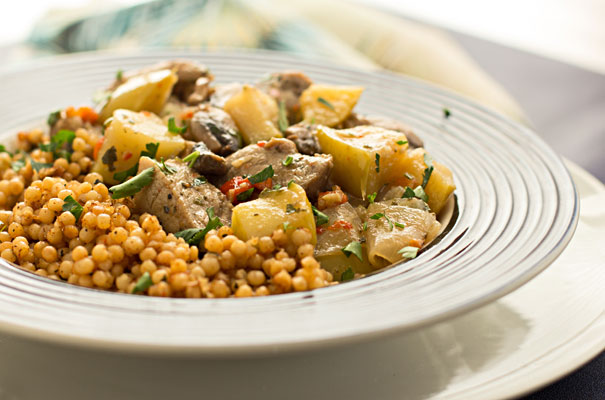 This Bourbon Braised Pork has a fabulous combination of ingredients – apples, mushrooms, aromatics, lots of sage, and a braising liquid of bourbon and apple cider.  It's hearty, healthy, full of flavor, and, when served over toasted Israeli couscous or brown rice, a complete meal.  And on top of all of that, it takes less than 45 minutes to make.  It's one of those meals that you'll be asking – "How soon can I make it again?".
 Bourbon Braised Pork with Apples and Mushrooms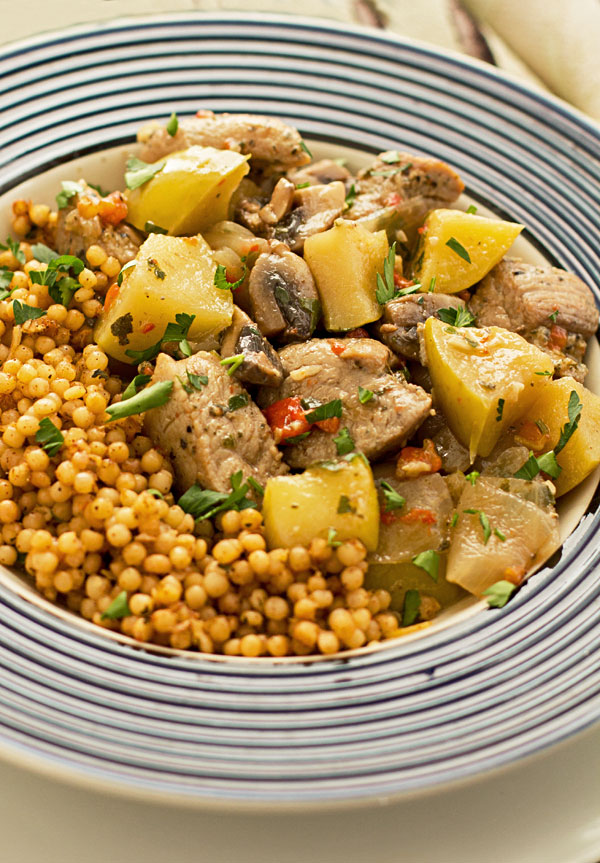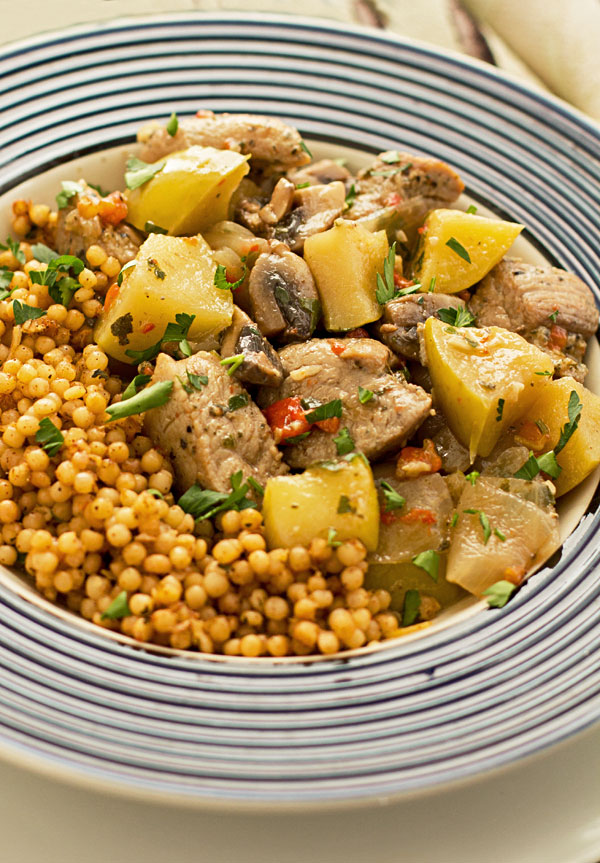 Bourbon Braised Pork Loin with Mushrooms and Apples (Recipe)
An extremely easy and flavorful braised pork with a hint of sweet bourbon and sage. Serve over Israeli couscous (recipe included), brown rice, or orzo.

"*" See Kitchen Notes for more information or links to special ingredients.
You may need to REFRESH page to print or save.
Course:
Main Course, Meat Entree
Ingredients
Meat and meat marinade
One 2 pound pork loin roast or tenderloin,

cut into 1 – 2" cubes

2

Tbsp.

Garlic infused oil or 2 Tbsp. olive oil* + ½ tsp. garlic powder

½

tsp.

salt

1

tsp.

ground black pepper

1

tsp.

crumbled dried sage
Other ingredients
1

Tbsp.

olive oil

½

large onion,

coarsely chopped

8

ounces

button mushrooms,

cut into 4 – 6 wedge shaped pieces

½

cup

bourbon

½

cup

apple cider/juice or ginger ale

6 - 8

roasted garlic cloves*,

smashed, chopped (or raw garlic)

1

roasted red pepper

(bell or red chile*)

2

tsp.

crumbled dried sage

2 - 3

crisp small to medium apples*,

coarsely chopped

2

Tbsp.

chopped Parsley
Israeli Couscous
1

cup

Israeli couscous

¼

tsp.

red chile powder or red chile spice blend*

½

tsp.

oregano

1 ½

cup

hot water

salt and pepper

to taste
Instructions
Marinating the Pork
Trim the visible fat from the pork. Cut the pork into large chunks and transfer to a large bowl. Add 2 Tbsp. garlic infused oil, the salt, pepper and 1 tsp. crushed, dried sage. Toss to coat the pork pieces with the oil and spices/sage.
Cooking the braise
Heat 1 Tbsp. olive oil in a large, heavy Dutch oven over medium heat. Brown the pork pieces, about 2 minutes, turning once. Transfer the pork to a plate. (Pieces should be pink in the middle and not cooked through.)

To the pot, add the onion and mushrooms and a little more oil if the pot is dry. Cook, stirring for 3 - 4 minutes until the mushrooms start to release their liquid and start to brown.


Add half of the bourbon and deglaze the pan.

Add the roasted garlic cloves, 1 tsp. crushed sage, the rest of the bourbon and the apple cider.

Return the pork loin pieces to the pot and any juices that have accumulated on the plate. Top with the apples and 1 tsp. crushed sage. Cover and simmer for 7 minutes. (Start making the couscous.)

After 7 minutes, add the roasted pepper and stir, to incorporate the pork, vegetables and apples.


Cover and simmer another 7 minutes. Remove from the heat and let rest while you finish the couscous. The meat should be cooked through but not dry. If you test the meat temperature it should read at least 145F.


When you're ready to serve, stir in the parsley.


Serve in a bowl over Israeli couscous.

Israeli Couscous Instructions
Heat a large skillet over medium heat. Add the couscous and spread across the skillet into one layer.


Toast the couscous by shaking or stirring it around the skillet until it reaches a medium brown toast.


Top with the chile powder and oregano.

Slowly add 1 1/2 cup hot water. Be carefully because it will vigorously boil when you pour the water into the hot skillet.


Cover and reduce heat to a simmer.

After 3 minutes, check the couscous. Add another 1/4 cup water there isn't any water left.


Cover and simmer for another 2 minutes on low. Check to see if couscous is done. If it's not done but the water has been absorbed, add another ¼ cup water. Cover and cook another 2 minutes or until couscous is tender. Remove from the heat once couscous is done.

Kitchen Notes
Garlic Infused Oil and Roasted Garlic Cloves
Roasted Garlic Cloves - Make a quick batch of roasted garlic on the stovetop or substitute with 6 raw garlic cloves.  If using raw garlic, add with the onions and mushrooms.
Roasted Red Pepper - You'll be surprised how much just this little bit of roasted pepper adds to the dish.  If you don't want the dish spicy at all, then use roasted red bell pepper.  If you want a spicy finish with each bite, then use a hot, roasted red chile pod. 
Apples - Fuji apples are the best for this recipe IMO.  The are crisp, a little tart and a little sweet.  However, if you can't find Fuji, then use the crispest apple you can find.  You want to start with a crisp apple so that it stays firm to the end. Delicious and Granny Smiths just get mushy, so avoid using them.
Red Chile Powders and Red Chile Spice Blend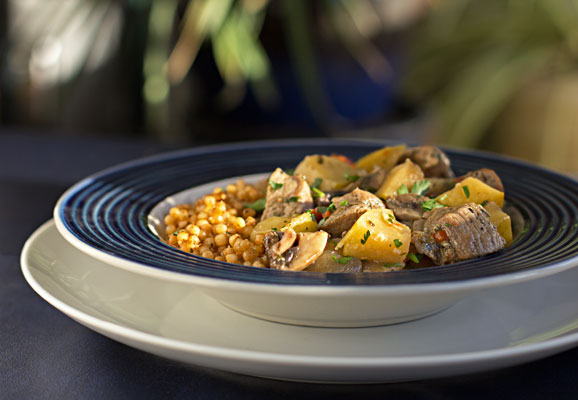 If you are looking for more hearty and healthy meals like this Bourbon Braised Pork, here are a couple for you to try.
New Mexico Pork and Green Chile Posole