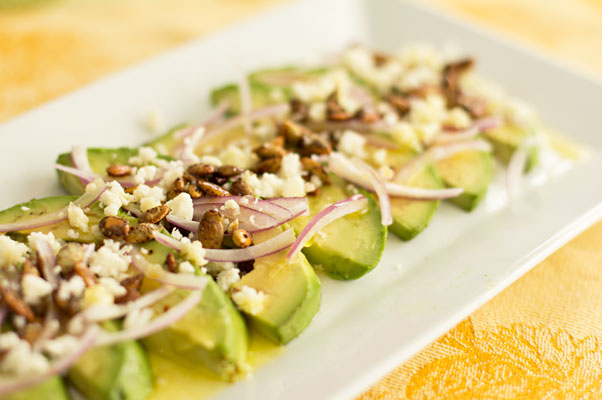 Because of the nutritional value of avocados and the fact that they are available year round, I'm always looking for more and more ways to use them.   A few months ago I came across an Avocado and Onion Salad in my favorite cookbook, Gran Cocina Latina, the 2013 James Beard Foundation Cookbook of the Year.   It sounded delicious because I love the classic combination of avocado and onion, and then the addition of a garlic-lime vinaigrette just seemed to be a perfect match.  And it was.  However, in my opinion, it was missing something, primarily texture.  So the next time I made it, I embellished on the original recipe by adding sweet and spicy pepitas and cotija cheese, and by tweaking the vinaigrette a bit.  Voilá!
This avocado and onion salad is a creamy, crunchy, sweet and slightly tart salad that can be served as a starter, an appetizer, a side or a light lunch.  For a lunch, serve with a little cup of soup.  A few week ago we served it as a starter for Green Chile Stew and it worked quite well.
Be sure to check out the Kitchen Notes for more information and for the changes made to the original Garlic-Lime vinaigrette.
Avocado Onion Salad with Pepitas and Cotija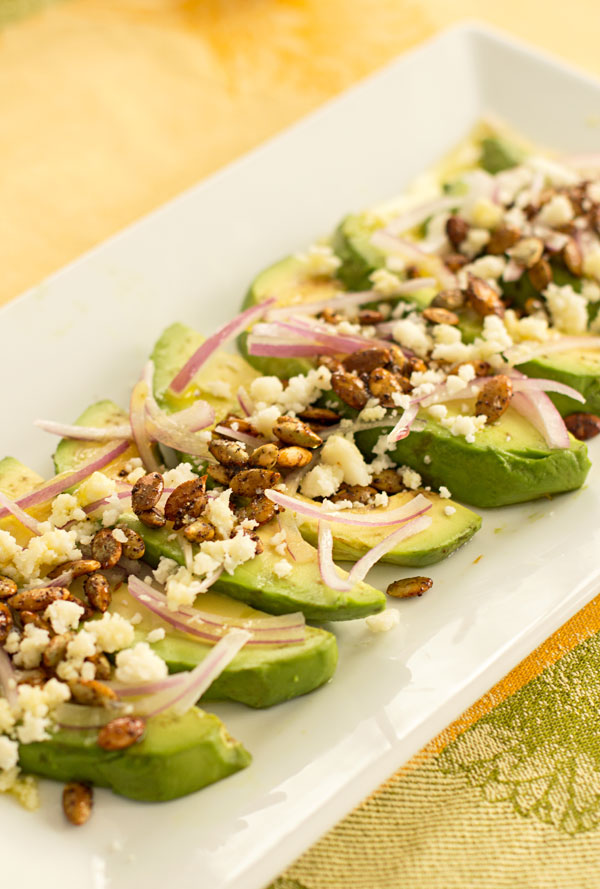 Avocado Onion Salad with Pepitas, Cotija, and Garlic Lime Vinaigrette Recipe
This avocado onion salad can be served as an appetizer or a side salad for a variety of dishes. It's creamy, crunchy and flavorful. It was inspired by the avocado onion salad in Gran Cocina Latina Cookbook by Maricel Presilla.
"*" See Kitchen Notes for more information or links to special ingredients.
You may need to REFRESH page to print or save.

Course:
Appetizer, Salad, Vegetarian
Ingredients
There are no exact measurements to this recipe. Estimate 1/2 avocado per person.
1

avocado,

sliced

Several thin slices from a sweet onion

2

Tbsp.

Sweet and Spicy Pepitas*

(Pumpkin Seeds)

1/4

cup

crumbled Cotija cheese*
Vinaigrette
Juice from 1 lime

1

tsp.

honey*

(optional)

A couple pinches of sea salt

2

roasted garlic cloves*,

smashed, minced (or 1 raw garlic clove, minced)

2

– 3

Tbsp. olive oil

(to taste)
Instructions
Place the ingredients for the vinaigrette into a small bowl and whisk. Taste and adjust balance to your tastes. Set aside.

Prep all of the other ingredients before cutting the avocado.


Slice the avocado and place the slices onto a plate.

Top with onion slices, pepitas and cotija cheese.

Give the vinaigrette another whisk or two and drizzle over salad.

Serve immediately.
Kitchen Notes
Avocado - Whether serving this as a salad, starter, or appetizer, estimate 1/2 avocado per person, then adjust the remaining ingredients accordingly.  Also, cut the avocado after all of the other ingredients have been prepped to keep it from turning brown.
Sweet & Spicy Pepitas - For this salad I usually eliminate the lime juice in the pepita recipe.  You could also make a quick batch if you happen to have some Red Chile Spice Mix made up already.  Just toast 3 Tbsp. pepitas in a small skillet over medium heat, then sprinkle with about 1 tsp. sugar.  Stir until sugar has melted.  Remove from heat and dust with about 1/2 tsp. red chile spice mix.  Stir, transfer to a plate and let cool.  Once cool, you'll need to use your fingers to separate the seeds because they'll be stuck together.
Note:  Estimate 1 Tbsp. of pepitas per serving plus at least 1 Tbsp. to eat while prepping the salad.
Cotija Cheese - I've never made this salad with any cheese but cotija; however, you could substitute with queso fresco or possibly feta. Personally, I think feta might be too salty, but if that is what you have, give it a try and let me know how it works.
Garlic Lime Vinaigrette - The original recipe calls for raw garlic which I find rather pungent for a salad.  So I replaced the raw garlic with roasted garlic which is more savory/sweet than pungent.  If you don't have any roasted garlic already made, then just roast up a few on the stovetop.  It takes about 15 minutes and you'll have extra for another use.
Honey - The honey removes a bit of the tartness from the lime juice, but if you like a tart vinaigrette, just leave it out.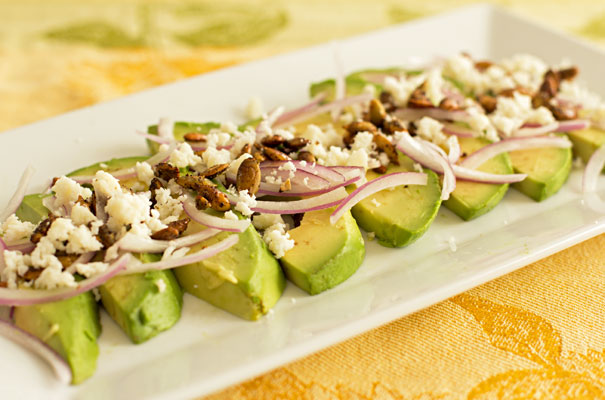 If you have ever bought a package of cotija cheese, then you already know that a little bit goes a long way and that once it's opened, you need to keep it airtight to prevent it from drying out and getting hard.  Therefore, when I do purchase a package of cotija, I try to use it within a week or two after opening.  After that it becomes very hard to crumble because it's so dry.  It keeps well, but the texture does change.  Below are some ideas and recipes in which you can use cotija while it still has its original flavor and texture.
Composed Salad with Green Chile Sausage
Posole with Chorizo and Mushrooms
New Mexico Red Chile Enchiladas
Scrambled Eggs with Roasted Red Chile and Cotija
Other ideas:  Use a a cheese topping or ingredient for a variety of salads, soups, burrito, fajitas, enchiladas, tostadas