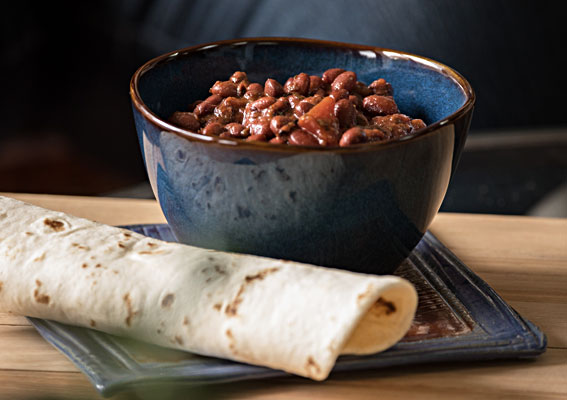 When it comes to red beans, it seems that the larger kidney bean gets most of the attention.  Of course this could possibly be due to the classic red beans and rice, "an emblematic dish of Louisiana Creole cuisine".  To be honest, red beans and rice is normally our go to dish for red beans.  However, sometimes I like to cook up the small red bean.  It's more tender than the kidney bean and has a sweeter, more delicate flavor, in my opinion.
This red bean recipe yields a flavorful bowl of tender beans that's savory, spicy and quite versatile. As with most beans, we love to eat these as just a bowl of beans with some cornbread or tortillas and maybe a topping or two. But you could also add them to salads or soups, serve them on top of a bowl of rice, or wrap them in a tortilla and smother with red chile.  Lots of possibilities…
Like most dried beans, the small red bean does take a long time to cook if cooked on the stovetop or in the oven. However, you could speed up the process by using a pressure cooker, or use the slow cooker for a long cook, but non-interactive process.  Most of the time I choose the pressure cooker for dried beans, but sometimes, I just want to enjoy the pleasure of a slow cook that allows me to baby my pot of beans for a few hours – stirring and tasting, adjusting the seasoning for that perfect bowl of beans.  This recipe provides just that.  If you don't want to do a slow cook, then check out the Kitchen Notes on cooking them in the pressure cooker.
Slow-Cooked Red Beans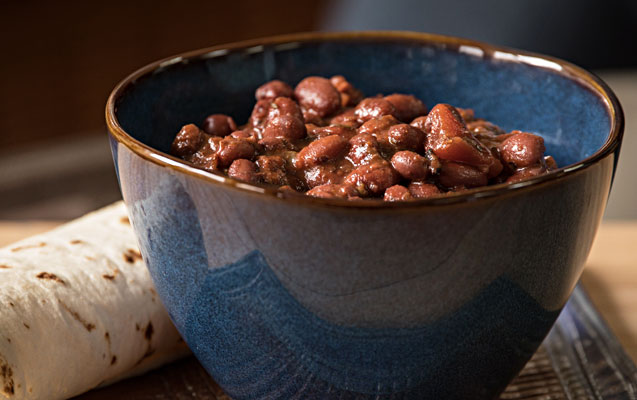 Slow-Cooked Red Beans Recipe
A spicy red beans dish that makes a complete meal with just a tortilla or cornbread, or served over rice or wrapped in a burrito and smothered with red chile.

Since this recipe uses dried beans, there is a 4 hour brine. After that you have about a 10 minute prep and 2.5 - 3 hour slow-cook.
"*" See Kitchen Notes for more information or links to special ingredients.
Course:
Dried Beans, soups & stews
Ingredients
Brine
2

cups

dried red beans*

Water

1

Tbsp.

salt
Bean Ingredients
1

Tbsp.

bacon drippings or olive oil

½

large onion,

diced

1

medium green bell pepper,

diced

6

garlic cloves,

minced

¼

cup

red wine

6

– 8 cups water / vegetable or beef broth*

(1:1)

½

tsp.

salt

½

tsp.

black pepper

½ - 1

tsp.

New Mexico red chile powder*

½

tsp.

dried thyme

½

tsp.

dried Mexican or regular oregano

1

– 14.5 ounce can of fire roasted diced tomatoes with liquid
Instructions
Brine
Dissolve 1 Tbsp. salt in about 4 cups water.

Add the dried beans. If the water doesn't cover them, add more water.

After 4 hours, drain and rinse.
Cooking the beans
In a large Dutch oven, melt and heat the bacon drippings or oil over medium heat.

When hot, add the onion and bell pepper. Reduce to medium low and cook, stirring frequently, for 5 minutes.

Turn the heat back up to medium and add the garlic. Saute', stirring constantly, until the edges of the onion start to brown.

Add the wine and deglaze the pan. Continue to cook until the wine has evaporated, stirring constantly.


Add 6 cups of the water/stock, the rinse beans, and seasonings. Bring to a boil, then reduce to a medium low simmer. Cover.


Simmer for 2 hours stirring occasionally.


After 2 hours, stir in the can of tomatoes with its liquid.


Continue to cook, covered, until the beans are tender. Stir and taste occasionally. Adjust seasoning if needed. If the liquid gets too low, add 1 cup of liquid at a time as needed.

Once done, remove from heat. You could serve immediately, or let rest for an hour or two, or cool, then refrigerate overnight and eat the next day.

When serving, you can use one or two of the toppings listed in the Kitchen Notes or just eat with a side.
Serve with flour tortillas*, crackers*, or cornbread*.
Kitchen Notes
Dried Red Beans* - For this recipe use the small red beans, not the large kidney beans.  You can substitute black beans, navy beans, pintos or bolitas.
Liquid - A 1:1 of water to a tasty broth (vegetarian or beef) adds a lot of flavor.  The broth could be a fat-free beef stock or a beef broth made with hot water and a broth paste. We use  Better than Bouillon beef broth paste. 
Stirring occasionally - When cooking beans on the stove top it is important to stir the bean throughout the cooking time. Stirring helps the beans to cook evenly along with keeping the pot covered.
Red Chile Powder - Amount depends on your heat tolerance or how hot you want your beans. I find that 1 tsp. of a medium to medium hot New Mexico red chile powder adds a little heat to the pot, but not too much.   If you don't have a NM red chile powder, then substitute your favorite red chile, keeping in mind the heat level. 
Vegetarian / Vegan Version - Use oil to saute' the aromatics, and water and vegetable broth for the liquid.
Suggested Toppings - Red Chile (from pods or powder), chopped green chile, diced onion, or cheese.
Suggested Sides - Cornbread, Crackers, Corn Tortillas, or Flour Tortillas
Other suggested meals - Serve over rice, wrap in a flour tortilla and smother with red chile, add to a salad or Budda Bowl, and when you just have a few left, add to a pot of soup.
Pressure-cooked red beans - Complete the brine and Steps 1-4 of "Cooking the Beans".   For step 5, add the rinsed beans, 6 cups liquid, seasoning and tomatoes. Pressurize the cooker and then cook on a medium pressure for 8 - 10 minutes, depending on the age of the beans. (Older beans need to cook longer.)   Release the pressure.  Taste the beans for doneness and seasoning.  Adjust seasoning if needed and, if not quite done, cook for another 30 minutes or until the beans reach the desired tenderness.
If you find the cook time to be different than the recipe's, there are a few factors that cause this:
Age of Beans – The older the beans, the longer they take to cook.  In the fall, try to buy beans from the current year to get the freshest beans that have a longer shelf life.  But be careful, because the opposite is also true – the fresher the beans, the faster they cook.
Elevation – Unless you're using a pressure cooker, you should expect the beans to take longer at higher elevations.  Remember that I live above 5000′; therefore, if you live at sea level, the cooking time may decrease.
Soaking time – Most of the time, a longer soaking time can shorten the cooking time; however, I find it can also cause the beans to fall apart easier.
Temperature at which you cook the beans – Obviously, the higher the temperature, the faster they'll cook, but you'll also have to stir more often.  A medium low simmer yields a nice slow-cook and one that you can stir occasionally rather than frequently.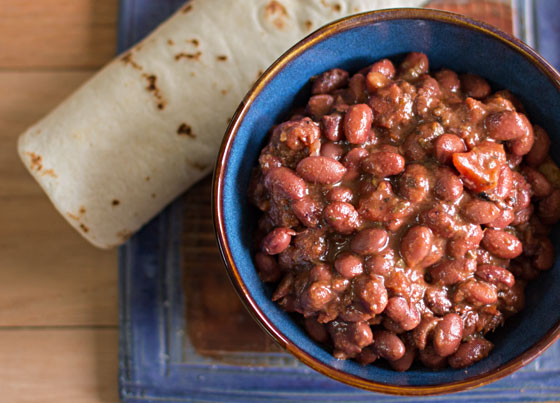 For more bean recipes, click on this link for a list of bean recipes in MJ's Kitchen.