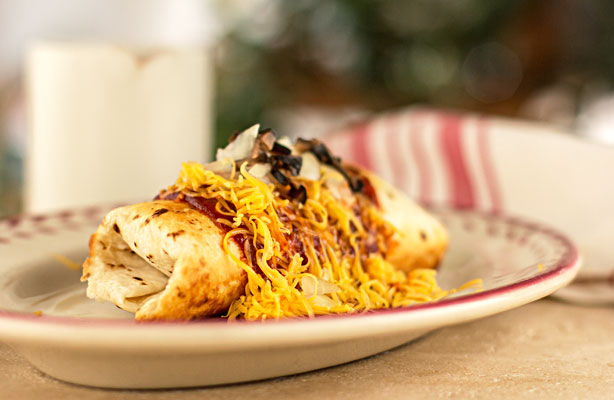 Since breakfast is the most important meal of the day, then why not embrace it, and treat yourself to a breakfast chimichanga smothered in red chile.  It's so very hearty, high in protein, and exploding with lots and lots of flavor! When you cut into the crunchy, lightly pan fried tortilla you'll find the ultimate breakfast ingredient – eggs – wrapped with spicy Mexican chorizo or spicy black beans, whichever you prefer.  To enjoy a multitude of goodness, use each bite to scoop up some red chile with a little bit of the toppings. Now that's a breakfast! If this doesn't become a standard for your household, I don't know what will.
Oh, and did I mention that it's really easy to make?
 Breakfast Chimichanga Smothered in Red Chile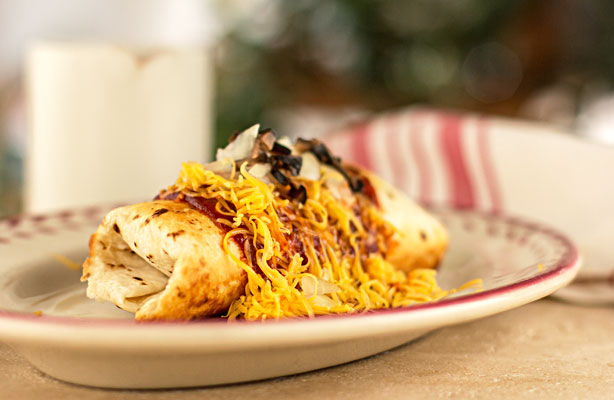 Breakfast Chimichanga Smothered in Red Chile (Recipe)
A hearty and spicy breakfast that will keep you going for several hours. It does require that you have some red chile sauce on hand.

You may need to REFRESH page to print or save.
"*" See Kitchen Notes for more information or links to special ingredients and substitutions.
Course:
Breakfast, Light Lunch, Red Chile
Cuisine:
Mexican, New Mexico
Ingredients
The ingredients below make 2 chimichangas. See Kitchen Notes for ratios if you want to make more than 2.
2 -

10 - 12" Flour Tortillas*

2

eggs

2

ounces

Mexican chorizo* OR 1/2 cup Black beans*

1

Tbsp.

milk or cream

2 - 3

dashes

Red chile powder*

1

Tbsp.

vegetable oil
Toppings
1

cup

Red Chile Sauce* -

heated

1/4

cup

onion,

diced

1/4

cup

black olives,

diced

1/2

cup

cheddar cheese,

grated
Instructions
Whisk together the eggs, milk, and red chile powder.


Heat a skillet over medium low heat.


If using chorizo - Crumble the chorizo into a hot skillet and cook through. Add the eggs to the skillet and cook, stirring in the chorizo, until the eggs are set. Remove from the heat.


If using black beans - Rinse and set aside to drain. Add the eggs to the hot skillet and cook for about a minute or two. Add the bean and incorporate into the eggs. Cook until eggs are done.


Place half of the egg mixture down the center of a flour tortilla leaving at least 1 inch on each end.


Fold* the short ends over the ends of the egg mixture. Pull one of the side flaps over the egg mixture, gently tuck it in and finishing rolling into a chimichanga. Secure with a toothpick. Repeat with the second tortilla.


In a skillet large enough for both chimichangas, heat 1 Tbsp. of oil. When hot, place the chimichangas in the skillet, toothpick side down. Cook for about 1 minute or until tortillas are toasted brown. Turn and cook for 1 minute on each side until brown.


Remove from the skillet and transfer to serving plates. Pour hot red chile sauce over each chimichanga and top with cheese, onion, and black olive.

Kitchen Notes
Flour Tortilla - If the tortillas aren't soft and easily pliable, heat briefly on a hot griddle to soften.  This keeps the tortilla from breaking when you fold it.
Recipe for Mexican Chorizo
Recipe for Cooking up a Pot of Black Beans just in case you want to make your own.
Types of Red Chile Powder
Recipes for Red Chile Sauce from Pods and Red Chile Sauce from Powder
Substitutions for red chile sauce - If you don't have any red chile, you can substitute with your favorite salsa, green chile, or enchilada sauce.
Ingredient ratios -
1 egg to 1 ounce of chorizo
1 egg to 1/4 cup black beans
1/2 cup red chile / chimichanga
For a pictorial on how to wrap into chimichangas, check out An Inspired Cook's post on chimichanga.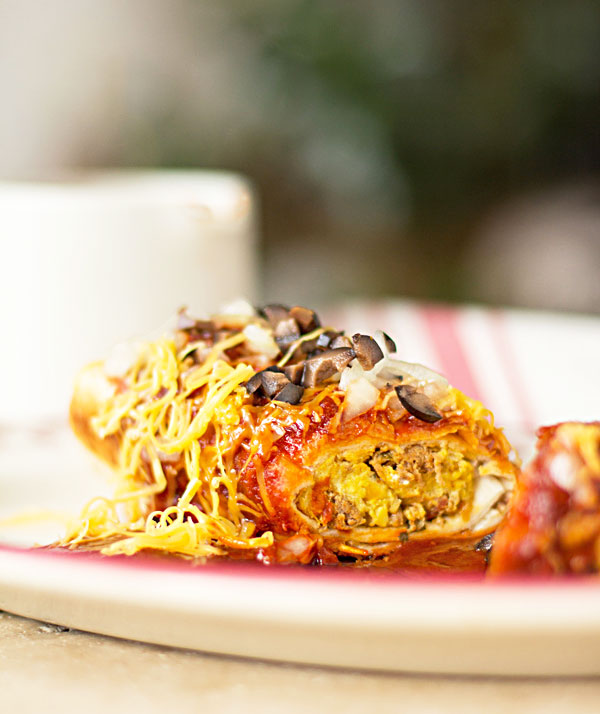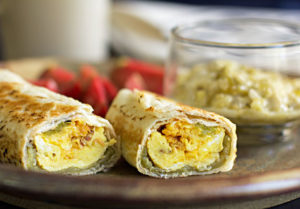 Another fabulous chimichanga that I was making constantly during fresh chile season (because I couldn't get enough of it) is this Chile Relleno Chimichanga by An Inspired Cook.  It's very addicting.
If you like to smother your food in red chile as much as we do, be sure check out this collection of Recipes Smothered in Red.