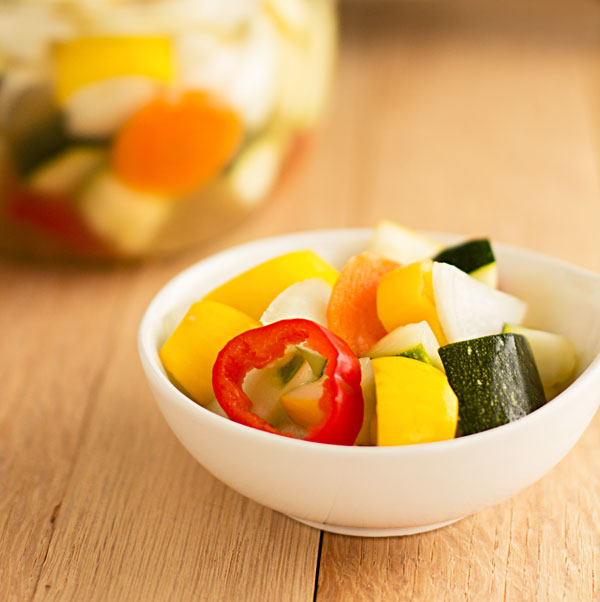 Making Olive Brine Pickled Vegetables is an extremely easy pickling process that allows you to repurpose olive brine after all of the olives have been eaten, as well as to deal with little pieces of fresh vegetables that haven't been used.  All you need to do is to cut the  vegetables into small, bite size pieces, place in a jar and cover with olive brine.  Refrigerate for a couple of days and you have an awesome, healthy little snack.  If you want the vegetables to have a spicy kick, add a couple of sliced hot chile peppers.
As you can see, there is nothing to this process.  In the recipe, I've listed the vegetables shown in the pictures, and in the Kitchen Notes you'll find other vegetables you could use.  And if you buy Costco size jars of olives like we do, you'll always have olive brine.
 Olive Brine Pickled Vegetables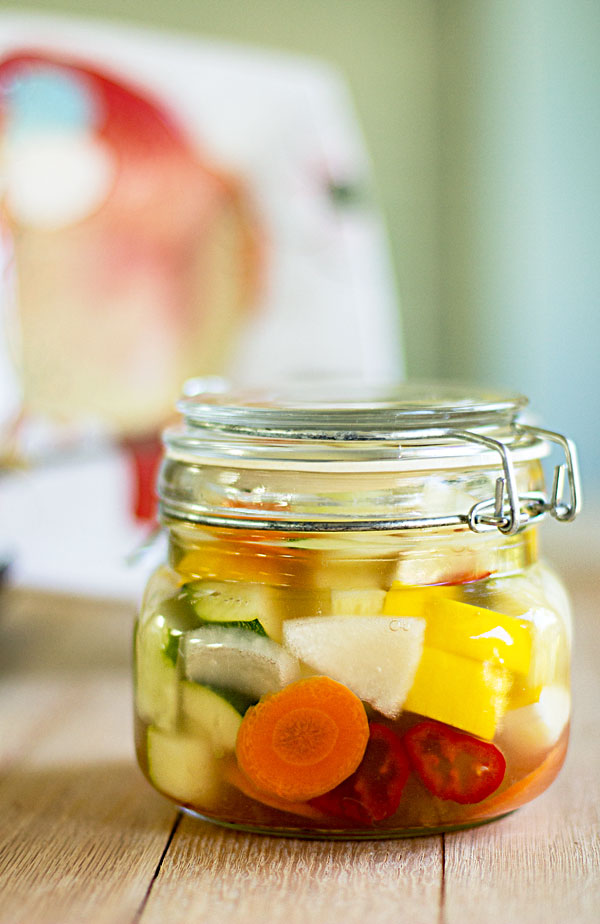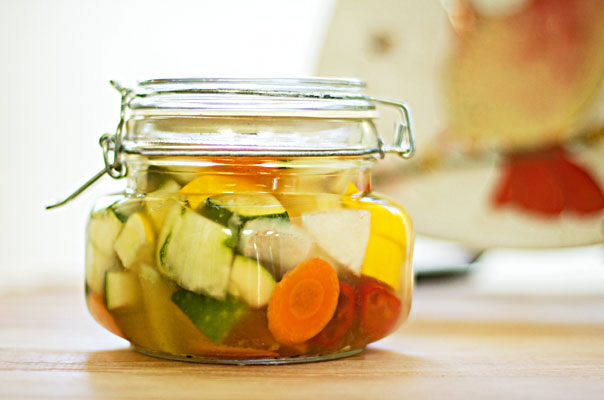 Olive Brine Pickled Vegetables
These are the easiest pickled vegetables you'll ever make. These pickled vegetables are salty, with an olive flavor, and stay crispy for 2 weeks, but, I'm sure they won't last that long.
"*" See Kitchen Notes for more information or links to special ingredients.
Course:
Appetizer, Condiments, Snack
Ingredients
2

cups

olive brine

1

small piece

of each of the following vegetables

cucumber

zucchini

yellow summer squash

carrot

onion

2

hot chile peppers, sliced
Instructions
Cut the vegetables into small, bite size pieces.


For 2 cups of brine, you should have about 2-3 cups of chopped vegetables.


Transfer the vegetables to a clean jar with a non-metal lid.


Pour the brine over the vegetables. Tap the bottom of the jar to remove air bubbles. Add enough brine to cover all of the vegetables.


Close the lid and transfer to the refrigerator. Let set for 2 days before eating.

Kitchen Notes
Olive Brine - The brine from a jar of pimento stuffed green olives is my favorite, but just about any olive brine works.  If you have at least 1 cup of brine, you can make at least a small batch these pickled vegetables.
Vegetables - Any crispy, raw vegetable works.  However, raw red beets will cause everything to turn red, but, if that's o.k. with you then go for it.  I've never tried beets so I can't honestly say how they work.  In addition to the ones already listed, I recommend cauliflower, broccoli stems, daikon radish, garlic cloves, fennel, bell pepper, or sweet peppers.
How long will it last? - The vegetables stay crispy and last for about 2 weeks.  You can make a second batch during that time using the same brine once the first batch is gone; however, the second batch will be less salty with less of an olive flavor, but still tasty.  After two weeks, then it's time to toss the brine.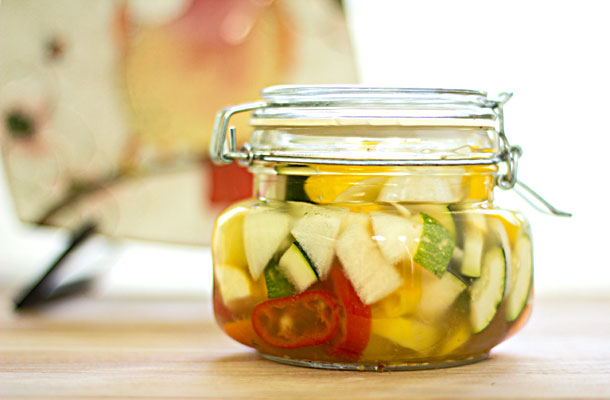 If you have been reading my recipes for a while, you know that I repurpose olive brine quite often in a variety of recipes.  These pickled vegetables are made when I'm completely out of olives and left with a good amount of brine.  However, sometimes I'll just steal some of the brine before the olives are gone and use in other ways.  Below are some of the recipes in which you'll find olive brine as an ingredient.
Quick Chilli Pickle in Reused Olive Brine from With a Glass
Roasted Red Bell Pepper Cheese Spread
Roasted Pumpkin and Red Chile Soup
Antipasto Style Hors d'oeuvres