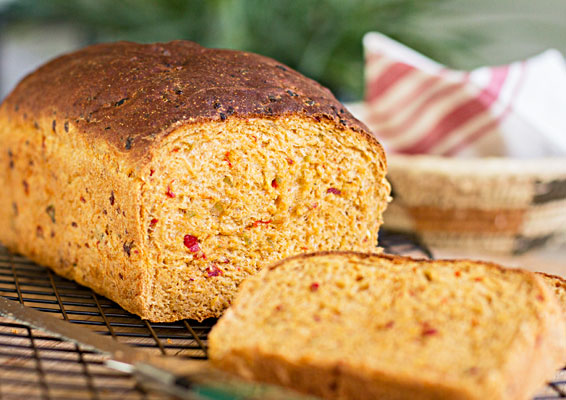 This Hatch Chile Fiesta Bread was inspired by the fiesta rolls I used to get at The Flying Star in Albuquerque whenever I ordered the breakfast egg sandwich.  The rolls were yeast rolls with green chile and cheese, which, as you can imagine, made for a very tasty bite of sandwich. Since Bobby and I love a good bread, I tackled making a loaf of yeast bread with chile and cheese.  It took a couple of loaves to get the texture right and solve the moisture problem created by the chile, but once that problem was solved, I knew I would be making many more loaves of this fiesta bread.
Because of the chile, this Hatch chile fiesta bread is more moist than most yeast breads and less dense; however, the flavor is awesome and it is the best bread ever for a grilled cheese turkey sandwich.  It also makes a tasty egg in a basket breakfast as well as a breakfast egg sandwich.  If you include hot chile in the mix, you get a nice spicy kick with every bite.  To provide this spicy kick I used some of the hot Sandia chile I got from The Hatch Chile Store. as well as some of their medium Big Jim chile.
Hatch Chile Fiesta Bread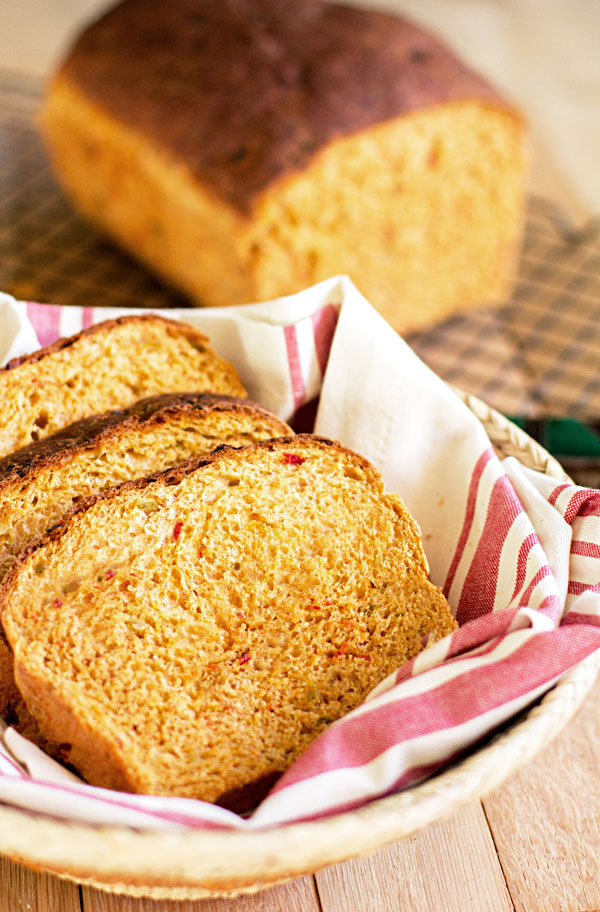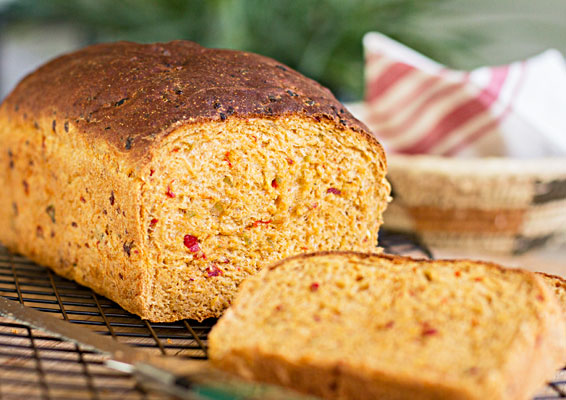 Hatch Chile Fiesta Bread Recipe
A spicy yeast bread made with Hatch red and green chile and cheese. The best bread for grilled cheese and turkey sandwiches you'll ever eat!
This bread requires two, 1 hour rises so you should allow 3 - 3.5 hours from start to finish. Because I live a mile high in elevation, I've included both high elevation temperatures and times as well as sea level temperatures and times.

"*" See Kitchen Notes for more information or links to special ingredients.
Cuisine:
New Mexico, Southwestern
Ingredients
1

cup

warm water,

~110°F

2

Tbsp.

honey

2 ¼

tsp.

active dry yeast

1

tsp.

salt

1

Tbsp.

vegetable oil

½

cup

chopped, roasted chile*

1

cup

(~3.5 ounces) cheddar*,

grated, loosely packed

160

grams

(~1 cup) whole wheat flour

210-280

grams

(1 ¾ - 2 cups) unbleached AP flour*
Instructions
In a large bowl, combine the warm water and honey, stirring until honey is melted. Sprinkle the top of the liquid with the yeast. Set aside to allow the yeast to activate.


Squeeze the chile to remove excess liquid*. Dice the chile and grate the cheese.

By the time you finish with the chile and cheese, you should see that the yeast has activated and bubbles have formed on the surface. Stir in the salt and oil.

Add the chile and cheese. Stir to incorporate all ingredients.

Add the whole wheat flour and stir to combine.

Add 1 cup or about 160 grams of the AP flour. Stir to combine.

Dust a clean surface with some of the remaining AP flour. Dump the dough on the surface, sprinkle a dusting of flour on top and begin kneading the dough.

Continue to knead and dust with additional flour until the dough become smooth and looses its stickiness. This should take about 10 minutes of kneading.


Clean the large bowl and wipe the inside with a thin layer of oil. Transfer the dough to the bowl and roll around to lightly coat the dough with oil. Cover with a damp paper towel and set in a warm place to rise.

Let rise for about 1 hour or until the dough has doubled in size.

Spray a bread pan with cooking oil or, using a paper towel, lightly coat all sides and bottom of the bread pan.

Dust your kneading surface with a light dusting of flour and coat the back of your hand with flour. Using the floured hand, punch the dough down into the bowl.

Dump dough out onto the floured surface, sprinkle with a touch of flour, and knead for a minute or two.

Roll the dough into a log shape that fits inside the bread pan. Transfer to bread pan, set back in a warm place, cover with damp paper towel and allow to rise. (About an hour)


Once the dough starts to rise above the top of the bread pan, set oven to preheat to 400° F (@5000 ft. elevation) or 375° F (@sea level).


Once the bread has risen to about an inch above the edge of the bread pan, carefully transfer the bread pan to the oven.


For 5000 ft. elevation - Bake 10 min at 400° F, reduce to 375° F and bake for 15 minutes, reduce to 350° F and bake for another 15 minutes or until internal temperature is 190° F.

For Sea Level - Bake 10 min at 375° F and reduce to 350° F and bake for another 25 - 30 minutes or until internal temperature is 190° F.

Remove from oven, place on a cooling rack and let rest 15 minutes before removing from bread pan. Let cool another 10 - 15 minutes before you cut into it. It's a very soft and moist bread, so the wait it hard, but necessary.

Kitchen Notes
Hatch Chile - Because it's a "fiesta" bread, I recommend both red and green chile if you have it.  I use 1/4 cup medium green chile and 1/4 cup hot red Sandia chile from The Hatch Chile Store.  An important step is to remove as much liquid as possible from the chile before adding it to the bowl.  Too much liquid and you'll have to add too much flour making a very doughy tasting bread.  
A note about using frozen chile – Roasted chile has a lot of moisture; therefore, when you freeze it that moisture freezes and is released when the chile thaws.  To make this bread work, it's important to squeeze out a lot of the liquid.   However, because it's chile juice, save it, and add it to rice, soups, stews, or any dish that would benefit from a bit of chile flavor.  
Cheese - Cheddar is my go to cheese for this bread.  I've used both medium cheddar and sharp cheddar and really couldn't taste much of a difference.  For other flavors, you could use Monterey Jack or Queso Fresco.  
Amount of flour - Because of the chile, this is a rather moist bread making it hard to state exactly how much flour you should use.  For me, it normally takes almost 2 cups of the AP flour to get the stickiness out of the bread dough, creating a smooth texture.  So be patience and just keep dusting with flour and kneading it in until you get a nice dough. 
Suggested Uses - Grilled cheese sandwich with a slice of turkey, Albuquerque Turkey, Broiled cheese bread (with an egg on top, if desired), Egg in a Basket,  bread for a Toas-Tite, side for soups or stews, and last but not least - toast and butter.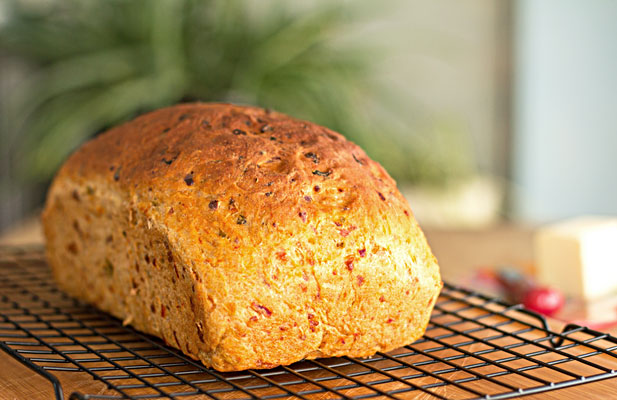 This Hatch Chile Fiesta Bread is a fun bread to make and even more enjoyable to eat.  It puts a little gourmet into every sandwich.  For more tasty bread ideas, check these out.
Red Chile Garlic Bread with Manchego Cheese
Again, I'd like to thank The Hatch Chile Store for taking the time to show me around and sending me home with some really tasty hatch chile, some of which went into this bread.  AND, if you putting your holiday gift giving list together, don't forget about your chile loving family and friends.  You can always ship them frozen chile!
Parting Shots
One has to love the patience and creativity that goes into ristra making.  This picture was taken in a shop in Hatch, NM.  Lots of chile de arbol ristras along with sacks of dried Hatch red chile.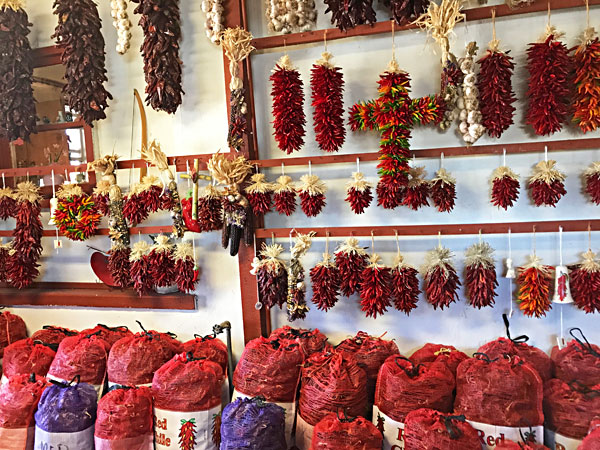 Pumpkin and red chile – the basic ingredients for a Red Chile Pumpkin Sauce and a Spicy Pumpkin Red Chile Soup.