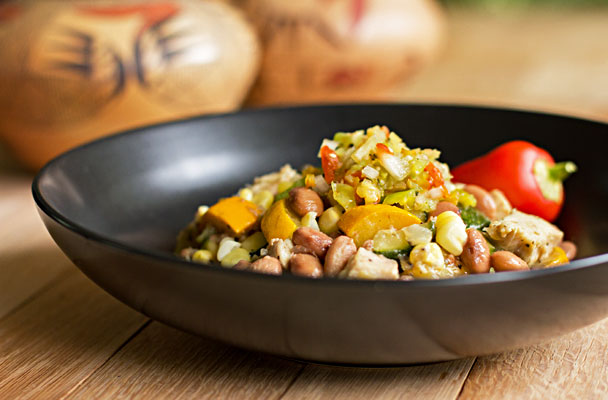 "Three sisters" is the name given to three companion crops – corn, squash and beans, grown as major crops by Native Americans for generations.  If you are a gardener, you understand what is meant by companion crops – crops that aid each other in some manner.  For the three sisters it all starts with the corn.  Corn provides a tall stalk on which bean vines grow.  In return beans produce nitrogen in the soil that feeds the corn and the squash.  Squash spreads along the ground providing a mulch as well as shade for roots and plantings.
In addition to being companion crops, the three sisters are also companion ingredients for some very tasty dishes.  The dish featured here is a one pot meal consisting of the three sisters and leftover smoked chicken, topped with a spicy, green chile tomatillo salsa.  We're growing a variety of squash this year so I used three types for this dish – a zucchini, yellow squash, and tatuma (a Mexican variety of squash).  The beans are pintos from Diaz Farms and local sweet corn.  You can really use whatever you have available like winter squash and black beans or acorn and lima.  Just keep color and texture in mind for a tasty meal that you can change up every time you make it.  For those of you who like changing things up frequently, this is a wonderful recipe to work from.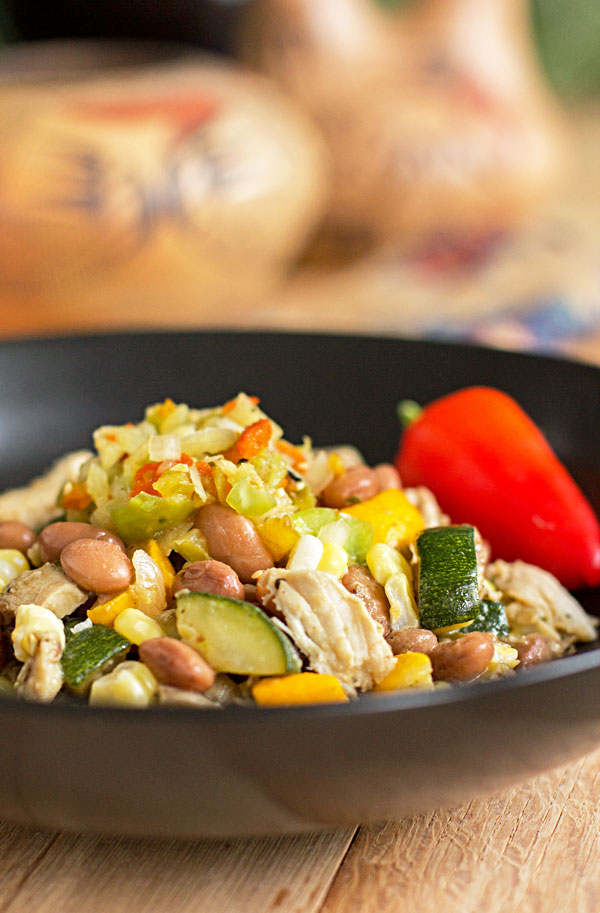 Three Sisters with Chicken and Tomatillo Salsa Recipe
Recipe Author: MJ of MJ's Kitchen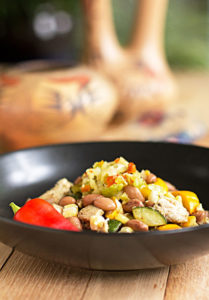 Serves 4
Prep and Cook Time: Less than 30 minutes
Amount of each ingredient is an estimate.  This recipe doesn't require exact measurements.
Ingredients
2 Tbsp. olive oil
2 medium size summer squash*, chopped
¼ – ½ medium onion, diced
¼ – ½ cup sweet bell pepper, diced
1 – 2 cups leftover cooked chicken*, torn or cut into small pieces (optional)
1 – 1 ½ cup corn
1 – 1 ½ cup cooked pinto or black beans*
6 garlic cloves*, minced
½ tsp. Mexican oregano
¼ tsp. salt or to taste
½ tsp. black pepper
1 cup Green Chile Tomatillo Salsa*
Instructions
Make the green chile tomatillo salsa and refrigerate until ready to serve.  This could be made a day in advance.
Heat oil in a large skillet over medium to medium-low heat. When the oil is hot add the onion, sweet peppers, and squash. Saute' for about 5 minutes or until squash starts to soften.
Add the garlic, corn, beans, chicken, herbs, salt and pepper. Cook another 2 – 3 minutes or until squash is cooked the way you like it.  (We like ours between firm and soft.)
Serve into serving bowls.  Top each serving with about ¼ cup salsa.
*Kitchen Notes
Squash – Any summer squash works.  And as I mentioned before, it could even be made with winter squash. Pumpkin and black beans sound like a good combination to me.
Chicken – We use smoked chicken if we have it.  However, leftover rotisserie chicken, roasted or grilled chicken work just fine.  Leftover turkey works as well.
Beans– Just about any type of bean can be used.  We like using pintos or black beans.
Garlic – If you happen to have roasted garlic, then use that instead of fresh garlic.
Salsa – The tomatillo salsa adds a spicy tartness to the dish that is quite nice; however, any spicy salsa or a pico de gallo works.
Vegan/Vegetarian Option – Just omit the chicken. Your protein is in the beans.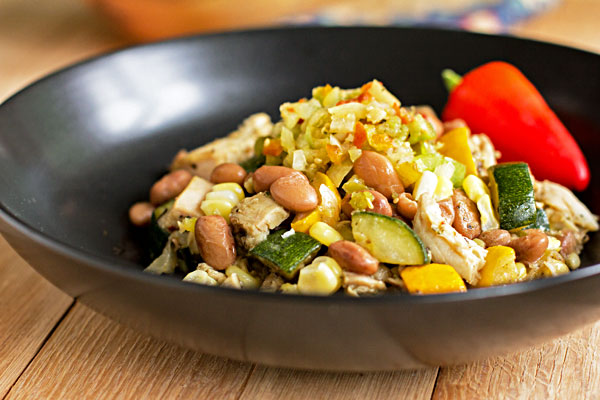 One pot meals like this three sisters meal is easy and versatile, and can be made relative quick providing your family with a healthy and hearty meal.  For more one pot meals, check out the dishes below.
White Beans, Green Chile and Corn
Roasted Vegetables with Mexican Chorizo
Parting Shots – Pollinators and Blooms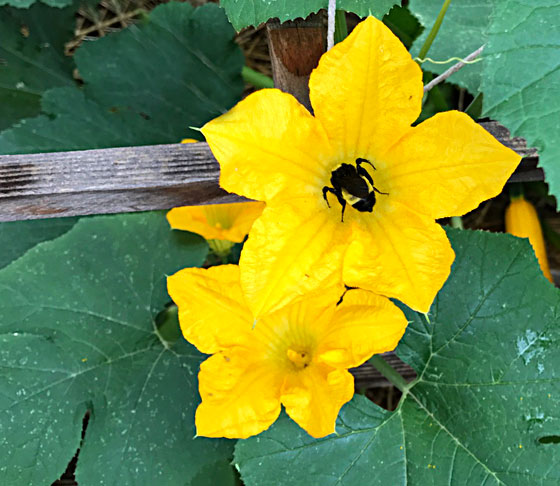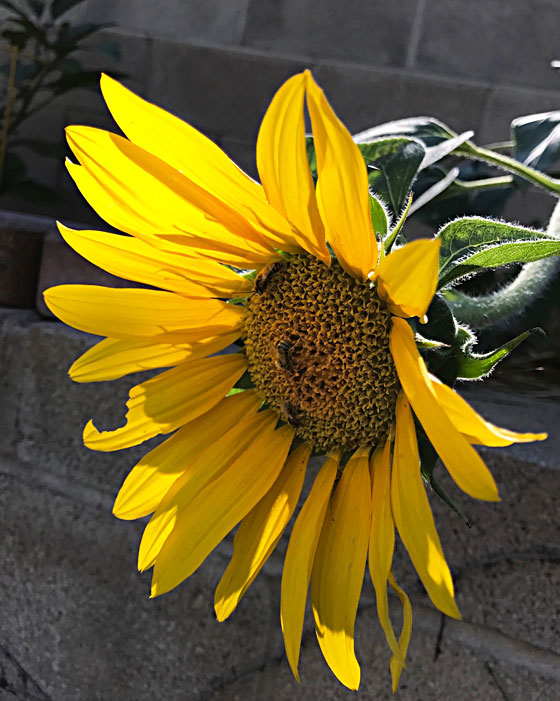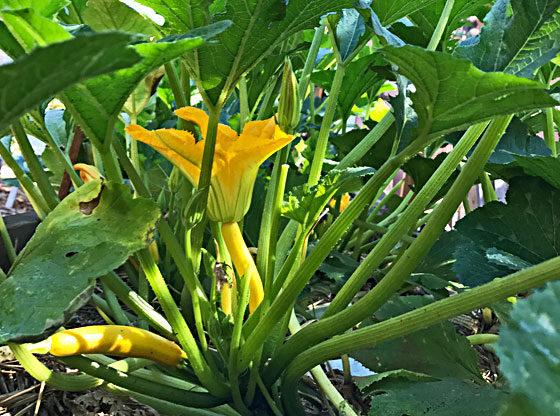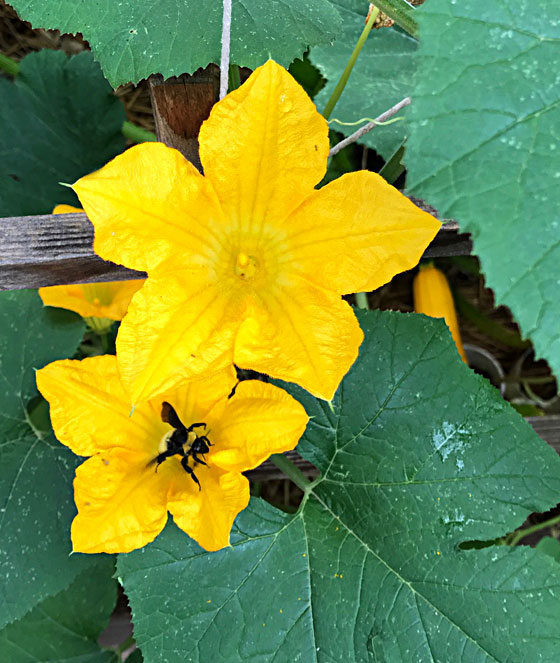 Save