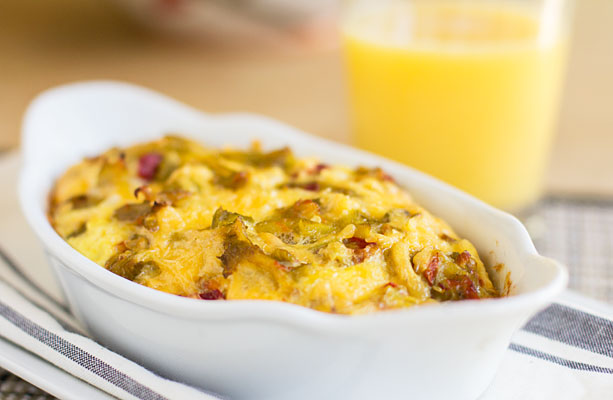 This Green Chile Cheese Breakfast Bake is not only just a quick & easy breakfast dish, but it is also a great way to use up leftover cornbread or pretty much any stale bread you have available.  There are no exact measurements for the ingredients.  It's basically some green chile and cheese piled on top of stale bread, covered with whisked eggs and spices, and baked.  It's hearty, spicy, high in protein and a delicious way to start the day.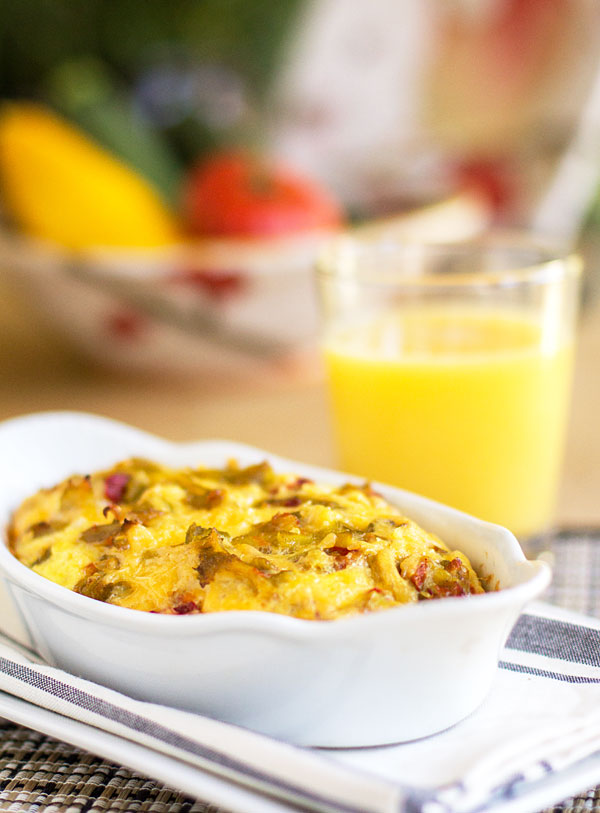 Green Chile Cheese Breakfast Bake Recipe

Recipe Author: MJ of MJ's Kitchen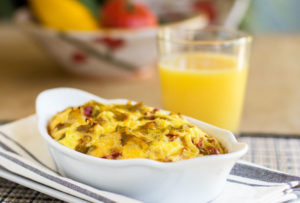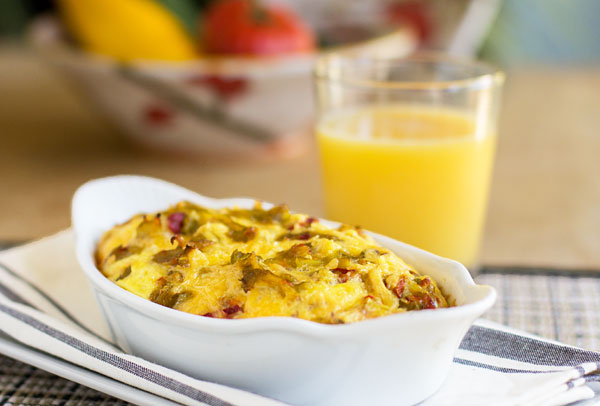 Serves: 2
Prep and Cook Time: 45 – 60 minutes
Ingredients
The amount of ingredients are not exact.
At least 1 cup leftover cornbread or any stale bread*
~ 1 Tbsp. butter
~½ cup diced onion*
~½ cup roasted green chile, chopped
½ – 1 cup Monterey Jack or Cheddar Cheese cheese*, grated
4 eggs
2 Tbsp. milk or cream
½ tsp. Mexican oregano or regular oregano*
½ tsp. mustard powder*
½ tsp. black pepper*
¼ tsp. salt*
Instructions
You'll need either 2 au gratin dishes or one small casserole dish.  If using 2 dishes, divide the ingredients evenly.

Preheat oven to 350ºF for 2 au gratin dishes or 375ºF of single casserole dish.
Butter the bottom and sides of the dishes.
Crumble the cornbread or stale bread evenly across the bottom of the dishes. Place in the oven for 10 minutes or until the cornbread starts to lightly toast.  Remove from the oven.
While the cornbread is toasting, in a bowl, beat the eggs. Add the milk, oregano, mustard powder, salt and pepper. Whisk for a couple of minutes.
Spread the onion, green chile and cheese evenly across the cornbread.
Pour the egg mixture over the green chile, onions and cheese.
Bake for 25/35* minutes or until center is firm.
Remove from oven and let cool about 5 minutes before serving.
*Kitchen Notes for Green Chile Cheese Breakfast Bake
Leftover bread – The amount of bread you use is variable.  For me, the ideal amount is about 1/2 cup per serving.  You only need a sparse layer on the bottom of the dish.  Too much bread and the result will be too bready and not enough of the green chile and egg flavor.
Onion – Because the onion is initially raw, it maintains some crispiness in the baking process.  Sweet onion yields a mild onion flavor, whereas other onions yield a little more intense onion flavor (which I love).  If you're not an onion fan, use the sweet onion or substitute the onion with bell pepper or some other vegetable.
Cheese – A Mexican cheese like Cojita or Queso Fresco also works.  It just doesn't melt as much as the Jack or cheddar, but it provides it's own unique flavor which is complementary to the green chile.
Spices – A variety of herbs and spices can be used. Just try to make what you use complementary to the green chile. Many times I just use 1/2 teaspoon green chile spice blend.
Dishes: au gratin or casserole – Personally, I prefer using the au gratin dishes.  The dish does bake faster and it's fun eating out of the baking dish.
Baking time:  The single servings cook faster (25 minutes).  The single casserole dish usually requires at least 35 minutes.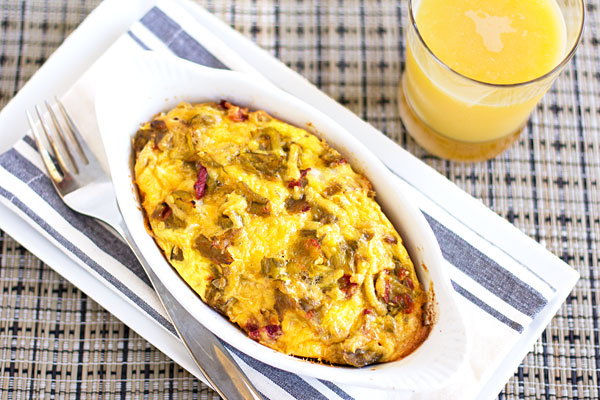 Bobby and I love starting our day with a chile breakfast.  Because we both just love chile, it doesn't really matter whether it's green or red or both.  In addition to this Green Chile Breakfast Bake, here are some of our other favorite breakfast chile dishes.
Grits and Green Chile (our absolutely favorite during the colder months)
Migas (Eggs, Green Chile and Tostadas)
Southwestern Pileup (with red)
Huevos Rancheros (with red or green or both)
DON'T FORGET – It's Green Chile Season in New Mexico!  Be sure to place your order for a shipment of fresh or frozen green chile.  Click for a List of New Mexico Green Chile Suppliers.
Click this link for more green chile recipes:  Index of Green Chile Recipes