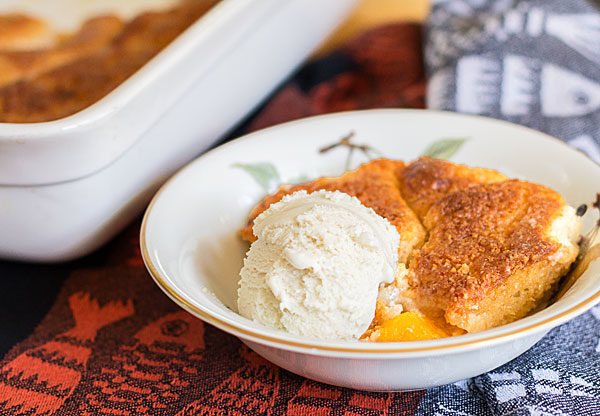 My Mama's Southern Peach Cobbler is the recipe that, during my lifetime, I've eaten more than any other recipe and probably have made it more than any other recipe.  This is a cobbler recipe that has been passed down through the generations in many southern families.  My grandmother passed it down to my mother and then she passed it down to all of her kids.  It's easy, delicious, and just downright fun to make.  You can use just about any fruit or combination of fruit.  A side of ice cream or whipped cream is a nice finish, and in the case of peach cobbler, ice cream and whiskey sauce is the ultimate Mardi Gras dessert.  I hope you enjoy!
And to all you moms out there – Happy Mother's Day!!!!!
In addition to peach cobbler, I'm sharing some pictures from the first part of our recent road trip – our time in the San Pedro River Valley.  Click the link to jump to the road trip.
Mama's Southern Peach Cobbler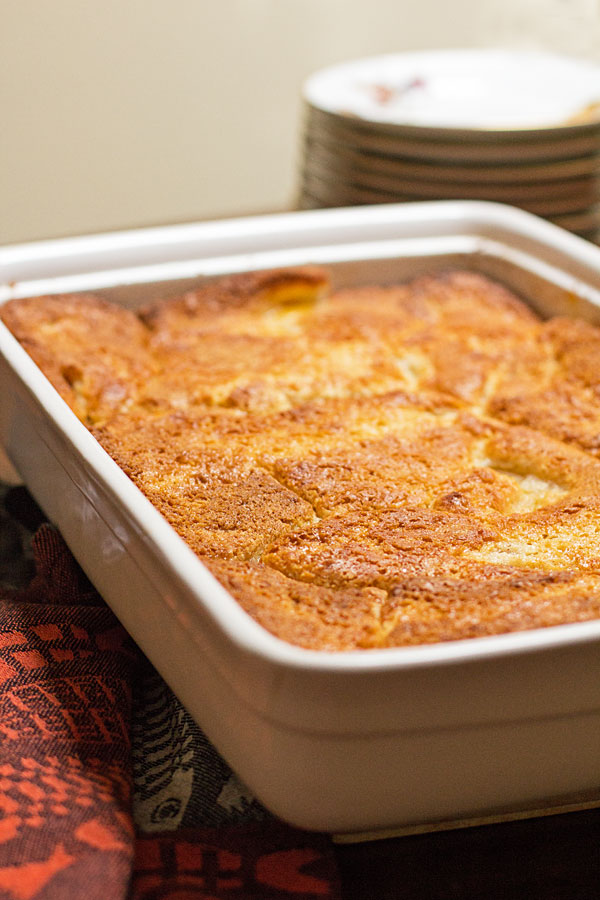 Mama's Southern Peach Cobbler Recipe
A traditional southern peach cobbler with some slight a changes in ingredients.

"*" See Kitchen Notes for more information or links to special ingredients.
Ingredients
Single Recipe (up to 6 servings) - use 2.5 - 3 quart casserole dish
½

stick unsalted butter

1

cup

unbleached AP flour

1

cup

sugar

1

Tbsp.

baking powder

1/8

tsp.

salt

1/4

tsp.

cinnamon*

1/8

tsp.

ground ginger*

1

cup

milk

(2% or whole)

3-4

cups

peaches*

(fresh, canned, or frozen)

Vanilla ice cream or whipped cream

(optional)
Double Recipe (up to 12 servings) - use 4 - 5 quart casserole dish
1

stick butter

2

cups

flour

1 ½

cups

sugar

1 ½

Tbsp.

Baking powder

¼

tsp

salt

1/2

tsp.

cinnamon*

1/4

tsp.

ground ginger*

2

cups

milk

6

cups

peaches*
Instructions
Preheat oven to 350°.

While oven is heating, cut up the butter into 2 - 4 pieces and place in casserole dish. Put the casserole dish in oven. Remove from oven when melted. Keep an eye on the butter and don't let it burn. Set aside.

In a large mixing bowl combine flour, sugar, baking power, salt, cinnamon, and ginger. Whisk to combine.

Add milk. Whisk until ingredients are combined. Do not over whisk so as not to kill the baking powder.

Pour batter into the casserole dish over the melted butter.

Evenly spread the fruit on top of the batter.

If you are using canned peaches in a heavy syrup, pour about 1/2 cup syrup over the top of the fruit. If you aren't using canned peaches, just skip this step.

Transfer cobbler to the hot oven and bake for exactly 1 hour. Remove and set on a rack. Just for grins, test the center for doneness. If the toothpick comes out clean, it's done. If not, cook another 10 minutes.*

Serve with vanilla ice cream or whipped cream, if desired.
Kitchen Notes
Peaches – Ripe fresh peaches impart the best flavor, but when I can't get fresh peaches, I'll use Costco Kirtland canned peaches in the glass jars. When using canned peaches, I'll pour about 1/2 cup of the peach juice on top. This helps to create a sugary and crustier crust.
Spices – Cinnamon and ginger can be increased to your taste. I prefer a slight hint that complements the peach flavor, not overpowers it. Of course you could omit it altogether like my mother's recipe.
Cook time – In all of the decades that I've been making this cobbler, it has ALWAYS been completely cooked in 1 hour, no matter whether I cook a single or a double batch. If yours does come out undercooked, then you might want to check your oven temperature.
Suggestions for other fruit – Blueberries is another one of my favorites. Other fruits that work great include blackberries, a mix of berries, strawberry/rhubarb, just rhubarb, apricots, and cherries.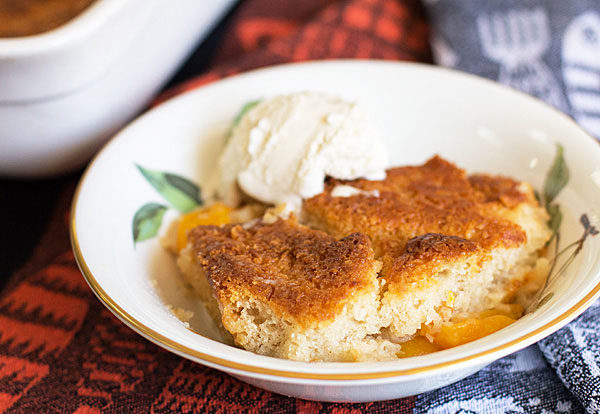 If you don't want to make such a big cobbler, then check out the recipe for this Pear Apple Cobbler for Two.

The San Pedro River Valley
[You can click on the pictures to enlarge.]
Below is a small taste of our road trip to SE Arizona.  We'll call this Part I.
The San Pedro River "is one of only two major rivers that flow north out of Mexico into the United States and is one of the last large undammed rivers in the Southwest". (The Nature Conservancy)  It is a nesting environment for over 100 species of breeding birds and over 250 species of migratory birds.  All of these birds, in such a relatively small place, make this area a prime attraction for bird watchers.
The first picture below is looking east toward the San Pedro River bosque, the green that runs the width of the picture.  The San Pedro starts in the State of Sonara in Mexico and flows into the Gila River north of Tucson.  The last picture below is looking back at the Mexico mountains that are the headwaters of the San Pedro river.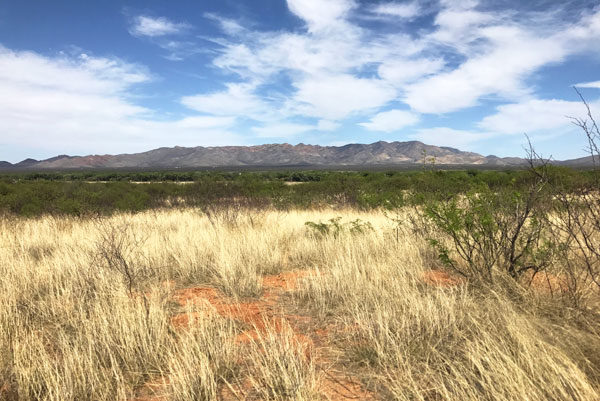 When looking at the picture below (left), one might laugh that, we in the southwest, would call this a river and not a creek.  But yes, it is a river, a small river, but a river just the same.  There are actually 14 species of fish in this river.  There are also about 84 species of mammals that live in the area and benefit from this source of water.  Groves of cottonwoods, both young and old, create the bosque along the length of the river.
Because this is a rather underpopulated area of Arizona, there aren't a lot of places to stay. However, Bobby did find us a wonderful little Bed & Breakfast – the Casa de San Pedro.  It was perfect! A beautiful setting with easy access to the river.  The picture below (right) is the inner courtyard that we enjoyed while sipping morning and afternoon tea just outside our room.  With all of the flowers and feeders, it was a wonderful place to watch birds.  Our B&B hosts were wonderful people.  The food was delicious and, every afternoon, four homemade pies were set out for the guests to enjoy.  During our two day stay, we had a choice of eight different pies!  I did refrain from trying them all, but of the ones I did try, the sour cherry was my favorite.  Bobby thoroughly enjoyed the strawberry-rhubarb.
Between the river and the Casa de San Pedro B&B, there was plenty of water and vegetation to create a perfect habitat for birds and butterflies.  Below are a couple of pictures that Bobby took of a Pipevine Swallowtail butterfly and a Gila woodpecker.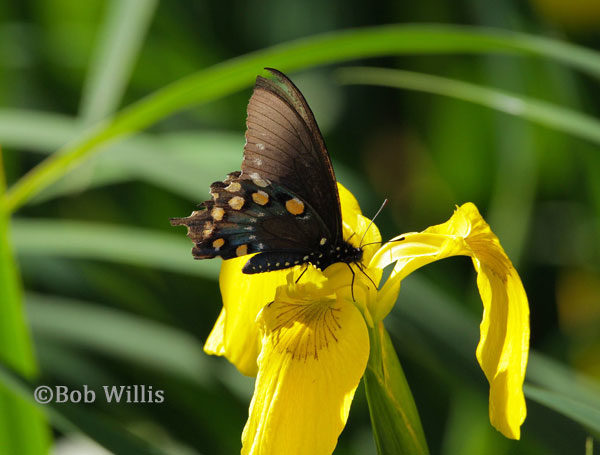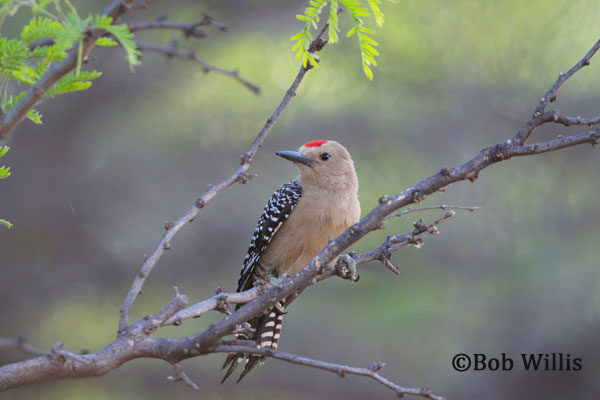 One day we decided to drive to the Arizona – Mexico border to see where the San Pedro crossed the border.  Unfortunately, that area was blocked off by Border Patrol so we weren't able to enter, but I did get this picture of the fence that runs west from the river along the border.  Fortunately, the fence stops a few feet west of the river so it doesn't prevent the movement of fish and habitat upstream.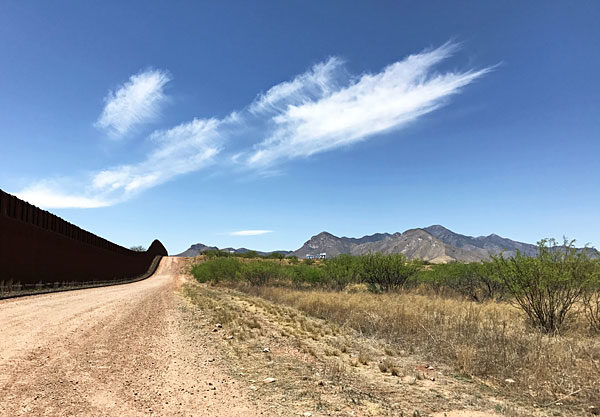 After spending a few days in this area, we headed northwest toward Tucson, but took a short little excursion up into the Huachuca Mountains.  It was on this drive that I took this picture of the mountains in Mexico which, we believe, are the headwaters of the San Pedro River.  On up the road into the Huachuca Mountains we stopped at the Carr House and had a great time chatting it up with house host, who was full of knowledge about the area.  It was there at the Carr House where we saw our first Magnificent Hummingbird, a hummingbird that is significant larger than any hummingbird I've ever seen. Large and beautiful!  Unfortunately, a little too fast to grab a picture with my phone.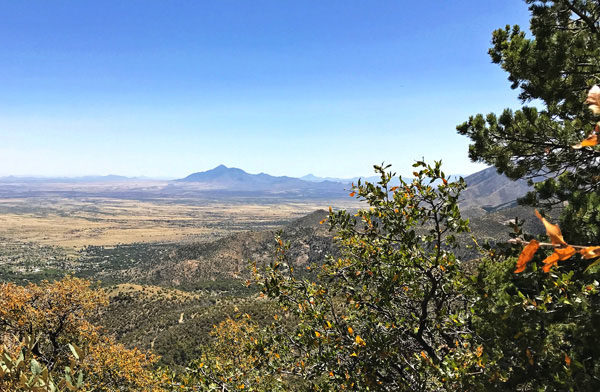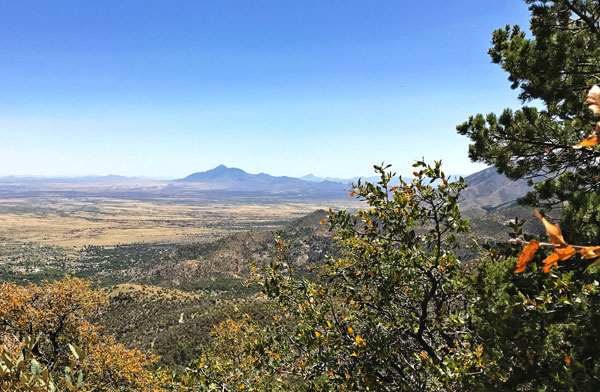 In the next post I'll be dishing up a Mexican dish that I thoroughly enjoyed on this trip. I'll also be sharing some pictures of the Tuscon area and the Saguaro National Park.
In the meantime, I hope you enjoy a bowl of my Mama's Southern Peach Cobbler.