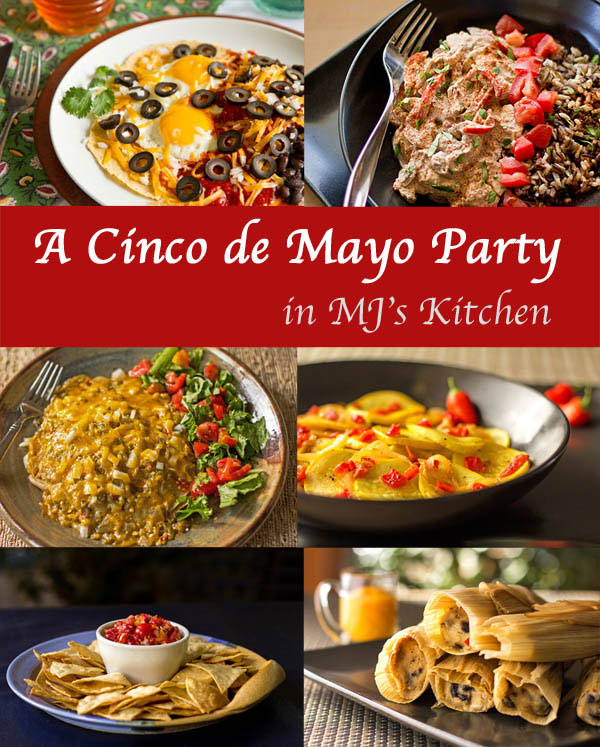 Still working on your menu for Cinco de Mayo?  Hopefully, this list of Cinco de Mayo recipes will tempt you to add a couple more dishes.  The spiciness and the flavors in these recipes will have your guests dancing in the kitchen.
Breakfast
Migas (Scrambled Eggs with Green Chile and Tortillas)
Grits with Chipotle and Feta Cheese

Starters
Pico de Gallo with Pickled Peppers and Chipotle
Enchiladas
Green Chile Chicken Enchiladas
New Mexico Red Chile Enchiladas
Main Dishes with Meat
Chicken Mole (New Mexico Red Mole)
Chicken and Vegetables with Chile de Arbol Pipián

Vegetarian Mains
Black Bean Tamales with Spicy Mango Sauce
Crepes with Green Chile, Pinon and Queso Fresco

Tacos and Tostadas
Grilled Portabello Tacos with Red Chile-Yogurt Sauce
Chicken Tacos with Green Chile Corn Relish
Tostada with Egg, Sausage, Green Chile and Cheese
Bean Tostada (Black bean, Pinto beans or Bolita Beans)

Soups and Stews
Green Chile Chicken Mushroom Soup
Posole with Mexican Chorizo and Mushrooms

Vegetable Sides
Calabacitas (Squash, Corn, Chile)
Grilled Corn with Red Chile Spice
Yellow Squash with Red Chile Peppers

Desserts and Sweets
Chocolate Pudding, New Mexico Style
Parting Shot
In April, Bobby and I did a road trip exploring SE Arizona.  One of the areas that we explored was the San Pedro River valley near Sierra Vista, AZ.  In a few of my next posts, I will be sharing some of the scenery and food that we experienced.  Since Cinco de Mayo is a Mexican celebration, I'm leaving you with shot looking back at the mountains just across the Arizona border into the Sonora State of Mexico.  These mountains are the headwaters of the San Pedro River, a river that flows north from Mexico and into the Gila River north of Tucson, AZ.