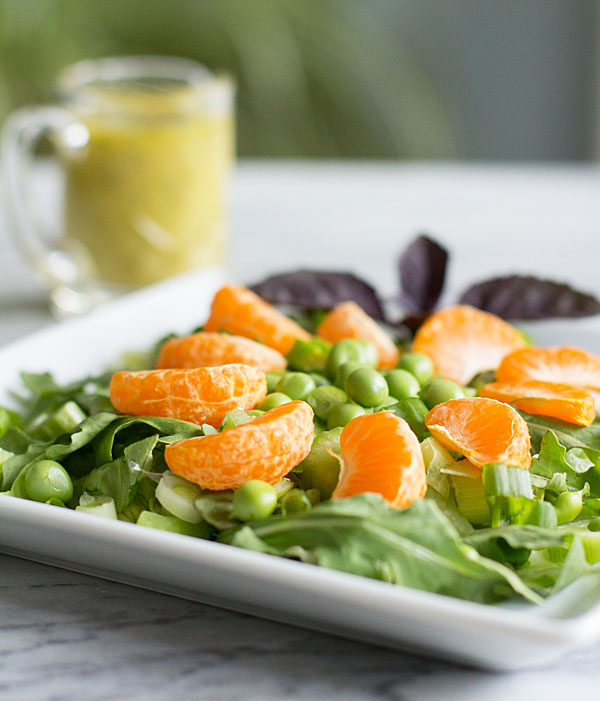 This simple spring salad with arugula, fresh peas and orange was inspired by Anne's Lemon Tarragon Vinaigrette over at A Salad for All Season.  Anne recommended using the vinaigrette over a plate of greens or a side vegetable, so why not both in a salad.  The flavors in the vinaigrette are a nice complement to this light salad with arugula, fresh peas, and orange topped with toasted sunflower seeds.  (Yes, I forgot the sunflower seeds for the photos. Whoops!)
Its flavors and textures make this salad a nice side for just about any meal.  We've had it with lamb chops, spicy smoked short ribs, and a Fennel-spiced Ham and Mushroom Pasta. It was a great complement for each of these entrees.
Just a note about the fresh peas … A favorite spring vegetables of mine is the sugar snap pea.  Whenever I see sugar snaps at the market, I pick through them to get the snaps with the largest peas.  Once home, we shuck them, and what peas we don't eat right away, get added to many of our salads.  They add a wonderful texture and a little sweetness in every bite.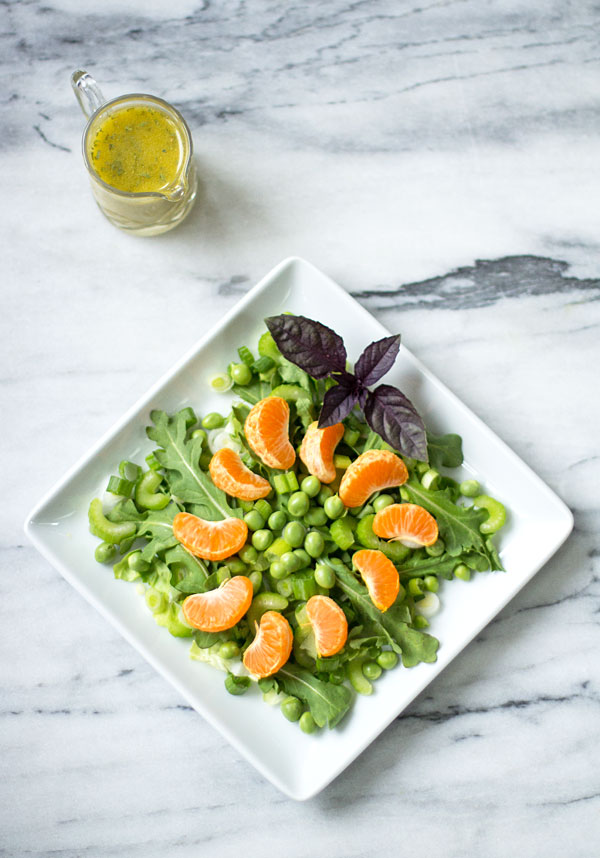 [print_this]
Arugula, Fresh Peas, and Orange Cuties Salad (Recipe)

Yields 2 small salads
Prep Time: 20 minutes
Ingredients
A mix of arugula and butter leaf lettuce, torn or chopped* (~1 cup/serving)
2 stalks of celery, chopped
2 scallions, green and white parts, chopped
½ cup shelled fresh peas (e.g., sugar snaps)*
2 orange cuties*, divided in wedges, then halved
2 Tbsp. toasted sunflower seeds (not shown in photos)
Lemon Tarragon Vinaigrette
(original recipe was slightly changed and reduced for ~1/4 cup, enough for 2 small salads)

1-2 tsp. honey or maple syrup*
1 Tbsp. lemon juice (juice from half a lemon)
2 tsp. Dijon mustard
2 Tbsp. olive oil*
¼ tsp. dried tarragon or ½ tsp. fresh, minced
1/8 tsp. dried mint or ¼ tsp. fresh, minced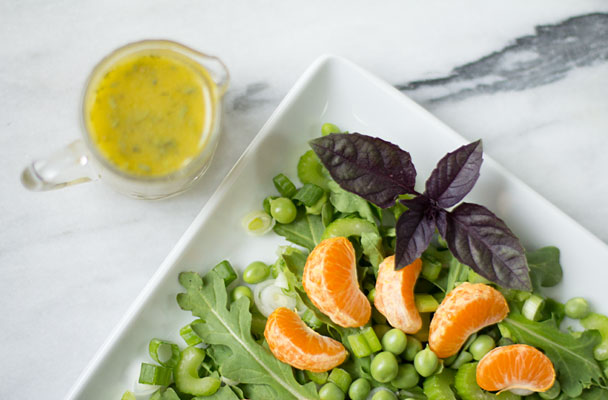 Instructions
In a small skillet over medium-low heat, lightly toast the seeds by shaking the skillet and flipping the seeds.  Once toasted, transfer seeds to a saucer and set aside.
On one large plate or two separate salad plates, layer the greens, scallions, peas, celery, and citrus.
Whisk together all of the ingredients (except the olive oil) for the vinaigrette.  Once fully combined, whisk in the olive oil. Taste and adjust sweetness and acidity if needed*.
Drizzle the vinaigrette over the salad. Top with the toasted sunflower seeds.
Serve and enjoy.
*Kitchen Notes
Salad Greens – Any mix of salad greens can be used, just be sure there is a generous amount of arugula.
Fresh Peas – My favorite fresh peas are the overgrown sugar snaps, but you could use any edible fresh green pea.
Orange – Any type of oranges can be used; however, we usually use cuties, tangerines or Cara Cara.
Honey or maple syrup – Start with 1 tsp., then once you've whisk together the ingredients for the dressing, taste and adjust the sweetness to your personal taste.
Olive Oil – Just like the sweetener, taste the dressing once you've whisked the dressing.  If too acidic, add a little more oil.  I usually ended using a little more than 2 Tbsp., but not quite 3.
[/print_this]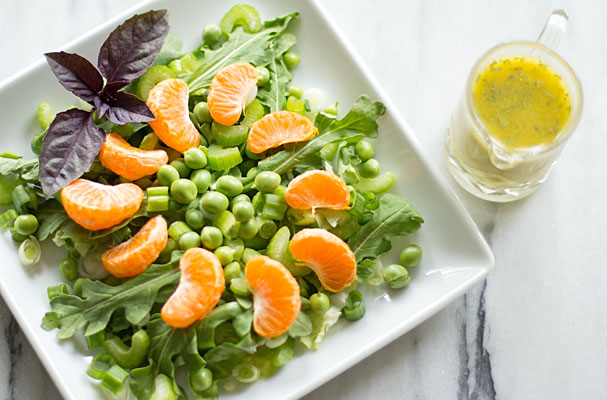 If you have enjoyed this arugula, fresh pea, and orange salad, then you'll probably like these other spring salads.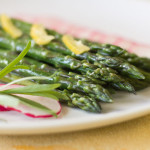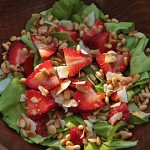 Strawberry, Coconut Salad with Pinon