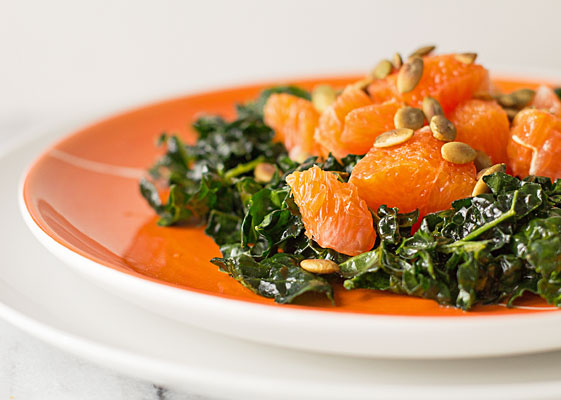 We've been making massaged kale salads for several years now, using whatever fruit is in season – peaches, mango, apples, oranges. All are very tasty, but our favorite is this salad made with dino kale, Cara Cara orange, and pepitas with a light dressing of olive oil, lemon juice and honey.  This salad is crunchy, tart, sweet, and citrusy, and it's SO EASY to make…20 minutes or less.
It can be served with just about anything or alone as a meal.  We really like it with spicy foods, like red chile enchiladas, because the sweet citrus helps to dampen the burn.  It's also a wonderful complement with grilled flank steak, smoked chicken or turkey, pork kabobs, and smoked beef tri-tip.  It's also a nice salad to take to picnics and potlucks because the kale leaves hold up to the dressing for quite a while.
A Light Salad of Massaged Kale, Cara Cara Orange, and Pepitas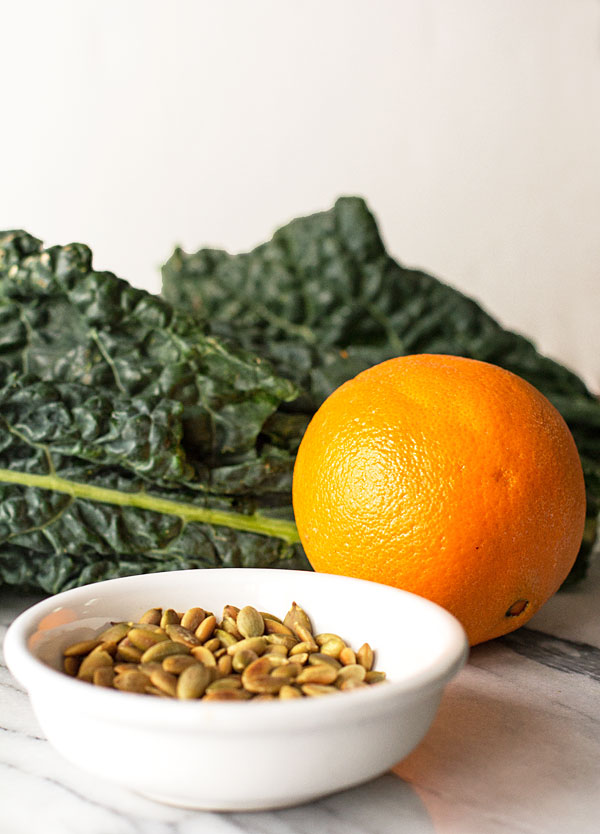 Dino Kale, Cara Cara Orange, and Pepitas Salad (Recipe)
Another version of the infamous massaged kale salad.

"*" See Kitchen Notes for more information or links to special ingredients.
Ingredients
There are NO exact amounts for this recipe. You get a sweeter salad by adding a second orange or a little more honey. The amount of salt, of course, is always to taste, and the amount of olive oil is just enough to coat the leaves. The amount of lemon is also to taste. Sometimes I do add a bit more depending on the amount of kale and its bitterness. The amounts before I consider the "minimum" amounts.
1

bunch Dino,

Tuscan kale, stems removed, leaves chopped*

1

Cara Cara Oranges*,

peeled and cut into bite size pieces

3

Tbsp.

pepitas (pumpkin seeds),

lightly toasted*

~ 2 Tbsp. Quality Extra Virgin Oil Olive*

(EVOO)

juice from ¼ lemon

Sea Salt

1

tsp.

honey or to taste
Instructions
Toast the pepitas* and set aside.

Cut up the orange.

Chop the kale leaves and transfer to a large bowl.

Drizzle 1 - 2 Tbsp. EVOO over the leaves.

Squeeze the juice from the lemon over the leaves.

Using both hands, "massage" the kale, squeezing and crunching the leaves until they are broken down and somewhat wilted. This makes them more tender and palatable.

Drizzle the honey over the leaves and sprinkle with a little sea salt. Using salad tossers, toss to combine and coat leaves with the honey and to distribute the salt. Taste for balance.

Add the Cara Cara and the toasted pepitas. Toss to combine.

Serve chill or a room temperature.

If you have leftovers, this salad does keep well in the refrigerator overnight.
Kitchen Notes
Type of Kale – Dino kale also goes by the names Tuscan Kale, Lacinato kale, black kale, or cavolo nero and is the best type of kale to use in massaged kale salads IMO.  It's a very sturdy kale, thick, crunchy, and flavorful.  The leaves strip off the stems easily and can be cut into whatever size pieces you want leaving minimal tiny pieces that you get from other kale types, like curly kale.
Prepping the kale – To remove the leaves from the stem, grab the bottom of the stem with one hand, and, with the other hand, grab the leaves at the base and pull up the stem.  The leaf should separate from the stem easily.  Discard the stem and continue stripping the leaves from the rest of the bunch.  To cut the leaves cut the leaves in half vertically down the center seam.  Cut the leaves horizontally into narrow strips (about ¼ – ½ inch wide).
Type of Citrus – Cara Cara is our favorite citrus so I use it as much as possible when in season.  When not in season, I'll substitute tangerines, satsuma, or cuties.  You want a very flavorful, sweet orange to counter the bitterness of the raw kale. A mix of citrus also works, like tangerines, grapefruit, and orange.
EVOO – Use your favorite!  Don't use a cheap oil for this salad.  You want to taste the olive oil.  A Blood orange infused olive oil is wonderful with this salad if you can find it.
I'm not sure if you need another reason to eat kale other than enjoying this tasty salad, but just in case here are "26 Science-Backed Health Benefits of Kale".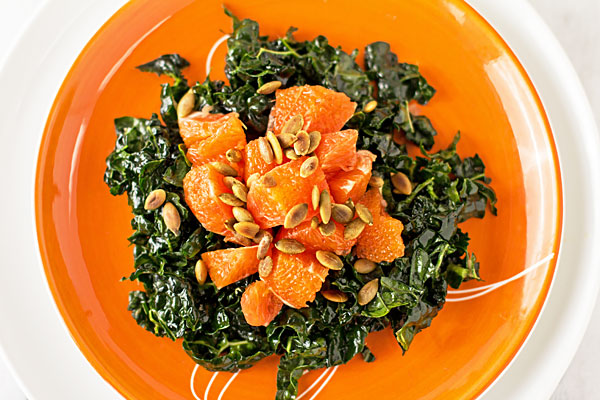 If you enjoyed this Kale, Cara Cara Orange, and Pepitas salad remember that you can substitute the Cara Cara orange with with just about any seasonal fruit or, you could make it more of meal.  In place of fruit, substitute black beans or Roasted Sweet Potatoes.
Enjoy!