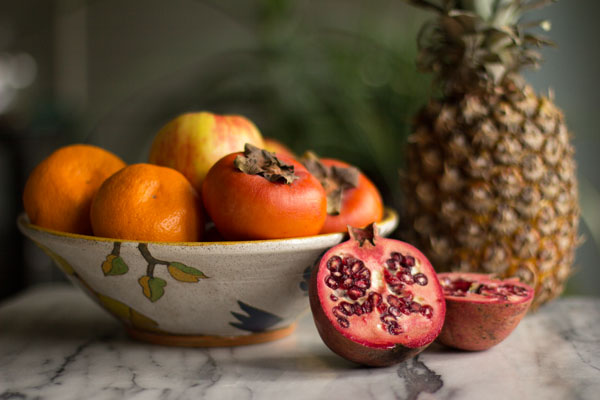 Even though the winter offers less of a variety of fruit than other seasons, it still provides some wonderful jewels to enjoy as long as they last.  One way to enjoy them is with this Winter Fruit Salad.  It's a light, sweet and citrusy salad with pineapple, persimmon, orange, and pomegranate all topped with a minted honey ginger vinaigrette.  Lots of flavors and textures to brighten up a cold, gray winter's day.
Winter Fruit Salad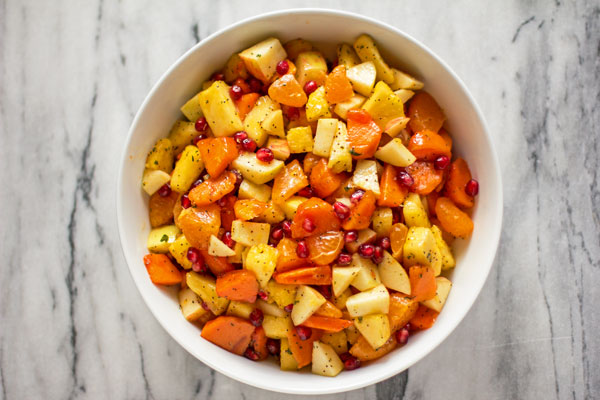 Winter Fruit Salad with Pineapple, Persimmon and More - Recipe
A winter fruit salad made with pineapple, persimmon, citrus and pomegranate. Great for parties, potlucks, and large family gatherings. Keeps well in the refrigerator for about 3 days.

"*" See Kitchen Notes for more information or links to special ingredients.
Ingredients
Cut the fruit into small half-bite size pieces. You'll want at least 2 – 3 pieces with each bite.
½

fresh pineapple*,

cut into little pieces

3

Tangerines or oranges*,

separate wedges and cut in half

3

Fuyu persimmons,

cut into little wedges, then cut in half

1

large crispy apple,

cut into little pieces

seeds from 1 pomegranate

Zest from 1 lemon
Minted Honey Ginger Vinaigrette
½

tsp.

honey or to taste

1

Tbsp.

honey ginger white balsamic vinegar*

3

Tbsp.

canola oil

½

tsp.

crushed dried mint or 1 tsp. chopped fresh mint

½

tsp.

poppy seed
Instructions
Whisk together the ingredients for the vinaigrette in a small bowl and set aside.

Cut up all of the fruit and transfer to a large bowl.

Add the pomegranate seeds and lemon zest. Toss to combine.

Re-whisk the vinaigrette and pour over the salad. Toss with the fruit.

Chill for at least 1 hour and then re-toss before serving.
This Winter Fruit Salad keeps well in the refrigerator for about 3 days. Just remember to re-toss the salad before serving.
Kitchen Notes
Pineapple – If you can't find fresh pineapple, canned pineapple can be used.
Tangerines – Pretty much any orange type citrus can be substituted for the tangerines:  cuties, oranges, satsumas.
Apple – Use a crispy, tart apple like a cameo, honey crisp, or Granny Smith.  The tartness will counter the sweetness of the other fruit and the crispiness will add a different texture.
Honey Ginger White Balsamic – If you don't have this or a white balsamic, use this alternate vinaigrette.
1 tsp. honey or to taste
1/8 tsp. grated fresh ginger or 1/8 tsp. ginger powder
1 Tbsp. white wine vinegar
3 Tbsp. canola oil
½ tsp. crushed dried mint or 1 tsp. chopped fresh mint
½ tsp. poppy seeds
If you haven't tried a honey ginger white balsamic, then you need to.  A friend of mine gave me a bottle last year and I was hooked the first time I tried it.  You may be able to find it at a specialty oil & vinegar shop in your area or you can order it online.  It's worth every penny.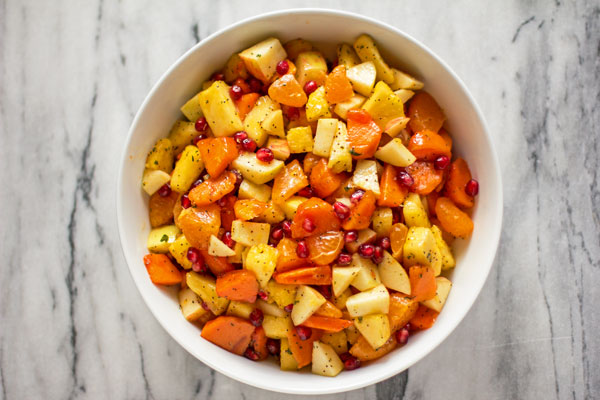 Hope you enjoy this Winter Fruit Salad with pineapple, persimmon, and citrus.  Here are some other winter salads you might also enjoy.
Cara Cara Orange and Persimmon Salad
Citrus Salad with Toasted Seeds