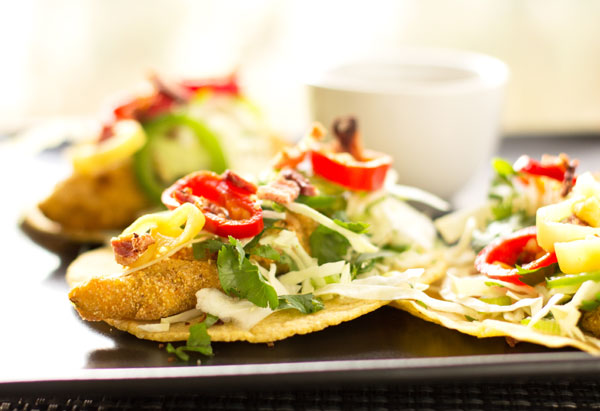 Recently Bobby and I did a road trip through the coastal southern U.S. heading down to the Louisiana coast and ending up on St. George Island, Florida.  As always we ate only at local restaurants and as expected, Bobby always found the best of the best.  For lunch one day we stopped at a little place in Pascagoula, Mississippi, called Jack's by the Tracks – "a Southern-Sushi-Juke-Joint-Fish-Taqueria-Neighborhood-Pub-Deli". After pursuing the diverse menu, we both settled in on the tacos.  Bobby got the Shrimp Tacos and I went for the Veggie Taco with bacon. 🙂  The veggie tacos were fried green tomato tacos that were superb! Right then and there I knew I would have to give them a try at home.  And luckily…
Because we had such a long fall this year, there were still lots of tomatoes on the plants when we got home Thanksgiving week.  Most of them were the small unripened green zebra heirlooms, that were green, tart, and firm – perfect for fried green tomato tacos.  In creating my own version of fried green tomato tacos, I used Jack's as a guide, but made some major changes in an effort to simplify while maintaining the many layers of flavor and texture.  Jack's tacos consisted of "sauteed peppers, onions & tomatoes w/ corn-jalapeno relish, mixed greens and house-made remoulade." I kept the remoulade, but went astray after that; however, we still ended up with fantastic fried green tomato tacos that would delight even the most dedicated carnivore.  The tacos you see here consist of fried green tomato wedges, remoulade, a simple cabbage slaw, pickled peppers, and bacon, if desired.  I hope you enjoy them as much as we do!
Vegetarian and Vegan options can be found in the Kitchen Notes.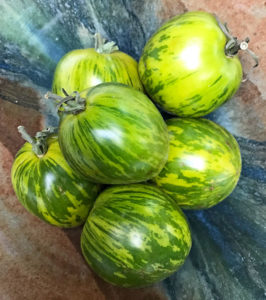 For the following recipe I used fully green, firm Green Zebra heirlooms. (Green Zebras turn yellow as they ripen.) Each tomato was between 1.5 – 2 inches in diameter. The smaller tomatoes were cut lengthwise into 6 wedges. The larger tomatoes were cut into 8 wedges.
[print_this]
Fried Green Tomato Tacos Recipe

Recipe Author: MJ of MJ's Kitchen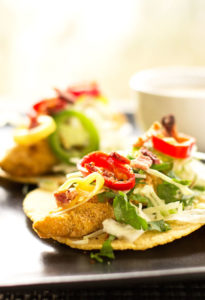 Yields about 8 – 12 tacos, allowing 4 – 5 tomato wedges per taco
Prep time: Varies for each step
There are a few steps for these tacos (like all tacos), but, other than frying the green tomato, the steps are quick and easy and can be done at different times. And if you have help, it all goes pretty fast.

Ingredients and Instructions

Many of the amounts below are estimates. Exact amounts are not critical.
Step 1:  Remoulade Sauce (John Besh's Remoulade – I cut his recipe in half and made a couple of minor changes.)
Make the day before or morning of.  Takes about 10 minutes to prepare.
½ cup mayonnaise*
2 Tbsp. Dijon or creole mustard
1 Tbsp. prepared horseradish
1 Tbsp. chopped parsley
1 small shallot or 2 slices of onion, minced
1 small garlic clove, minced
1 Tbsp. brine from pickled peppers*
2 healthy dashes of Tabasco or favorite hot sauce
½ teaspoon paprika
¼ teaspoon red chile powder
Dash of garlic powder
Mix everything together in a bowl.  Refrigerate until ready to use.
Step 2: Simple Cabbage Slaw (Can be made at any time)

Takes about 10 minutes.
¼ head of green cabbage, sliced very thin, then halved
2 green onions with greens, sliced thin
½ bunch cilantro, chopped coarse
Mix all ingredients in a bowl and set aside or refrigerate until ready to use.
Step 3: Corn Tortillas (Make and keep warm right before frying up the tomatoes)
If you make them, allow 30 minutes.  If you buy them, then allow 10 – 20 minutes to warm enough for the meal depending on the method you use. Either warm them on a hot griddle then place in tortilla warmer to keep warm and soft, or wrap the tortillas in aluminum foil and heat in a hot (375ºF) oven for 10 minutes.
Step 4: (optional) Fry 4 – 6 slices of bacon (1/2 piece bacon/taco) – Make more if you expect a couple of pieces to be consumed during the prep.

Step 5: Fried green tomatoes (Allow 30 minutes)
3 – 4 cups canola or vegetable oil for frying
8 – 10 small firm green (upripe) tomatoes*, cut lengthwise into 6 – 8 wedges
½ cup AP flour
¼ tsp. salt
¼ tsp. black pepper
2 eggs
2 Tbsp. buttermilk*
½ tsp. Worcestershire sauce
1 cup fine ground cornmeal
2 tsp. green chile spice mix*
Heat the oil in a large skillet over medium heat.
Transfer the flour, salt and pepper to a large plastic bag.
In a large bowl, whisk together the eggs, buttermilk, and Worcestershire sauce.
In another large plastic bag, combine the cornmeal and green chile spice.
While the oil is heating, transfer the tomato wedges into the flour bag. Seal and toss to coat the individual pieces.
Using a slotted spoon, transfer the tomatoes to the bowl with the egg mixture, shaking off excess flour. Stir gently to coat the wedges with the egg.
Again, using the slotted spoon, transfer the egg coated tomato wedges to the bag with the cornmeal. Seal the bag. Toss the tomatoes around in the bag to separate and coat the individual wedges with cornmeal.
Test the temperature of the oil. If you have a high temperature thermometer measure the oil temperature. It should be 350° F. If you don't have a thermometer, toss some of the cornmeal in the skillet. If it immediately sizzles, the oil is hot enough.
Add the tomato wedges to the hot oil, a few at a time, and fry about 2 minutes a side until the batter is golden brown. Transfer onto a flat paper bag to drain.  Lightly sprinkle with salt.
Repeat with the rest of the tomatoes. It could take 3 to 4 batches depending on the size of your skillet and the number of wedges.
Step 6: Condiments and taco assembly
In separate bowls, place several slices of pickled peppers, the crumbled bacon, and wedges of lime.
Assemble the tacos
Place about 1 Tbsp. of Remoulade sauce down the middle of a tortilla.
Top with 3 – 4 wedges of fried green tomatoes.
Top with slaw, bacon and pickled peppers.
Squeeze a little lime juice on top.
Fold and enjoy.
*See Kitchen Notes for variations and substitutions.
[/print_this]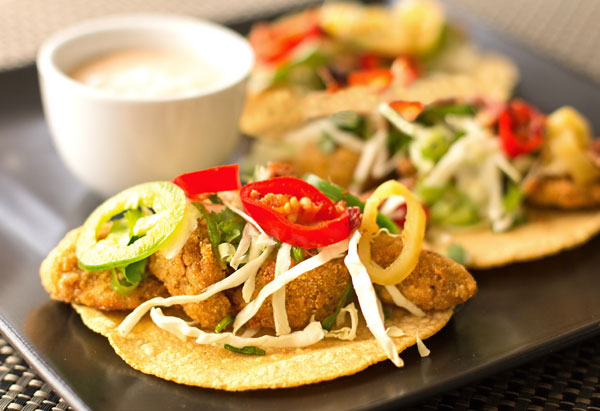 Kitchen Notes
The Tomatoes – The tomatoes need to be green and firm.  If they show any signs of ripening, they will not hold up well to the frying process, nor will they provide the tartness of a green tomato.  Firm, dark green tomatillos can be used as a substitute for green tomatoes.
Pickled Peppers – Any type of hot pickled peppers, like pickled jalapeno work just fine.  You could also make and use these spiced pickled peppers. If you don't have pickled peppers, then substitute with thinly sliced, hot raw pepper like jalapeno or serrano, or a milder poblano.  You could also used roasted green chile.
Green Spice Mix – For the spice mix used in the cornmeal, you can substitute garlic and onion powder, salt and pepper, and green or red chile powder.
Vegetarian Option – Omit the bacon. A little bit of a smoked cheese could be use as a substitute.
Vegan Option – Replace the mayonnaise in the remoulade with a vegan substitute.  Replace the buttermilk used in the egg mixture for the fried green tomatoes with coconut milk or coconut cream.
If you enjoy these Fried Green Tomato Tacos, then you might also enjoy these other tasty tacos.
Chicken Tacos with Green Chile Corn Relish
Grilled Portabello Mushrooms and a Red chile yogurt sauce
Save