While I'm taking a break for a few weeks, Tiffany from the website Dilesia – Where sweet treats and good eats meet – is filling in with a timely post on five perfect grilling recipes for the holiday season.  Thank you Tiffany!  All of these dishes look fabulous!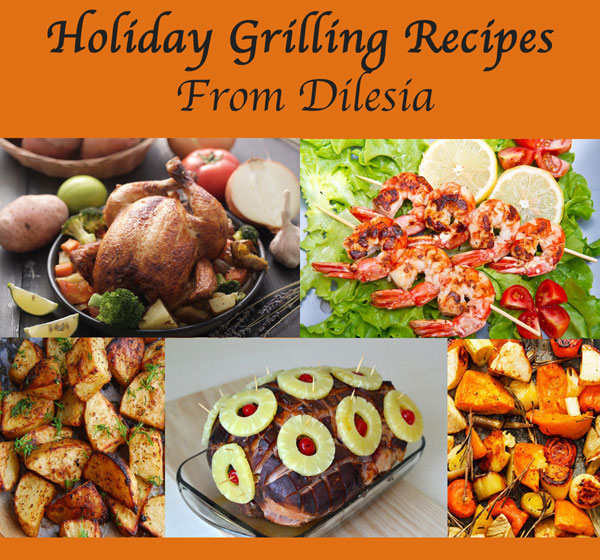 Tiffany ….
The holidays are approaching, accompanied by the plethora of activities that are involved in feeding and entertaining large numbers of people. Beginning from Thanksgiving, spreading across Christmas and stretching well into the New Year, you will find yourself having to come up with delicious and nutritious meals for friends and family.
It is therefore important to have a few tried and tested healthy recipes on hand to ensure that you do not run out of ideas. Among the healthiest ways to prepare holiday staples is grilling, which ensures that your meals are perfectly done, without having to compromise on nutrition and taste.
Below are a few grilling recipes to add to your repertoire this holiday:
Citrusy Grilled Prawns
Surprise your guests with this perfectly grilled starter with garlic, lemon, orange, mustard and wine flavors.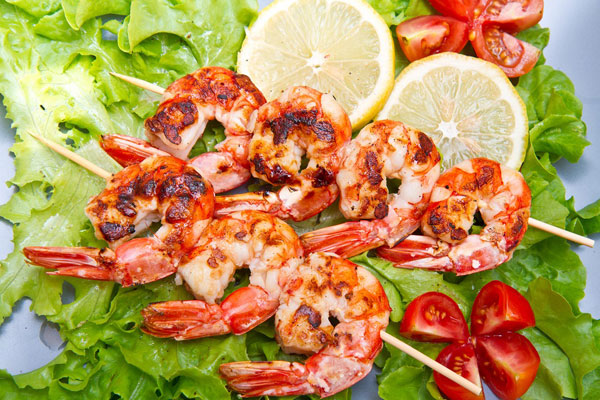 [print_this]
Recipe for Citrusy Grilled Prawns
 Ingredients
1 cup extra virgin olive oil
1 tbsp Dijon mustard
Juice of 1 lemon
½ cup orange juice
3 crushed garlic cloves.
Dried oregano and basil to taste.
2 tbsp white wine of your choice.
30 raw tiger prawns, deveined and peeled.
 Instructions
Mix olive oil, mustard, garlic, lemon and orange juice, herbs and wine together in a glass bowl.
Add prawns to the mixture, stir to coat, cover and marinate for one hour.
Heat grill to high.
Thread skewers through prawns and place over grilling rack.
Grill for 3-5 minutes until lightly browned.
Remove from grill and serve on a bed of lettuce with tomatoes.
[/print_this]
Quick Grilled Potatoes
This quintessential side dish is cooked to perfection in the grill, ensuring potatoes that are soft on the inside and crispy and chewy on the outside.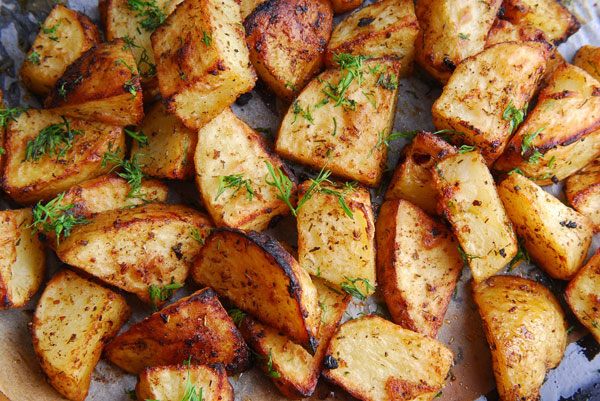 [print_this]
Recipe for Quick Grilled Potatoes
Ingredients
5 large potatoes, scrubbed.
2 tbsp extra virgin olive oil
Kosher salt and freshly ground black pepper to taste.
Instructions
Clean and scrub the potatoes and place in a saucepan. Slice them into thick halves or quarters. Cover with water and boil lightly for about 5 minutes.
Preheat grill to medium.
Drain potatoes and toss with olive oil, salt and pepper.
Place on a pizza stone and insert into oven.
Grill for 15 – 20 minutes, turning once to ensure they are well done.
Once potatoes have turned golden brown, remove from grill and serve hot.
[/print_this]
Grilled Thanksgiving Turkey
Spices and apple cider bring out the flavors in this holiday turkey, while brining and grilling allow the turkey's juices to seal in, resulting in a moist and delicate bird that will practically fall off the bone.
[print_this]
Recipe for Grilled Thanksgiving Turkey
 Ingredients 
20 lb turkey
12 medium sized cups water
Vegetables: carrots, onions, celery, broccoli, potatoes.
3 cups apple cider
½ cup organic honey
4 garlic cloves
¼ cup mixed spices of your choice
1 cup kosher salt.
1 tbsp black pepper.
Instructions
Prepare the brine by boiling the water, adding salt and stirring until fully dissolved. Allow to cool to room temperature and add chopped onions, carrots and celery, along with crushed garlic.
Place the turkey, breast down, in a large sealable bag. Pour the brine mixture into the bag and refrigerate overnight.
Remove the bird from the refrigerator and drain the brine, taking care to drain from the cavities and patting the bird dry with paper towels.
Preheat your grill to 300°F.
Drizzle the turkey with olive oil and season with black pepper and herbs and spices of your choice. Insert some of the brined vegetables into the cavity.
Place the turkey, breast side up, on a pizza stone. Arrange the rest of the brined vegetables, along with broccoli and potatoes next to the turkey and place in the grill.
Cook at 300F, allowing 15 minutes for each pound of turkey for a total of 300 minutes or 5 hours.
During the last 30 minutes, baste the turkey with butter and cook until a thermometer inserted into the bird reads 165ºF and the juices run clear.
Remove and allow to stand for 25-30 minutes before serving.
[/print_this]
Herbed Grilled Christmas Root Vegetables
Grilled root vegetables make a great side dish and are wonderful when served with turkey, goose, ham or other main holiday dish. Grilling them with fresh herbs infuses a spicy and earthy flavor and brings out the individual characteristics of each vegetable.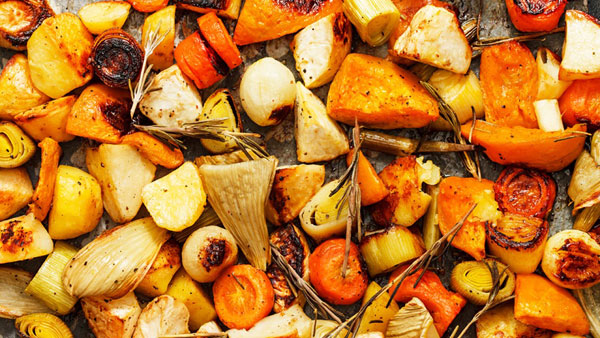 [print_this]
Recipe for Grilled Christmas Root Vegetables
Serves 4
Ingredients
5 lb root vegetables (sweet potatoes, carrots, potatoes, parsnips, kohlrabi, swedes)
8 oz shallots
Fresh herbs of your choice (thyme, basil, oregano, rosemary)
1 tsp coarse kosher sea salt
1 tbsp extra virgin olive oil
1 tsp black peppercorns cracked
Fresh rosemary sprigs to varnish.
Instructions 
Preheat grill to 425°F.
Scrub and peel vegetables. Slice or chop them to desired size but leave the shallots whole.
Place vegetables in a saucepan and add enough water to cover them. Bring water to the boil and then simmer vegetables for 5-7 minutes until lightly cooked.
Drain vegetables and place on a pizza stone. Sprinkle with oil and add salt and pepper to taste. Arrange herbs on top of the vegetables, place on a pizza stone and insert into the grill.
Grill vegetables for 30 minutes or until golden brown, turn vegetables halfway during cooking to ensure they are evenly done.
Remove from grill and serve hot, garnished with sprigs of rosemary.
[/print_this]

Pineapple Glazed Grilled Ham
Pineapple glaze adds a citrusy and tangy twist to traditional Christmas ham. White wine and honey provide additional sweetness and help to seal in moisture, resulting in a succulent main dish that will have your guests asking for more.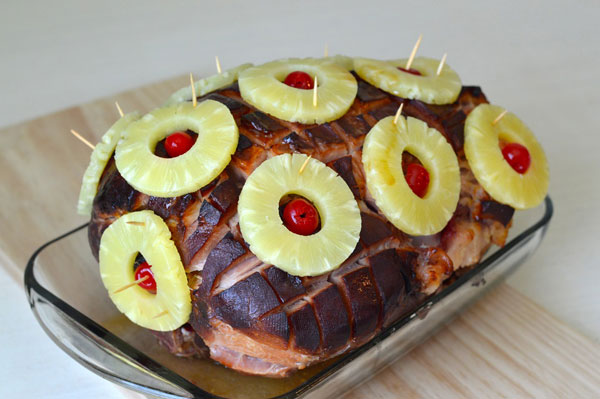 [print_this]
Recipe for Pineapple Glazed Grilled Ham
Ingredients
1 can crushed pineapple plus one can pineapple slices
Tin of glace cherries
1 ½ cups brown sugar
½ bottle sweet white wine
½ cup honey
20 lb trim bone of ham
2 tbsp Dijon mustard.
 Instructions
Preheat the grill to 400°F
Combine the crushed pineapple, brown sugar, wine, honey and mustard in a bowl.
Score the ham, place it on a pizza stone and slather the pineapple mixture on top of it. Place the pineapple slices and cherries on top and hold in place using toothpicks.
Insert the ham into the grill and cook for 3-4 hours, ensuring to baste it with the pineapple glaze every 30 minutes.
Remove from grill and serve hot.
[/print_this]

Grilling is a great way to prepare Christmas meals without having to worry about affecting the nutritional value of foods. With the right equipment, fresh ingredients and a few great recipes, you should be able to cook some wonderful meals and present your guests with fare that will keep them coming back for more.
Author Bio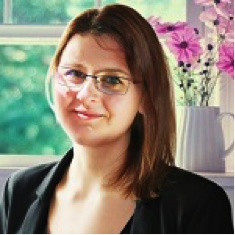 Tiffany Watts is the blogger behind Dilesia, a food blog curated for newbie and experienced cooking and baking enthusiasts, with the aim of bringing back the glamor and fashion in the kitchen. Dilesia, "where sweet treats and good eats meet," provides a portal for everyone to discover delicious recipes, new and upcoming kitchen gadgets
MJ – Be sure to check out Tiffiany's blog – Dilesia – for more delicious recipes and great helpful hints for home cooking.