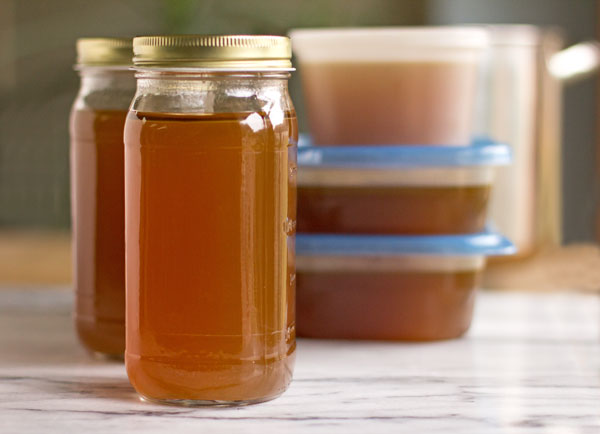 How to make a pot of turkey-chicken stock is something that many of us learned from our mothers. My mother taught me that you never, never, never throw out the carcass or any of the inedible parts of poultry before you cook them down into a tasty stock.  All in all making stock is a very simple process and yields a stock so much better than anything you can purchase.
Through the years, my stock "recipe" has evolved into a very simple process with hardly no waste.  I used to add vegetables and herbs, only to toss them out with the bones. Now I add four ingredients to the bones – peppercorns, garlic, salt, and water. That's it.  Minimal prep, simple process, and amazing results.  Because of the pure flavor of this simple stock, it can be used in many, many ways. You'll find yourself running out of it very quickly.
Be sure to see the Kitchen Notes for more on how to collect and save the bones for a batch of stock, how to store the stock and how to use it.
NOTE:  The stock in the pictures is darker than usual because it was made using the bones from a smoked turkey.  Much of the blackened, smoked skin was added to the stock giving it that beautiful color and a very smoky, rich flavor.  The day after making this stock I made a green chile posole using some of the smoked stock and leftover smoked turkey – a very, very tasty posole'indeed.

An Easy Method for Making Chicken/Turkey Stock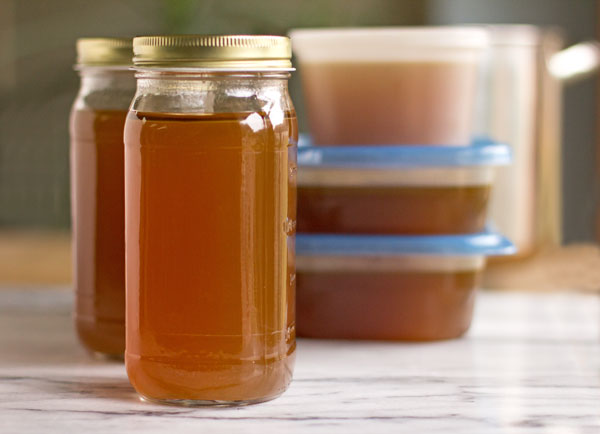 Turkey-Chicken Stock Process
This process for making chicken stock is so simple and yields a minimum amount of waste without sacrificing flavor.
"*" See Kitchen Notes for more information or links to special ingredients.
Course:
Condiments, soups & stews
Ingredients
Carcass,

bones and skin from 1 turkey or 2 to 3 chickens*

1

heaping Tbsp. black peppercorns

1

head garlic,

cloves separated and smashed (no need to peel)

1

tsp.

salt

Water
Instructions
Put all of the ingredients in a large stock pot.

Add enough water to completely cover the carcass and bones and then some.

Bring the liquid to a boil over medium high heat. Reduce to a slow simmer.

Simmer, without stirring, for 2 to 3 hours. A longer simmer results in a more concentrated stock due to evaporation.


Remove from heat and let cool enough to handle.

Place strainer over a large bowl. Line the strainer with a paper towel or cheesecloth.

Ladle the stock into the strainer. Keep an eye on the bowl and as it starts to fill, transfer the stock to freezer containers*.


Much of the fat from the stock is collected in the paper towel; therefore, it will need to be replaced a couple of times during the straining process.

Discard paper towels and stock ingredients.

Let the stock come to room temperature in the freezer containers. Place the lids on the containers and label with content and date.

Place in the freezer and use throughout the year*.
*See Kitchen Notes for more information about making and storing homemade stock, as well as how to remove any remaining fat.
Kitchen Notes
Amount of bones – Since making the stock and cleaning up afterwards takes a good 4 to 5 hours, I like to accumulated enough bones/carcasses that will fit in a large stock pot. One pot of stock usually makes about a gallon and lasts me anywhere from 1- 3 months, depending on the weather. (In the winter, it goes fast!)  One turkey carcass with leg and wing bones, excess skin and giblets are usually enough bones for a nice pot of stock.  However, I normally wait until I have 2 – 3 chicken carcasses.  Also, don't hesitate to use both turkey and chicken bones in one batch.
The amount of bones and water will determine how much stock you end up with.
Cooked or uncooked – Both.  When we butterfly a chicken, I'll freeze the giblets and backbone.  Once we finish off the cooked chicken, the carcass is added to the bag and frozen until I'm ready to make a stock.
Freezer containers – Since you'll be using this stock for everything from making rice to using as a soup base, you may need different size containers.  Use a variety of container sizes for different purposes.  Glass jars can be used, but be sure to leave enough air space at the top to allow the liquid to expand during the freezing process.
Removing the fat – As mentioned in the recipe, the paper towels do remove quite a bit of the fat.  However, you may be left with a thin layer on top of the stock once you transfer it to the containers.  There are a couple of ways to remove this excess fat if you don't want it.
Refrigerate the containers overnight to congeal the fat.  Use a spoon to remove the fat and discard before placing the containers in the freezer.
Freeze the containers with the fat.  When ready to use the stock, remove the congealed fat as the stock begins to thaw.
When using the stock for stews and soups, just add the fat in with the stock.  There is so little of it, that it won't make the soup greasy, but will add flavor.
To defrost the stock - put it in the microwave on half power, run it under hot water or just set it on the counter for a couple of hours.  If it's possible that you would use the microwave, be sure that any plastic containers you use are microwave safe.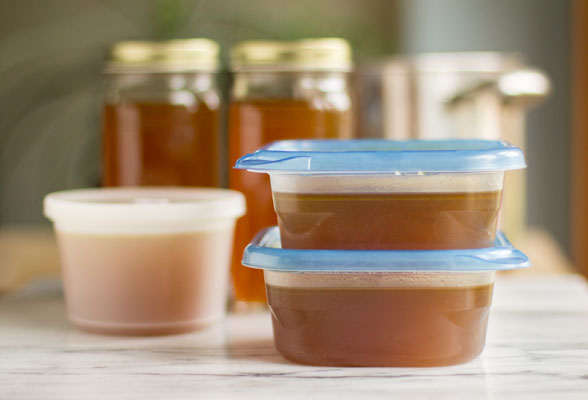 Uses for turkey-chicken stock
Our Happy Thanksgiving Surprise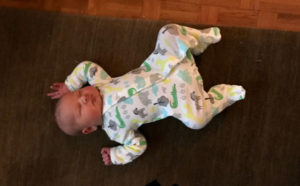 We had a lot to be thankful for this Thanksgiving. The day before Thanksgiving our niece gave birth to this beautiful little girl – 9 pounds, 14 ounces, 21.25″ long.  Mother and baby are healthy and the whole family was able to join us on Thanksgiving Day.