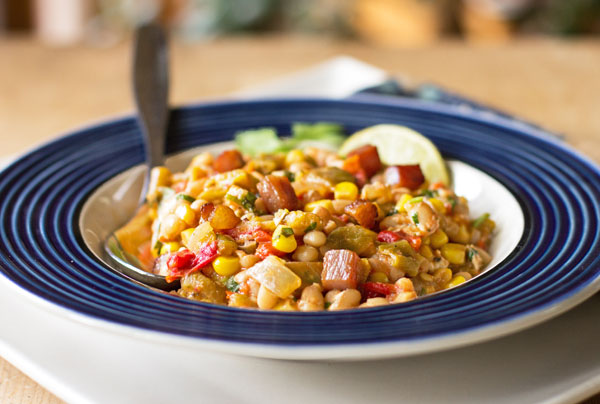 It's green chile time here in New Mexico!!!!  They have started picking chile in Hatch and other parts of southern New Mexico, and soon to be picking further north.  So to celebrate the season, I'm partnering with The Hatch Chile Store to bring you a new recipe that uses a generous amount of roasted Hatch chile.  The recipe below yields a hearty, one pot meal with navy beans, green chile, and corn, tomatoes, and a few other savory ingredients. It's spicy comfort food.  If you already have the navy beans cooked and the green chile roasted and peeled, then it takes less than 30 minutes to bring this dish together from start to finish.
There are two versions of this navy beans, green chile and corn recipe – one for bacon lovers and one for vegetarians.  The vegetarian version substitutes the bacon with toasted pinon nuts (pine nuts) and the bacon drippings with olive oil.  Both versions have been thoroughly enjoyed at my dinner table.
I would like to thank The Hatch Chile Store for some lovely packages of both red and green roasted Hatch chile.  Chile from each of those packages (red and green) ended up in this dish when I made it July; therefore, one could call it my Christmas in July celebration.
Navy Beans, Green Chile and Corn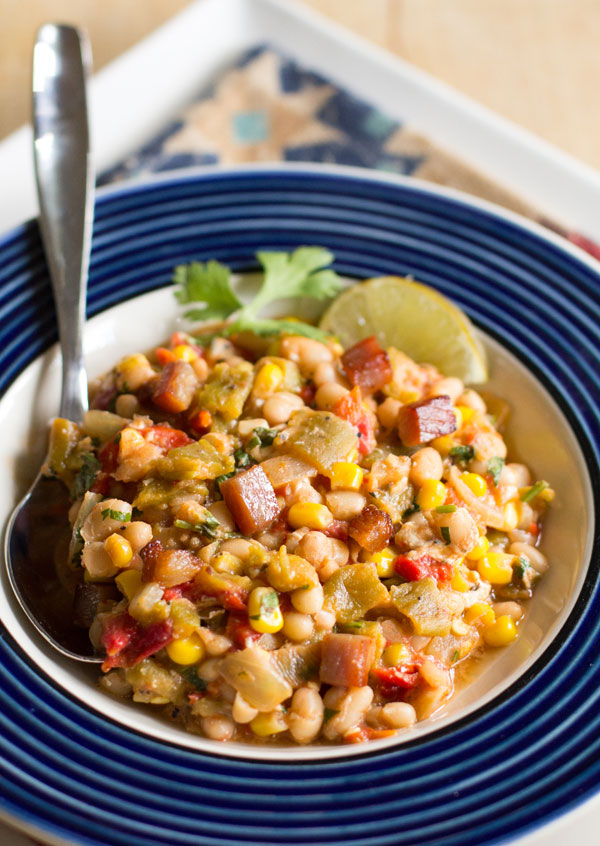 Navy Beans, Green Chile and Corn Recipe
Serve are a side or main dish. The vegetarian version omits the bacon and replaces it with toasted pinon.

"*" See Kitchen Notes for more information or links to special ingredients.
Course:
Main Course, Side Dish
Cuisine:
New Mexico, Southwestern
Ingredients
2

cups

cooked navy or white beans,

drained

¼

pound

slab bacon,

cut into ¼" cubes (optional)*

½

medium onion,

diced

4

garlic cloves,

minced (roasted garlic* if you have it)

1

cup

corn

1

cup

chopped tomatoes*

½

tsp.

dried thyme

½

tsp.

dried oregano

¾ - 1

cup

green chile

(amount depends on spiciness of chile*)

1

tsp.

black pepper

½

whole milk ricotta,

whipped with a fork or whisked

¼

cup

chopped cilantro

juice from ½ lime

salt to taste

3

tbsp.

pinon (pine nuts),

toasted
Instructions
Heat a heavy duty Dutch oven (e.g., 6 qt. enamel) over medium-low heat. When hot, add the cubes of bacon. Once the fat starts to render, turn the heat to medium and cook the bacon, stirring occasionally, until crispy. Transfer to a paper towel to drain. Remove all but about 1 Tbsp. of drippings from the skillet.

Add the onion and garlic*. Turn down the heat to medium-low and cook for 3 minutes or until onion is translucent.

Add the corn, tomatoes, thyme and oregano. Cook for 3 to 4 minutes until the tomatoes are soft. Add the chile, beans, and pepper. Heat through and remove from heat.

Stir in the ricotta, cilantro and lime juice. Taste. Add salt if needed remembering that you will be topping with bacon and/or pine nuts.

Serve in soup bowls. Top with bacon or pine nuts and enjoy.
To toast the pine nuts
Heat a small skillet over medium heat. Add the pine nuts and toss around the skillet until lightly brown.
Kitchen Notes

Navy Beans – Use canned beans, slow cooked navy beans, or pressure-cooked beans.  For this navy beans, green chile and corn recipe I adjusted my recipe for savory navy beans, and cooked them in the pressure cooker. Following is the recipe for Pressure-cooked Navy Beans.
After brining in water with 1 Tbsp. salt for 4 hours,  rinse the beans.
In a pressure cooker, add the brined beans, 1/2 medium chopped onion, 4 minced garlic cloves, 6 cups water + 1 tsp. vegetarian bouillon paste (or 6 cups water + stock/broth), ½ tsp. thyme, ¼ tsp. marjoram, and black pepper.,
Cook at medium pressure for 8 minutes, let rest for 8 minutes, then depressurized.  This yielded over 6 cups of beans.  Reserve 2 cup for this navy beans, green chile and corn dish. Use the remaining beans in other dishes.
Slab Bacon – If you don't have slab bacon, substitute with crumbled thick cut bacon.  To get slab bacon, one usually has to request it from a local butcher.
Vegetarian version – Replace the bacon with 3 Tbsp. toasted pinon (pine nuts).  Replace the bacon drippings with 1 Tbsp. olive oil.
Garlic – If you use roasted garlic, add it with the corn and tomatoes, not the onion.
Tomatoes – If you don't have fresh tomatoes, substitute with one cup of canned tomatoes.
Green Chile – You can use different heat levels of chiles to get the spiciness you desire.  Below are my recommendations.
Mild spiciness:  1/2 cup mild + 1/2 medium or all mild
Medium spiciness:  1 cup medium or 1/2 cup medium + 1/2 cup medium-hot
Really spicy dish:  1/2 cup medium-hot + 1/2 cup hot
 I love to sweat spiciness: 1 cup hot or 1 cup very hot (yes, there is a "very hot" variety of chile)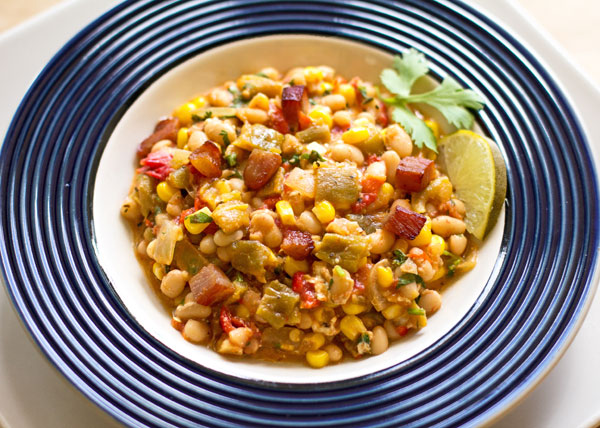 I hope you have enjoyed this post and that you now have a craving for some  navy beans, green chile and corn. If you like this recipe, here are a few more you might enjoy.
Savory Navy Beans with red chile
Beans, Rice, Chorizo and Chile
Andouille, Black beans and Chile Soup
If you are looking to buy some fresh Hatch chile this year, be sure to check out The Hatch Chile Store as well as these other recipes that have made using their Hatch green chile.

Green Chile stacked with crepes, pinon, and queso fresco
Hatch Green Chile Chicken and Mushroom Soup
Save
Save
Save
Save