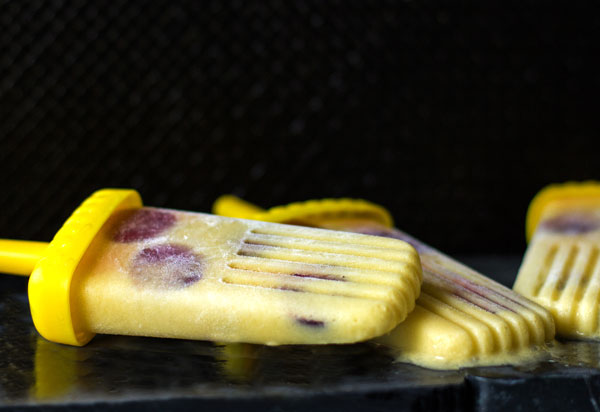 For those of you experiencing a hot summer or not, let me introduce you to a cold and refreshing, guilt-free Pineapple Coconut Popsicle with a few fresh cherries thrown in for your enjoyment. This is a tasty treat to help you stay cool while the temperatures around you soar.
To make this mouthwatering treat you only need three ingredients, a blender and six popsicle molds. The most difficult part of the process is having to wait for them to freeze.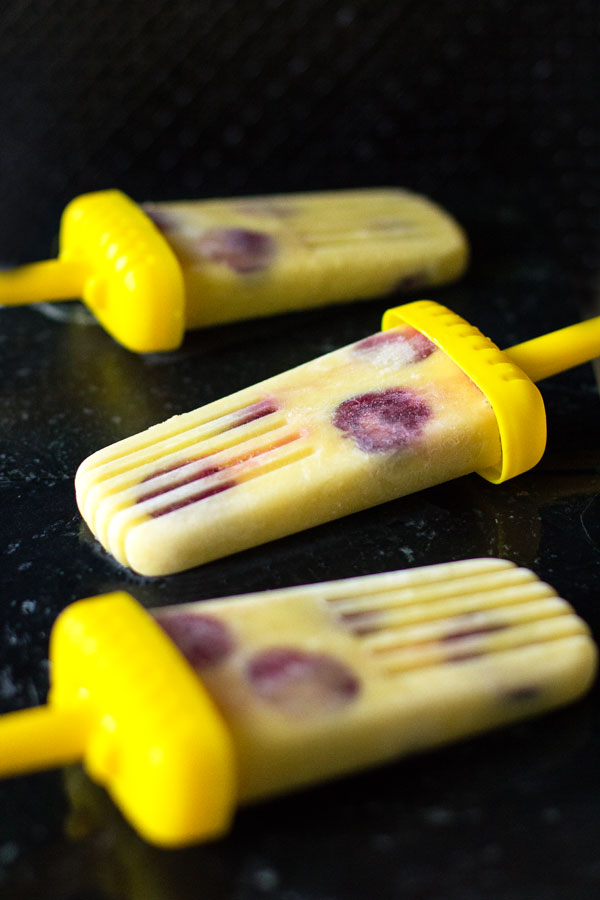 [print_this]
Pineapple Coconut Popsicle Recipe
Recipe Author:  MJ of MJ's Kitchen
Yield:  6 popsicles and a little extra to add to a smoothie
Prep Time:  15 minutes prep/pour, 30 minutes in refrigerator, 10 minutes to add cherries, overnight in refrigerator
You'll need a blender and six popsicle molds.
Ingredients
1/2 of a fresh pineapple
1 cup Coconut milk (not coconut cream)
1 – 2 Tbsp. maple syrup (optional)*
9 – 10 large cherries*
Instructions
Peel a fresh pineapple.  Cut vertically into 4 sections.  Slice the core out of each section.  Cut two sections into pieces and place in blender. Reserve the rest of the pineapple for another use or another batch.
Add 1 cup coconut milk to the pineapple.  Blend until smooth.*
Taste.  If you want it sweeter, add 1 Tbsp. maple syrup and blend again.  Add another tablespoon of maple syrup if needed.
Pour mixture into popsicle molds leaving 1/2 inch at the top.  Do NOT insert sticks.
Place in freezer for 30 minutes.
Cut the cherries in half and remove pits.  Cut each half vertically in half to create 4 slices.
After 30 minutes remove the popsicles from the freezer and slide 6 slices of cherries into each popsicle.  Use a chopstick to position the cherry pieces up against the mold.
Insert popsicle sticks and freeze the popsicles overnight.
When ready to eat, either run warm water over the molds or place in a bucket of warm water for about 30 second. You could also just set them on the counter for about 5 – 10 minutes. Holding the stick, pull the popsicle from the mold.  ENJOY!
* See Kitchen Notes
[/print_this]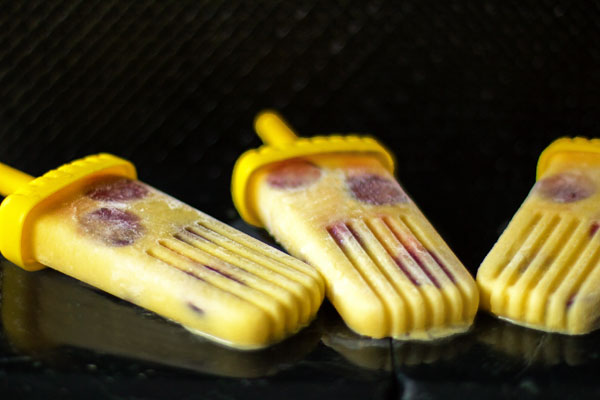 Kitchen Notes
Maple syrup – The pineapples this season have been super sweet, so I haven't found the need to add any maple syrup to these popsicles.  But since a sweet pineapple is not always guaranteed, maple syrup is a natural way to take care of getting the sweetness you desire.
Blending – To prevent getting lots of pineapple threads, you'll need to blend for a couple of minutes.  It is very hard to achieve a completely smooth mixture, but you can get close.
Cherries – If you can't find fresh cherries, you could use canned or even maraschino cherries.  And if you can't find cherries at all, you could also use fresh strawberries or slices of kiwi.
Hope you're enjoying cooling off with this Pineapple Coconut Popsicle.  Here are some other treats to help you stay cool this summer.
Salted Pecan Chocolate Ice Cream