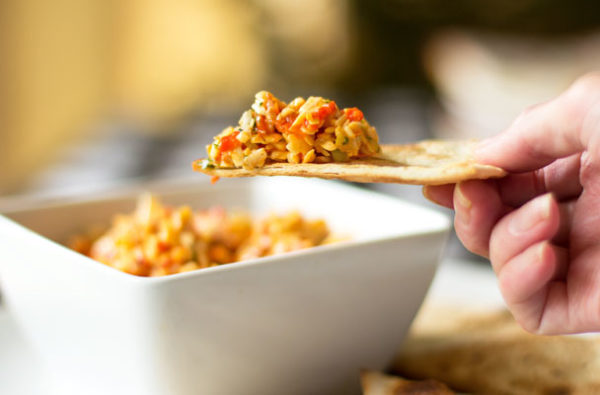 Roasted Chile Cheese is a twist on the traditional pimento cheese.  However, instead of roasted pimento peppers, roasted chile cheese is a mix of roasted New Mexico red and/or green chile, three cheeses, green olives, and a bit of this and a bit of that.  It has no mayonnaise or salad dressing as a pimento cheese might have making it a pure celebration of the marriage of roasted chile and cheese.  It's sweet.  It's spicy.  And it's darn good!!!
You can use this roasted chile cheese as a dip, appetizer, snack or as the filling for a grilled cheese sandwich.  We enjoy it served very simply with baked flour or corn tortillas.  I don't use salted chips, because with all the cheeses, it's salty enough.  If you don't have any roasted New Mexico chile, do not fret.  Check out the Kitchen Notes for substitutions.
Enjoy!
Roasted Chile Cheese Spread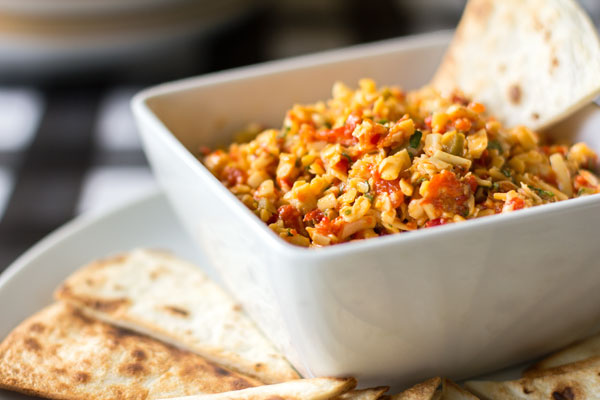 Roasted Chile Cheese Spread Recipe
If you have some roasted green chile, this delicious little appetizer takes only 20 minutes to make. Your guests will love it.
*See Kitchen Notes for substitutions and further information.
Course:
Appetizer, Green chile
Ingredients
1

cup

Monterey Jack cheese,

grated

1

cup

Cheddar cheese,

grated

1

cup

sharp or aged cheddar cheese,

grated

4

ounces

mild/medium roasted red or green chile*,

minced

1

roasted hot chile pod*,

minced

1

Tbsp.

minced green olives

2

Tbsp.

minced cilantro

1

Tbsp.

minced onion

¼

tsp.

red chile spice blend*

juice from 1 lime
Instructions
Add the three cheeses to a large bowl. Using a fork toss together to evenly distribute and combine.

Add the remaining ingredients. Toss together to distribute and combine.

With a spatula, continue to stir the mixture until the cheese starts to break up and all of the ingredients come together evenly distributed.

Transfer to a serving bowl. Serve immediately or refrigerate.

If refrigerated, remove about 30 minutes before serving. Best at room temperature or just a little cool.

Served with crackers, baked flour tortilla chips, or any unsalted chips.
Kitchen Notes
Roasted Chile – The batch of roasted chile cheese in the pictures was made with roasted red New Mexico chile (mild and hot).  Roasted red provides a sweetness like that of pimentos or red bell pepper, but a different flavor and more spice.  However, roasted pimento or sweet bell pepper could be used as a substitute.  You could also used roasted green chile instead of red or a little of both.  Just use a little medium or hot in order to give a spicy kick.
Hot chile pod – For the spiciness, add a little hot chile (e.g. jalapeno, poblano, serrano), red or green.
Red Chile Spice Blend – If you don't have the blend, substitute with 1/4 tsp. red chile powder, a dash each of garlic powder, onion powder, chipotle powder or smoked paprika.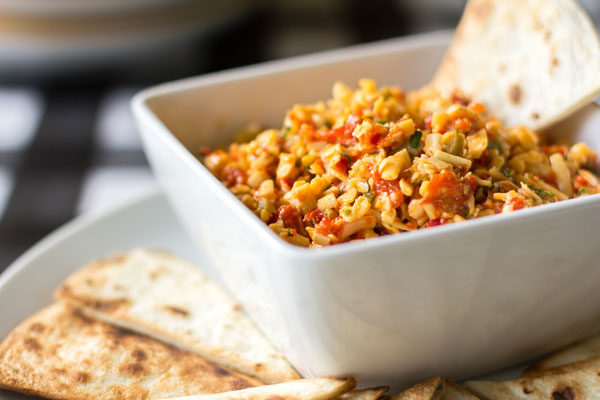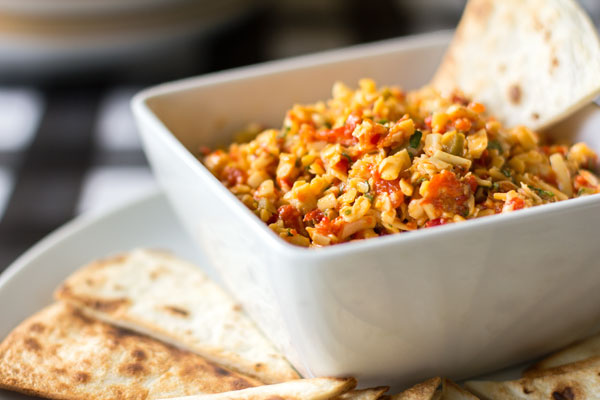 If you like this Roasted Chile Cheese spread/snack, then I'm sure you'll enjoy these other snacks as well.
Green Chile Pecan Cheese Spread
Roasted Bell Pepper Cheese Spread
Save
Save
Save
Save
Save
Save
Save
Save
Save