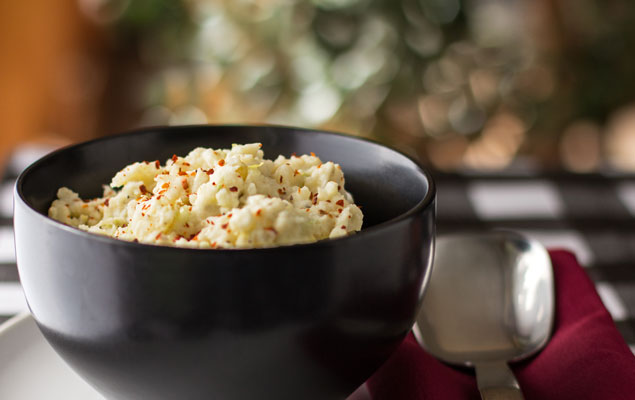 Whenever Bobby and I drive through Texas, our route usually takes us through Post, Texas, a one – stoplight town, about an hour south of Lubbock.  If we arrive around breakfast or lunch we usually eat at George's Family Restaurant, a little cafe' with good food, service, and prices.  The last time we stopped it was for a late lunch.  We each ordered barbecue which came with a side of potato salad, a creamy potato salad made with a combination of mashed and chunky potatoes, a minimal amount of mayonnaise and other ingredients, and lots and lots of flavor.  We both loved it so much, I just had to give it a go.  This Spicy Smashed Potato Salad isn't exactly like George's, but it sure is GOOOOOOOOD, and it's got a bit of a kick to it, something not included in the original.
This smashed potato salad is not chunky like most potato salads including my own mixed potato salad.  It's creamy and slightly chunky from a blend of both mashed and smashed potatoes.  Other ingredients include minced onion and celery, pickles and pickle juice, and a simple seasoning of salt and pepper and red chile flakes (for a little heat if you so desire).  As most potato salads are served cold, Bobby and I both prefer this salad served warm or at room temperature, making it a great potato salad for barbecues, potlucks, and picnics.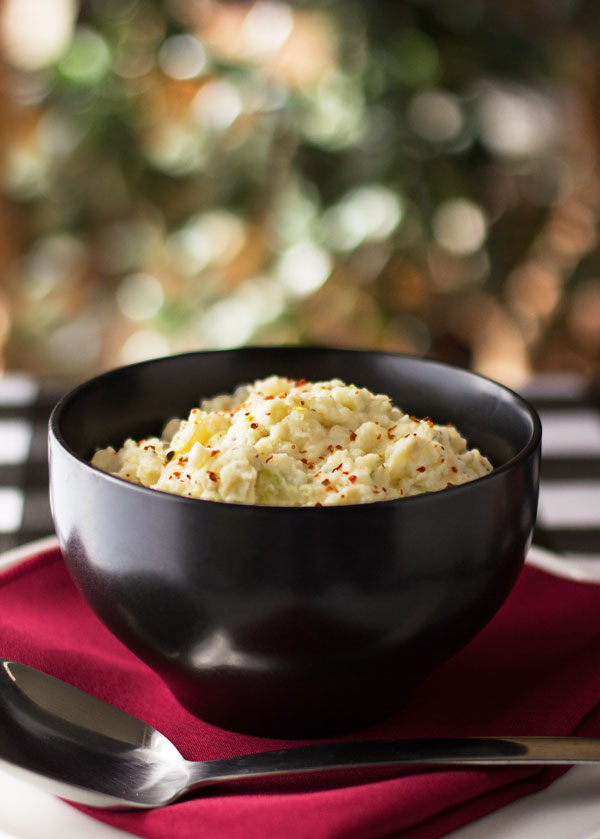 [print_this]
Smashed Potato Salad Recipe

Recipe Author:  MJ of MJ's Kitchen
Serves 6
Prep and Cook Time:  30 minutes
Ingredients
Enough water to boil potatoes + 1 tsp. salt
~2 pounds potatoes (Russet, Red, or Yellow)*
½ cup milk
2 tsp. Dijon or stone ground mustard
2-3 Tbsp. mayonnaise*
½ cup minced onion
½ cup minced celery
2 Tbsp. sweet or dill pickle relish*
1 tsp. black or white pepper
3 Tbsp. juice from the dill pickle jar
1 tsp. red chile flakes (for spicy version)*
Instructions
To a large pot, add enough water to cook the potatoes. Add 1 tsp. salt and bring to a boil.
Peel the potatoes. Cut into 2 – 3 large chunks. Add to the water once it comes to a boil. Boil for 15 – 20 minutes, until potatoes are cooked through. Drain.
Transfer about half of the potatoes to a large bowl. Add the milk, mustard and 2 Tbsp. mayonnaise. Mash with a potato masher.
Add the remaining potatoes and remaining ingredients. Smash about 3 – 4 strokes to break up large chunks of potatoes.
Use a rubber spatula or spoon, fold the ingredients together to mix all ingredients and to coat the larger pieces of potatoes with the mashed potatoes. If too dry, add more mayonnaise and/or pickle juice.
Taste. Add salt if needed.
*See Kitchen Notes for more information.
[/print_this]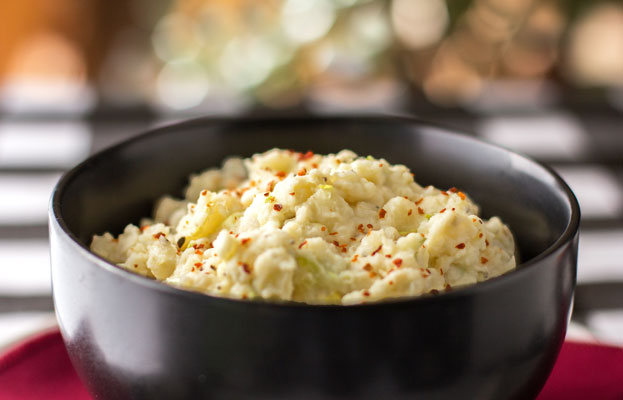 Kitchen Notes
Potatoes – I've use Russets, red and yellow.  They all work, but the yellow potatoes break up easily making great mashed potatoes, but not chunky ones.  A good combination is to use the yellow potatoes for the mashed, and red or Russets for the chunky potatoes.  I would not recommend all yellow potatoes because you'll end up with just mashed potatoes once you're done.
Mayonnaise – The mashed potatoes provide a lot of the creamy coating, but a little mayonnaise is still needed IMO.  So start with 2 Tbsp. and add more if too dry.
Sweet/dill pickle relish – If you don't like sweet pickle relish, then substitute with dill pickle relish or minced dill pickles.  I personally like the combination of the sweet and sour you get by using both sweet relish and dill juice.  The dill juice adds a tartness and bite.
Red chile flakes – I know, how dare I make chile flakes optional!? However, to make a kid friendly potato salad you'll probably need to omit them.  It's still delicious but just doesn't have the spicy kick. I personally like the spiciness of the chile flakes, but Bobby prefers it without.  Either way, it's a great salad and perfect for long holiday weekends and summer barbecues.
Hope you enjoy this Smashed Potato Salad!  If you do, then you might also enjoy these other potato dishes.
Mashed Potatoes with Garlic and Herbs