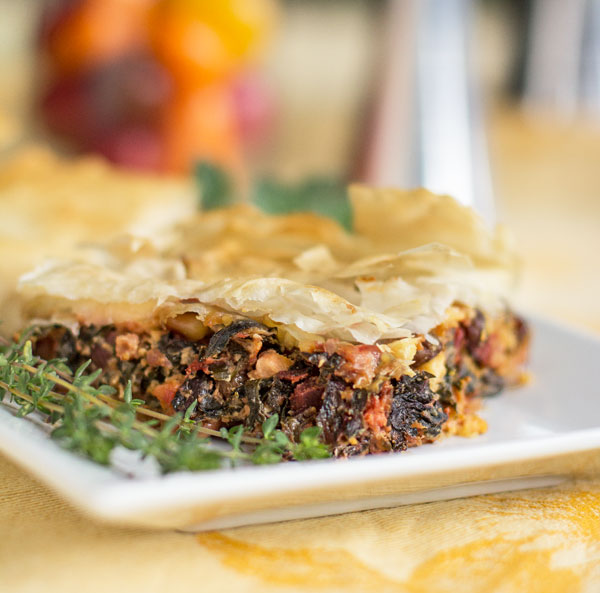 One of this year's goals was to learn how to work with phyllo (filo) dough. I've always found it so light no matter what it's filled with, plus I love the texture, but working with it seemed intimidating. A continuing inspiration to help push me past this intimidation comes from my friend Sissi @ With A Glass who wraps phyllo around everything from curried beef to black pudding, green chile to plums.  So with her assistance, I was able to tackle my fears and use this savory Swiss Chard Pie as my testing dish.
This Swiss Chard Pie is one of our favorite vegetarian dishes and has been since 1986. The only problem is, it is a little heavy because it's made like a double crusted pie requiring two pastry doughs; therefore, it is the ideal dish to benefit from the lighter phyllo pastry.  The original recipe came out of the October, 1986, issue of Gourmet magazine, the year I made it for the first time. Through the years, I've tweaked it a little here and there, but substituting the pasty dough with phyllo has been the most significant tweak in taste and texture.  I'll never make it with pastry dough again.
What's inside a Swiss chard pie you ask?  Well, besides for a lot of Swiss chard, there are raisins, pine nuts, olives, herbs, ricotta and feta to name a few ingredients.  Through the years I have adjusted ingredients and amounts from the original recipe, and even made a couple of adjustment for the change to phyllo, but it's still the delicious recipe it started as, just a little healthier.  Hope you enjoy it as much as we do.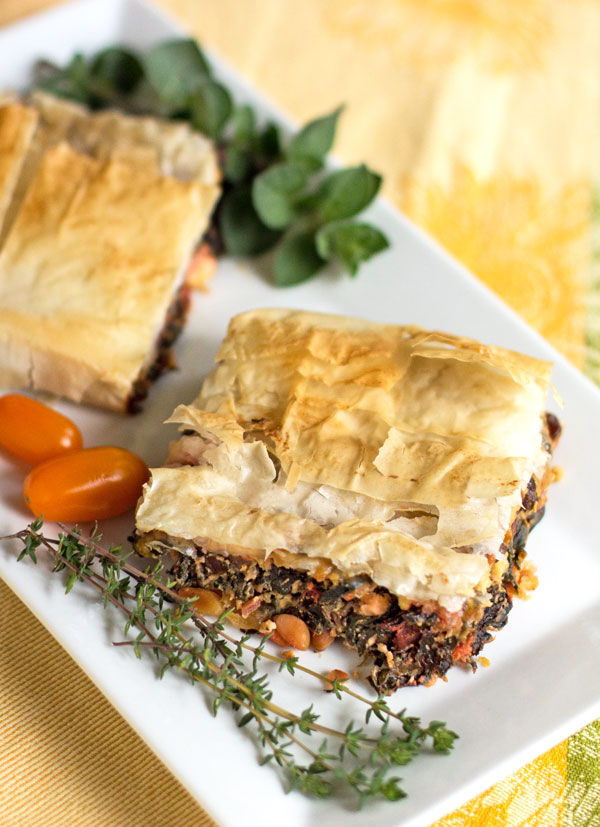 [print_this]
Swiss Chard Pie in Phyllo (Filo) Pastry Recipe
Inspired by Swiss Chard Pie recipe in Gourmet Magazine, October 1986
Yields 8 pieces
Prep and Cook Time: less than 1 ½ hours
Ingredients
2 Tbsp. olive oil
2 bunches Swiss Chard or 10-12 chard leaves, reserve 6 stems
½ large onion, diced
4 garlic cloves, minced
½ tsp. thyme
½ tsp. oregano
Generous amount of fresh ground pepper
3 Tbsp. raisins
3 Tbsp. toasted pinon (pine nuts)
¼ cup Kalamata olives, chopped
1 egg
½ cup whole milk ricotta
¼ + ¼ cup feta cheese, crumbled
8 – 10 sheets of filo pastry (~ 9″x 20″ sheets)*
2 Tbsp. butter, melted
1 Tbsp. olive oil
Instructions
Preheat oven to 325° F (180° C).
Strip the Swiss chard leaves from the stems and coarsely chop the leaves. Dice 6 of the stems.
Heat the olive oil in a medium skillet over medium heat. When hot, add the onion, chard stems, and garlic. Sauté for 3 minutes.
Add the chard leaves, oregano, thyme, and cracked pepper. Cover and let steam about 5 minutes. Check and stir a couple of times to make sure you have enough moisture for the chard not to stick. If it's dry and the chard is sticking to the skillet add a tablespoon or 2 of water.
While the chard is steaming, toast the pinon and set to the side. (Step 7)
After 5 minutes remove from heat, uncover, add the raisins and olives.  Stir and let cool.
Toasting the pinon nuts – Heat a small heavy skillet over medium-low heat.  Add pinon nuts.  Slowly toast, stirring occasionally until lightly toasted. (Pinons do tend to stick to the pan more than other nuts so flipping them for an even toasting doesn't always work. You'll need to use a heat proof spatula of some type.)
In a 4 cup measuring cup, beat the egg with a fork. Add the ricotta and ¼ cup feta cheese. Whisk to combine.
The Filo – Prepare a rectangular casserole dish* by lightly coating with olive oil.

Whisk together 2 Tbsp. melted butter with 1 Tbsp. olive oil.
Lay one sheet of filo in the pan, letting the ends hang over the edges. Brush with some of the melted butter.
Repeat with 3 more sheets, layering the sheets so that filo is hanging off all edges. (I turn 2 of the sheets 90 degrees to get enough overhang on all sides.)

Add the pinon nuts and wet ingredients to the chard mixture. Stir to combine. Pour on top of the filo and spread evenly to the edges of the dish.  Spread ¼ cup crumbled feta over the top of the filling.
Top the filling with 4 more sheets* of filo (keeping the sheets inside the dish), brushing each with butter. Fold the overhanging filo over the top and brush with butter.
With a very sharp knife, cut the pie into serving pieces (BEFORE baking)*.
Bake in preheated oven for 30 – 35 minutes or until the filo on top turns a nice golden brown.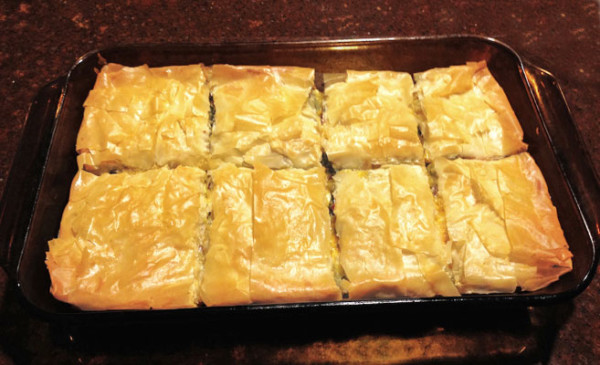 To reheat, place in oven and turn on for 350. Once the oven is hot, set timer for 10 minutes.  Do not reheat in the microwave.  It will make it soft and unpalatable.
*See Kitchen Notes for more information.
[/print_this]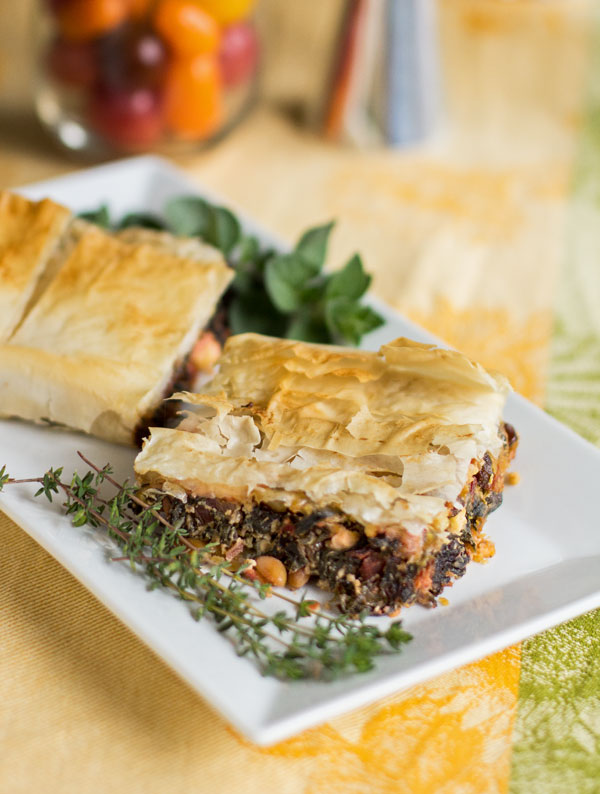 Kitchen Notes
Phyllo (Filo) pastry – The size of the pastry sheets depends on the size of the casserole dish you use.
Size of casserole – I've used both a 8″ x 12″ rectangular dish and a 8″ x 14″ rectangular dish.  The larger dish yields a thinner filling and larger pieces.
Layering the filo pastry – For the top layers, you might be able to fold one sheet (for 2) if the sheets are big enough. They don't need to go all of the way to the edge of casserole because you're going to fold the edges of the bottom sheets over the them.
Pre-cutting the pieces – When I saw this instruction in one of Sissi's recipes I had to write her to ask "Why"?  The answer – It yields beautiful pieces with intact sheet of crusty phyllo.  Cutting the pieces after the dish is cooked causes the phyllo to crumble and your pieces aren't as pretty.  Great advice!
If you like this Swiss chard pie, then you will probably enjoy these other Swiss chard recipes: