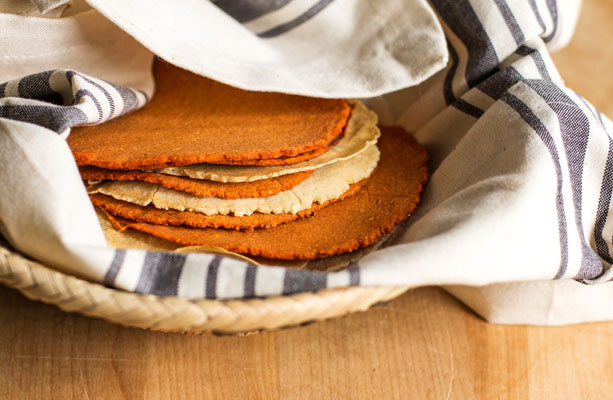 After years of frustration trying to find corn tortillas that don't fall apart when steamed or dipped in sauce, I started making my own.  I tried several methods that worked o.k., but it wasn't until I tried the method that I found in one of my favorite cookbooks Gran Cocina Latina, that I was able to consistently turn out great tortillas.  I usually make regular corn tortillas, but it's fun changing them up a bit and making flavored tortillas like these red chile corn tortillas.  The method and the recipes are basically the same. The only difference is that you substitute some of the water with red chile sauce.  The outcome is a beautiful red tortilla with a red chile flavor and a little spiciness in every bite.
My homemade tortillas work great with beans, as soft taco shells, and in enchiladas.  How they don't fry up very well for chips, but the whole tortillas do bake nicely for tostadas.  To bake preheat the oven to 375°F. Place the tortillas on a sheet pan and place in the oven. Turn 3- 4 times until crispy.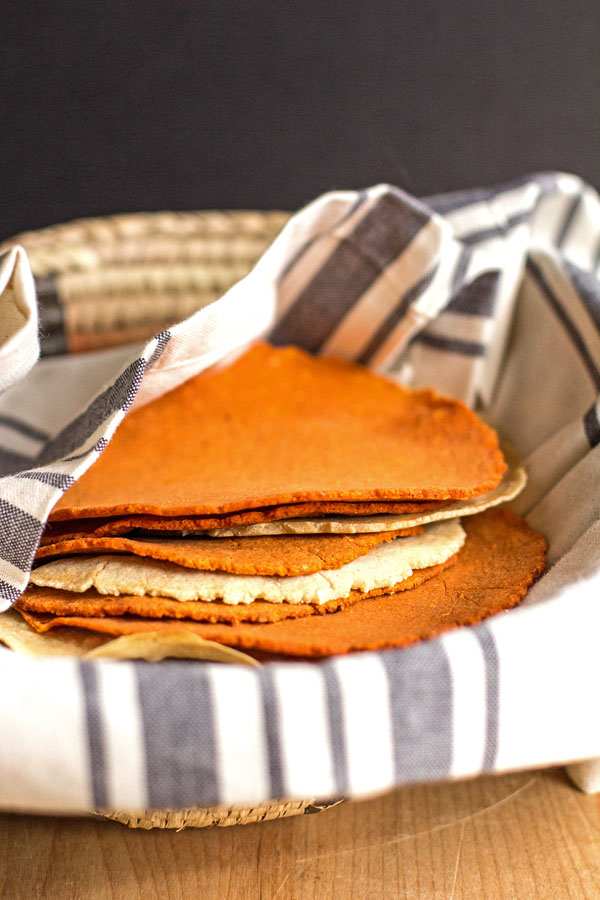 [print_this]
How to Make Red Chile Corn Tortillas
This recipe and process is similar to making regular corn tortillas. The main difference is that some of the water has been substituted with red chile sauce.

Recipe Author:  MJ of MJ's Kitchen
Makes 8 – 10  six inch tortillas (using a 6″ press)*
Prep and Cook time: less than 45 minutes
Supplies
Tortilla press
Plastic wrap
Plate and damp paper towel
Tortilla warmer with paper towel
1 two burner griddle or 2 single burner griddles
Ingredients
1 cup Masa Harina*
¼ tsp. salt*
½ tsp. baking powder
½ cup red chile sauce*
½ cup hot water*
Instructions
Warning:  If your red chile sauce is HOT, it might be a good idea to use gloves when mixing and kneading the dough. The capsaicin from the red chile can be absorbed into the skin while kneading the dough and cause your hands to burn.

Mix together the dry ingredients – masa harina, baking powder, and salt.
Mix together the wet ingredients – water and red chile sauce
Slowly add 3/4 cup of the liquid to the masa while you work the dough with your hands*. Continue to work the dough for at least 2 minutes until you have a smooth, soft dough. If the dough seems too dry, add 1 tablespoon of liquid at a time until you get a smooth, but not sticky, consistency.
Create eight or more 1.5″ diameter balls of dough*. Roll in your hands until smooth. Set on a plate and cover with a damp paper towel. (If you have an 8″ press, roll out 2″ diameter balls.)
Heat one side of the griddle over a medium heat. Heat the other side over a medium-low heat.
Cut two pieces of plastic wrap the width of the press, then cut or fold them into squares. Place one of the pieces of plastic wrap on the bottom of the press.
Place one of the balls of dough on the press and cover with the other piece of plastic. With your hand, flatten a little bit, and straighten the plastic wrap if needed.
Close the press and press one of the dough balls about half way. Open the press and turn the tortilla with plastic 90° and press again.
Remove the top piece of plastic. Flip the tortilla over onto your palm and carefully remove the other piece of plastic. 
Flip the tortilla onto the hotter part of the griddle. Let cook for 30 seconds, then flip. Cook for 1 -2 minutes then flip again. The tortilla should start to puff up. If it doesn't, tap the center gently with the spatula. Once puffed (it doesn't have to puff much) and the edges stating to turn up or brown a bit, flip onto cooler side of the griddle for another 60 seconds.
Place a paper towel in a tortilla warmer.  As the tortillas finish cooking, transfer to the tortilla warmer and cover.  The tortillas will continue to steam and soften.
Continue until all of the tortillas are cooked.
*See Kitchen Notes for more information and for how to double the batch.

[/print_this]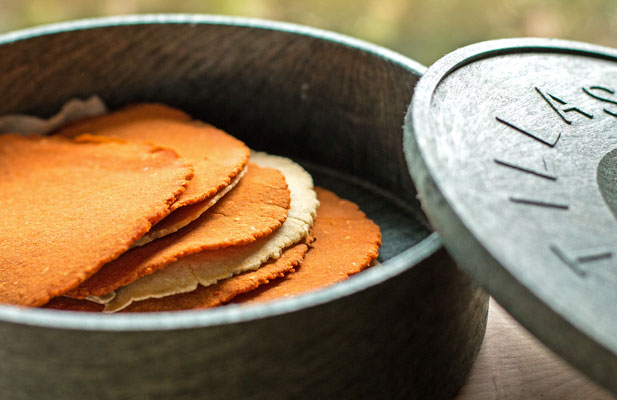 Kitchen Notes
Kneading the dough – For those who don't like to use their hands to mix, use a spatula to initially combine the wet and dry ingredients. However, at some point you're going to have to jump in there and use your hands.  That's the only way you'll be able to really get a feel for the dough.  Always go for smooth and not sticky or wet.  If it's too wet, just sprinkle in some more masa.
Tortilla Size – With corn tortillas I usually get 8 tortillas, but with the red chile tortillas, I get 10 tortillas.  The tortillas do start out being about 6″ in diameter, but shrink to around 5″ while cooking.  If you want larger tortillas, buy an 8″ press. Make the dough balls about 2″ in diameter for the larger press.
Doubling the Batch – To make a double batch, increase the masa to 2 cups, the liquid to 1 ½ cups (3/4 cups water and 3/4 cups red chile) and the salt to ½ teaspoon.
Masa Harina – There are several brands of Masa Harina, and different brands yield a little difference in texture and color.  For tortillas for soft tacos, I use Bob's Red Mill.  It is a finer masa than most other brands, yielding a softer, more moist tortilla.  For enchiladas or tostadas, I use a less expensive brands like Meseca or Quakers.
Red Chile Tortillas – Because of the thickness of the red chile, a little more liquid is needed. I usually end up using the full cup.  You'll probably be able to get 8 – 10 tortillas from this size batch.
Red Chile Sauce  – The red chile you use can be made from pods or made from powder.
Water – The water you use should be hot water.
Salt – Many tortillas recipes omit the salt all together.  I've tried that and didn't enjoy the flavor as much.  It didn't seem to affect the cooking process so the salt is really for taste.
Below are some recipes that work great with these tortillas.
Chicken Tacos with Green Chile Corn Relish
Grilled Portabello Tacos with Red Chile Yogurt Sauce
Black Bean and Shiitake Enchiladas
New Mexico Red Chile Enchiladas