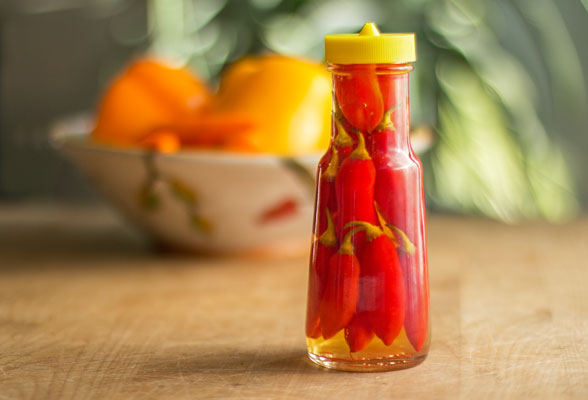 Last fall my friends from Fords Fiery Foods and Plants sent me some antep aci dolma peppers and Pimenta Reaper Peppers.  If you remember, I made red chile cheese tamales with the antep aci dolmas, but kept you hanging on the reapers. The reapers were smokin' HOT making them ideal for either a hot sauce or a pepper sauce.  I tried both.  With half of them, I attempted to make a fermented hot sauce like Tabasco.  Unfortunately, it didn't work.  However, with the other half of the peppers, I made an olive brine hot pepper sauce which, was not only remarkably easy to make, but uniquely delicious! This hot pepper sauce has the heat and the flavor from the pimenta reapers complemented by the salty flavor of green olive brine.  However, as with most hot pepper sauces, any smokin' hot chile pepper that you like would work.
To make this sauce all you need are some really HOT, tasty chile peppers, olive brine from a jar of green olives, and white vinegar.  Heat up the brine and the vinegar, pour over the peppers, let set for a couple of weeks, and you have a hot pepper sauce with a hint of olives.  Add a dash or two to salads, sandwiches, tacos, greens, soups, rice, or whatever would be complemented with a bit of chile and olive flavor.
I really liked the pimenta reaper peppers for several reasons – they have a great flavor, they are small enough to fit nicely into just about any size jar, they maintain their beautiful red color even after several months and a couple of replenishings, and they are HOT.  Their level of heat is reduced in the liquid but still yields a hot result, that's why I recommend only a dash or two of this sauce.  You can learn more about these peppers and Fords Fiery Foods at the end of this post. You'll also be provided with a link if you want to purchase some seeds or plants to plant in your garden this summer.
Olive Brine Hot Pepper Sauce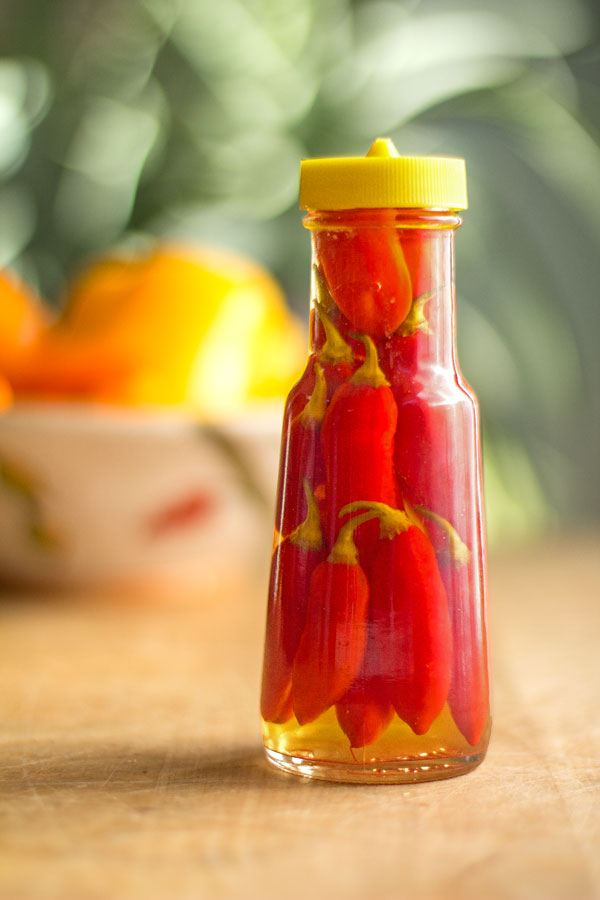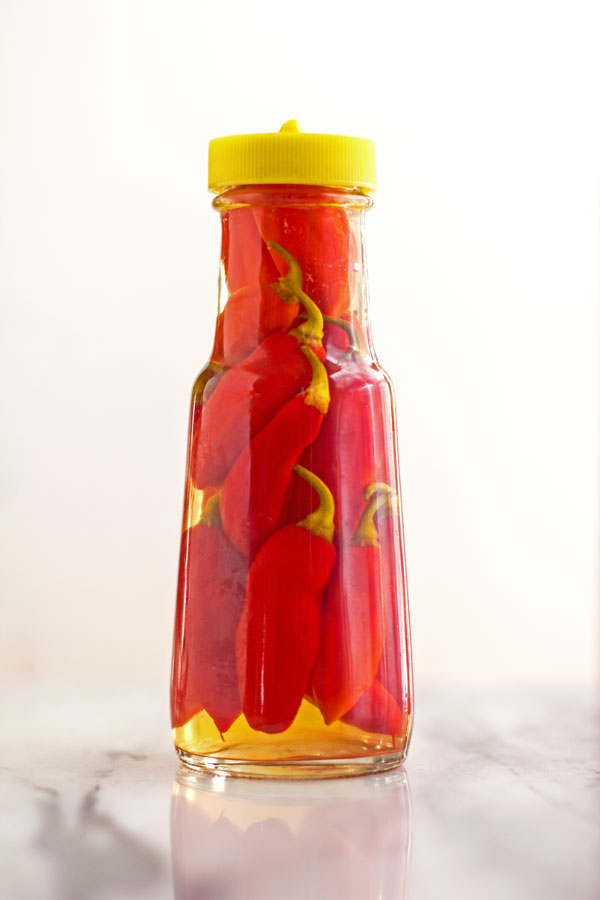 Olive Brine Hot Pepper Sauce Recipe
A simple, hot pepper sauce that needs only a little olive brine and vinegar, and some really HOT chile peppers. For the bottle you see in the pictures, I used about 15 - 17 Pimenta Reaper peppers. I wish I had had a larger bottle, but then larger bottles are harder to pack. (Be sure to read about the Pimenta Reapers at the end of this post.)

Allow about 20 minutes to pack the bottle and 1 minute to add the olive brine.

Course:
Condiments, Hot sauce
Ingredients
Supplies
A glass jar with a mouth wide enough for the peppers to fit through and big enough to hold about 15 peppers or more.

A paring knife

A thin, long stick (like a chopstick or thinner), to help place the peppers in the jar.
Ingredients
15

or more (depending on the size of the jar and size of the chile peppers), HOT, long, thin chile peppers (e.g., reapers, chile pequin, chile de arbol, Thai chile) small

Brine from a jar of green olives*

Distilled White Vinegar*
*You need a ratio of 1:1 (brine:vinegar) and enough liquid to fill the jar once the peppers have been stuffed into the jar. For this jar that held about 15 peppers. I used a little more than 1/2 cup of each - brine and vinegar.
Instructions
Clean and rinse the jar. Sterilize in a water bath for 5 minutes or rinse (don't dry) and place in microwave for 3 minutes.

While the jar is cooling off, take a paring knife and stab each pepper to make a ¼" vertical cut. This allows the air to seep out of the pepper and the brine to leak in.

Once cool enough to handle, remove the jar from the microwave and carefully stuff it with the peppers. Use the chopstick to hold and position the peppers. The neater you pack them, the more you can get in the jar.


Heat the brine/vinegar mixture. Bring to a boil and then let cool for 1 minute.

Carefully pour into jar to about 3/4 full. Lightly tap the bottom of the jar to release air bubbles.

Continue to fill and tap the jar to get as much of the brine mixture in and as much of the air out as possible.

Let set on the counter for a few hours, tapping periodically. As the liquid level drops, add more of the brine/vinegar mixture.

Place in the refrigerator, let sit for 2 weeks and enjoy!

Once the jar is almost empty, you can heat up more brine and vinegar and refill. I usually refill mine several times before tossing the chile peppers.

Add a dash or two of this hot sauce on a bowl of beans, soups or stews, eggs, salads, sauteed vegetables,  anything that would benefit from a little salty and spicy.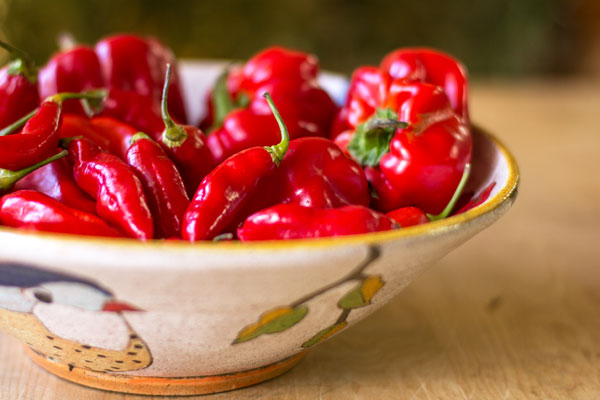 Pimenta Reaper Peppers (smaller peppers in the front of the bowl) – These peppers are "a cross between the Carolina reaper and the Pimenta puma." Well, let me say that I've never had either the reaper nor the puma, but the Pimenta Reaper surpassed my heat tolerance by a long shot.  Here's how Fords describes them: "Is a 2nd generation hybrid we created between the Pimenta Puma and the Carolina reaper. It ripens from black to light purple, to green and then orangish to cherry red. These plants produced almost 200 pods per plant during the 2015 season. A very delicious and sweet flavor with an intense sharp burn that fades fast leaving a cherry like flavor in your mouth for 30 minutes."
The last sentence is spot on!  When you take a bite of this pepper (if you are brave enough to do so), you do get an intense sharp burn.  For me, it took a glass of milk for the burn to fade, but once it did, I did have a wonderful flavor in my mouth.  The flavor was fruity and buttery which is why I thought these would make a wonderful fermented hot sauce.  In the pepper sauce, the flavor of the peppers complements the olive flavor and counters the acid of the vinegar.  It's a very nice flavor that will have you sprinkling it on just about everything.
If you like it smokin' hot and want to give this new hybrid a try, seeds for these peppers are now available for purchase.  Come April, you'll be able to purchase starter plants.

Disclaimer:  I did not receive any compensation for this post, just the chile peppers you see in the picture.  The olive brine hot pepper sauce recipe and the opinion of the chiles are my own.  I do want to thank Fords Fiery Foods and Plants for continuing to educate me on the various chiles found around the world!
Other chile pepper products similar to this that you might enjoy:
Pepper Sauce with Chile Pequin