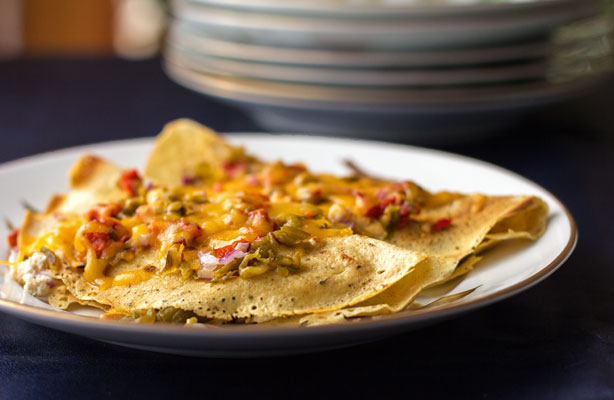 These Herb Crepes with Roasted Chile are a modified and simplified version of the green chile pathiri that I introduced a couple of years ago.  Last weekend I was planning to make the pathiri, but got started late and decided to take a shortcut.  Instead of dipping and stacking the crepes, I made individual crepes using roasted chile, pinon nuts (pine nuts), cheddar cheese, ricotta, and a secret ingredient.  Even though many of the same flavors were there, these crepes were quite different from the pathiri.  They were lighter, quicker to make, had a different texture, and some added flavors.
These herbs crepes with roasted chile can stand alone as a delightfully delicious vegetarian meal.  However, if you want more, just add a side salad or some pinto or black beans.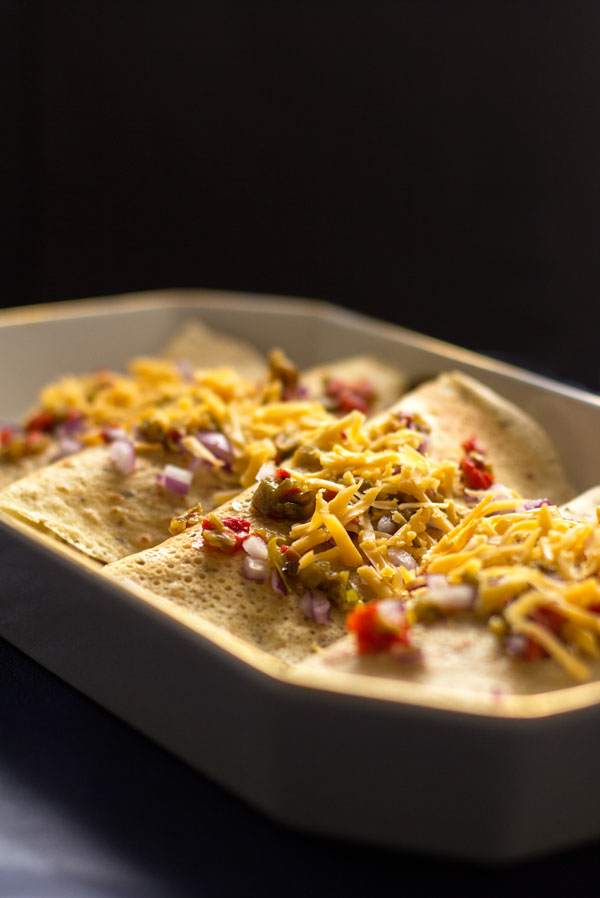 [print_this]
Herb Crepes with Roasted Chile Recipe

Recipe Author: MJ of MJ's Kitchen
Makes 14-15 herb crepes and other ingredients for 6 green chile crepes
Crepes – Prep and Cook time 1 hour
Chile Crepe assembly – 15 minutes
Bake time – 25 minutes
Making the Herb Crepes
This crepe recipe makes 14 – 15 herb crepes.  Therefore, you will have leftovers for another meal.
Crepe Ingredients
3 eggs
1/3 cup whole wheat flour, sifted
2/3 cup unbleached flour, sifted
1/8 tsp. salt
1 ½ cups milk
½ tsp crushed, dried Mexican oregano
Butter or margarine or oil (to lightly coat the crepe pan before adding the crepe batter)
Crepe Directions
Whisk the eggs in a large bowl.
Sift the flour, salt and oregano into a small bowl. Whisk to combine.
Add 1/3 of the flour mixture to the eggs and whisk.
Add some of the milk, whisk, more flour, whisk, more milk, whisk. Continue until all of the flour and milk have been incorporated into the eggs.
Let rest for about 30 minutes. (While the crepe batter is resting, prepare the ingredients for the chile crepes.)
To cook the crepes, slowly heat a crepe pan or 8 to 10 inch, nonstick skillet over medium low heat. When hot, coat with a touch of butter.
Add a scant 1/3 cup crepe mixture to the pan and gently swirl to coat the pan with batter. (If the pan is too hot, the crepe mixture will sizzle and splatter. Turn the heat down a bit.)
Cook for 45 to 60 seconds until light brown. Flip and cook about 30 seconds or until crepe starts to puff and brown on the other side.
Place on a paper towel and cover to keep warm. (I use a tortilla warmer with a paper towel inside. It works great.)
The crepes can be made up to 3 days in advance and refrigerated until ready to use.
Ingredients for roasted green chile crepes
The following ingredients are enough for 6 crepes.
6 herb crepes*
6 – 8 whole roasted green chile pods*, stems and seeds removed. Tear into 1 inch wide strips then cut each strip in half.
¼ cup chopped green chile (for the topping)
3 Tbsp. toasted pinon (pine nuts)
½ cup, diced red onion
1 ½ cup mild cheddar cheese, grated
4 ounces extra firm tofu*, crumbled
8 ounces ricotta*, drained of excess liquid
¼ tsp. green chile spice mix*
Cheddar Cheese – You'll need about 1 Tbsp. for the inside of each crepe. The remaining cheese will be used to top the crepes.  You can always add more if you want them really cheesy.
*See Kitchen Notes.
Assembly and Bake Instructions
Preheat the oven to 350° F.
Toast the pinon nuts – Heat a small heavy skillet over medium-low heat.  Add pinon nuts.  Slowly toast, stirring occasionally until lightly toasted. (Pinons do tend to stick to the pan more than other nuts so flipping them for an even toasting doesn't always work. You'll need to use a heat proof spatula of some type.)
Prep the roasted chile – Cut each chile pod in half, then tear lengthwise into 1 inch wide strips.  Or, if you want, you can just chop the chile.
In a small bowl, combine the crumbled tofu, ricotta, and green chile spice mix. Mix well.
Grate the cheddar cheese.
Lightly oil the bottom of a baking dish that is almost as wide as the width of a crepe.
Place a crepe in the bottom of the baking dish. Scoop 2 generous tablespoons of the ricotta mixture on half of the crepe, top with some of the onion, and pine nuts. Lay several pieces of chile on top, then add about 1 tablespoon of cheddar. Fold the crepe in half.
Repeat with 5 more crepes.
Arrange the 6 crepes by overlapping them in a row. Top with the remainder of the cheese and the chopped chile and remaining onions if you have any.
Bake @ 350° F for 15 minutes.  Lower temperature to 325° F and bake for 10 more minutes.
[/print_this]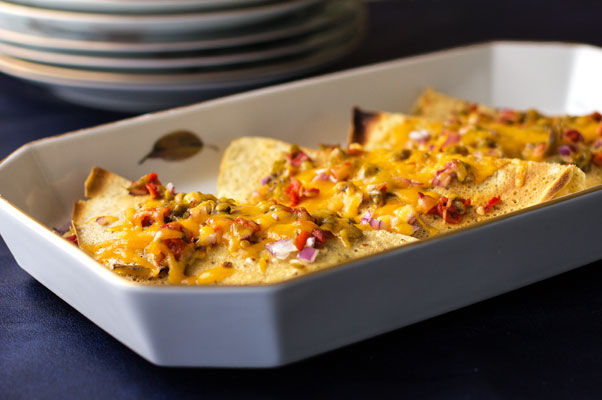 Kitchen Notes
Number of crepes – Because it is just the two of us, I assemble 4 crepes which makes a meal for Bobby and me.  Then in a couple of days, I'll use the remaining ingredients and two of the crepes for a light lunch.  If you need more than 6 green chile crepes to feed your family, then just increase the amount of ingredients proportionally.  You'll have plenty of the individual crepes already made.
The Chile – You can use any type of roasted chile – red or green, New Mexico chile or other.  If you want to go totally mild, just use roasted sweet bell peppers. Afterall, there is nothing quite like the flavor of a roasted pepper.  For this particular batch, I used both red and green New Mexico roasted chiles.  The red was medium in heat and the green was mild, yielding a bit spicy, but not too spicy of a dish.
Tofu – The secret ingredient!  Bobby couldn't even tell there was tofu in the dish.  The ricotta:tofu ratio of 2:1 was quick sufficient in masking the tofu and being able to sneak into a dish.  However, you could eliminate the tofu and just use 12 ounces of ricotta.
Ricotta – For this batch of green chile crepes I used a goat milk ricotta which has less liquid than most ricotta I've used.  If the ricotta that you choose is soft and has a lot of liquid, be sure to drain it.  Too much liquid in the ricotta will make the crepes soggy on the bottom and you don't want that.
Green Chile Spice Mix – If you don't have any of the spice mix, then season the ricotta/tofu mixture with a bit of salt and pepper, some red or green chile powder and garlic powder.
If you like these Herb Crepes with Roasted Chile then you probably will enjoy these other chile and crepe recipes:
Stacked Crepes with Roasted Red and Green Chile
Green Chile Pathiri with Pinon and Queso Fresco