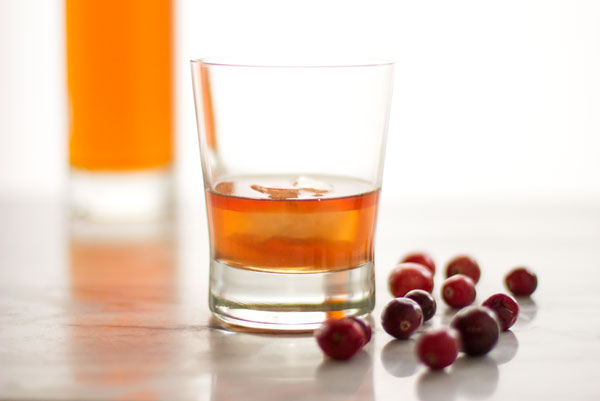 During the holidays we met some friends at a local Irish pub, Two Fools Tavern.  While the rest of the party ordered local brews, I ordered the seasonal Old-Fashioned which, because it was December, was a cranberry flavored old-fashioned. For me it was the perfect cocktail – slightly sweet, use of a good bourbon, and a little fruity.  I liked it so much that I made it a goal to recreate it for the new year. Here's my version of a Cranberry Old-Fashioned Cocktail.
Since I'm not a big cocktail maker, I consulted my friend Kitchen Riffs' Old-Fashioned Cocktail post. He describes several processes for making a traditional old-fashioned as well as provides suggestions for the all of the ingredients.  I decided to go with sugar instead of simple syrup and orange bitters in place of Angostura bitters.  For the cranberry flavor, I used a method that I've been using for years to re-hydrated dried cranberries – soaked them in bourbon. Once drained, the bourbon has an enjoyable cranberry flavor, but is a little cloudy which only affects the appearance of the cocktail, not its flavor.
So next time you're warming up next to a fire or cooling down by the pool, treat yourself nice and sip on this Cranberry Old-Fashioned.  It's a very enjoyable cocktail for any occasion.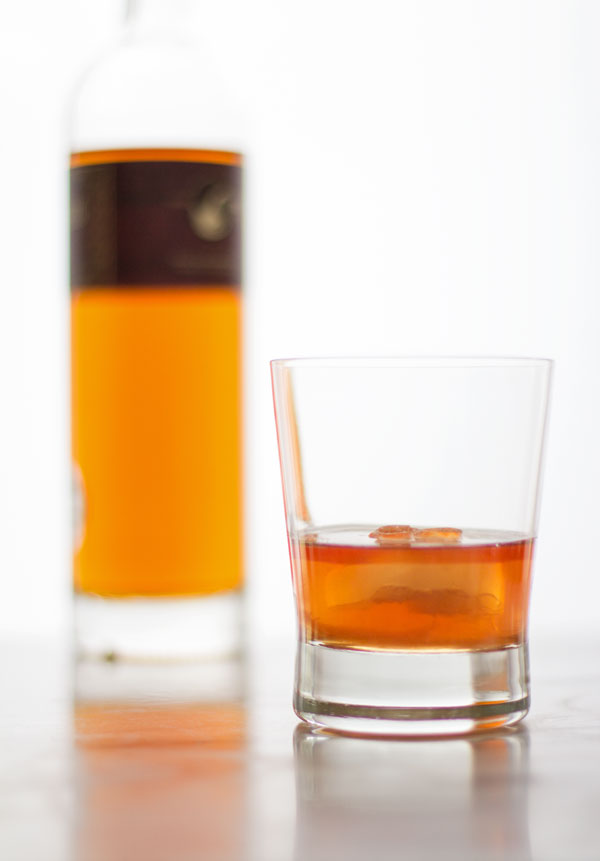 Cranberry Old-Fashioned Cocktail Recipe
Recipe author:  MJ of MJ's Kitchen
Prep time:  30 minutes to soak the cranberries, 5 minutes to make the cocktail
Recipe makes 1 cocktail, but you'll have enough cranberry infused bourbon for 3 cocktails.
Ingredients
Cranberry Infused Bourbon
½ cup dried cranberries (I use Cranraisins)
About 6 ounces of bourbon*
Ingredients for 1 cocktail
½ teaspoon sugar*
2 dashes orange bitters
1 generous jigger (~2 ounces) cranberry infused bourbon
Twist of orange rind
1 – 2 large ice cubes*
Instructions
In a glass measuring cup, add the dried cranberries.  Pour enough bourbon over the cranberries to measure 1 cup (~6 ounces of bourbon).  Let sit for at least 30 minutes. (A little longer won't hurt.)
Drain through a fine sieve. Reserve the re-hydrated cranberries for another use.*
To a short glass, add the sugar and the bitters.  Stir to start dissolving the sugar in the bitters.
Add the bourbon and swirl the glass to further dissolve the sugar.
Add ice and orange twist.  Swirl and enjoy!
*See Kitchen Notes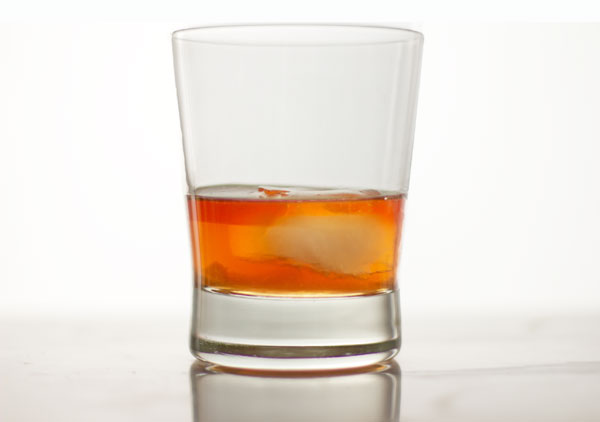 Kitchen Notes
Bourbon – Select a bourbon you like and you'll enjoy this cocktail.
Sugar – Sugar works great here, but it does take a while to fully dissolve.  Since this is a sipping cocktail, you'll find yourself giving it a swirl as you sip it to dissolve a bit more of the sugar.  Adds a little fun to the experience. 🙂  If you like your cocktail a little sweeter, then just add a little more sugar.  BTW – I did try this with agave syrup, but wasn't too crazy about the flavor of the agave with the bourbon. It dissolved better, but just didn't like the taste.
Bourbon Flavored Cranberries – These are such a great by-product of this cocktail!  There are so many things you can do with the cranberries.  Aside from just eating them, sprinkle them over a salad, knead them into bread, add them to cornmeal stuffing or roasted vegetables.  The last batch of bourbon infused cranberries were added to roasted Brussels sprouts along with toasted pecans.  So good!
The Ice – When I was served this drink at Two Fools Tavern (Albuquerque), it was served with one large piece of ice that took a long time to melt, keeping the drink from getting watered down.  I liked that since I'm a very slow sipper and one cocktail can last me the whole evening.  So for my ice cube, I used a small (~1 ½" diameter) freezer container.  Filled it with water and froze.  This method makes a relatively large single ice cube that doesn't water down the drink.
So here's my toast to the new year!
If you enjoy this Cranberry Old-Fashioned cocktail, then you might also enjoy a couple more of my favorite cocktails.