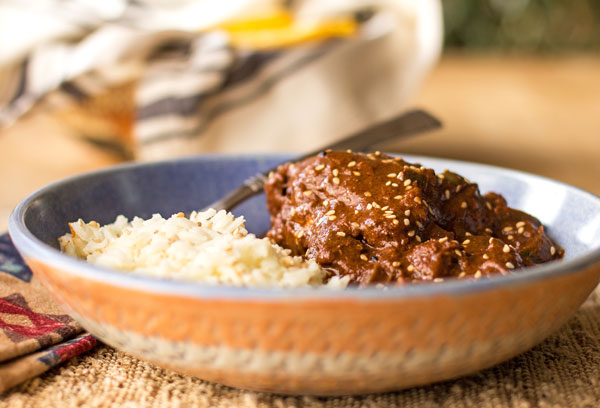 Back in June you were introduced to my New Mexico Red Mole, a spicy, rich sauce made with three types of chiles, pecans, pistachios, several different spices, chocolate, and a few other interesting ingredients.  The mole recipe makes over 12 cups; therefore, much of it can be frozen in 2-cup containers for future dishes like this succulent chicken mole – pieces of chicken smothered and simmered in mole sauce.
If you already have the sauce made, this chicken mole is quite easy to make.  Just brown the chicken, saute' some bell pepper and onion, add some mole sauce, and let simmer for 20 minutes.  Serve over rice for a make my mouth happy meal.  You might also want a little bread or tortillas handy so you can clean your bowl of any leftover sauce. You're not going to want to waste a drop!
If you don't have the sauce already made, then I would suggest making the mole on the weekend or whenever you have 2 – 3 hours that you can dedicate to the process.  Mole, like soups and stews is better the next day, so making it in advance is preferred.  You may also be able to find mole at the market, if you must.
Chicken Mole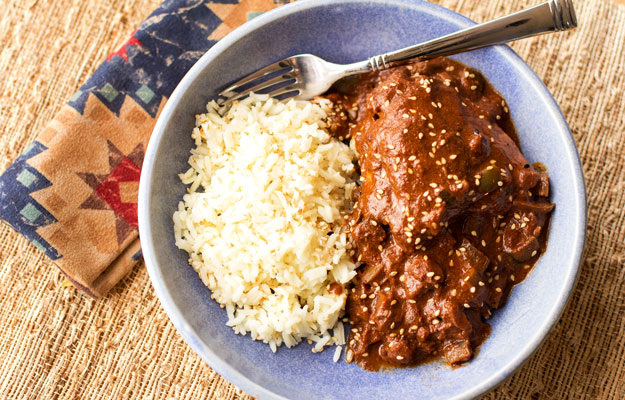 Chicken Mole Recipe
Chicken Mole smothers chicken in a New Mexico Red Mole that you need to make at least one day ahead of making this dish.

"*" See Kitchen Notes for more information or links to special ingredients.
Cuisine:
Mexican, New Mexico, Southwestern
Ingredients
8

chicken thighs*,

skin and visible fat removed*

Salt and pepper

2

Tbsp.

oive oil

1

medium bell pepper,

diced

1

medium onion,

diced

1/2

cup

beer

(e.g., Negra Modelo, Bohemia, Abita)

2

cups

New Mexico Red Mole*

water

3

cups

cooked rice*
Instructions
Remove the skin and any visible fat from the chicken thighs, rinse and dry. Sprinkle both sides with salt and pepper.

Heat the oil in a large Dutch oven or braising pan over medium heat. When hot, add half of the chicken pieces and lightly brown, about 2 minutes per side. Transfer to a bowl.

Repeat with the rest of the chicken.

Add the bell pepper and onion to the pan and saute' for about 4 - 5 minutes, stirring frequently. Turn down the heat and add the beer. Deglaze the pan to release the goodies stuck to the bottom.

Add the mole sauce and stir. If it's too thick, add a little water and any liquid that has gathered in the bowl with the chicken. Whisk to combine the liquids. (NOTE: The sauce will thin some more while cooking.)

Add the chicken pieces and turn each piece to coat with the sauce. Cover and simmer for 10 minutes.

After 10 minutes, turn each piece of chicken over, cover and cook another 10 minutes. Remove from the heat and let sit, covered for 5 minutes.

To serve, place some rice in a bowl and top with one to two pieces of chicken and a generous amount of sauce.
Kitchen Notes
Chicken – With this recipe you can use any pieces of chicken you want.  A whole chicken cut into 8 – 10 pieces works fine.  I prefer using all thighs because…first of all, I love chicken thighs, and secondly, all the pieces take the same amount of time to cook.  If you use chicken breasts, either cut them in half or add 5 minutes to the simmer time.
Red chile mole – As I mentioned before, it's best to make a batch of mole on another day, set aside 2 cups for this dish, then divide the remaining mole into 2 cup servings and freeze.  If you want to spend about 4 hours in the kitchen you can make both the mole and this chicken mole on the same day. You should also be able to buy mole at your local Mexican market.  Look for mole negro, black mole or mole poblano.
Leftover Ideas – If you have leftovers, then remove the chicken from the bones and make chicken and mole tacos, tostadas, or enchiladas.  You could also serve it as a side to scrabbled eggs or huevos rancheros.
Rice - Pretty any rice works with this dish - white, brown or a wild rice blend.  Start the rice prior to starting on the chicken.  If it finishes before the chicken is done, it can rest.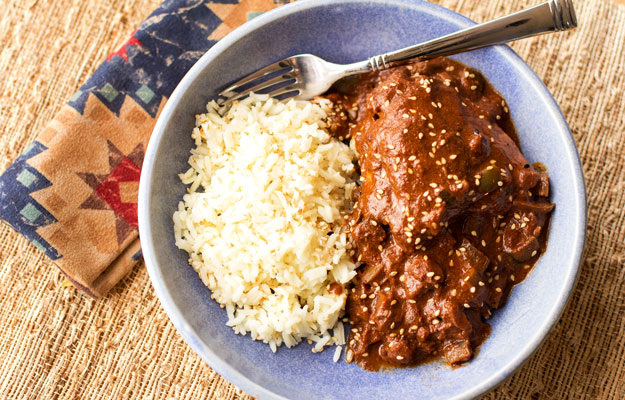 I hope you enjoyed this Chicken Mole recipe. If you did, then you might also enjoy these recipes: