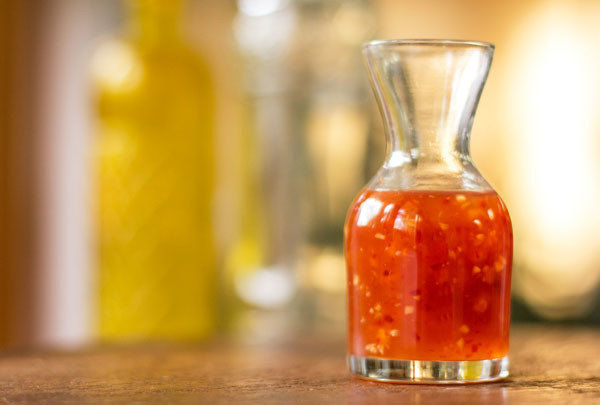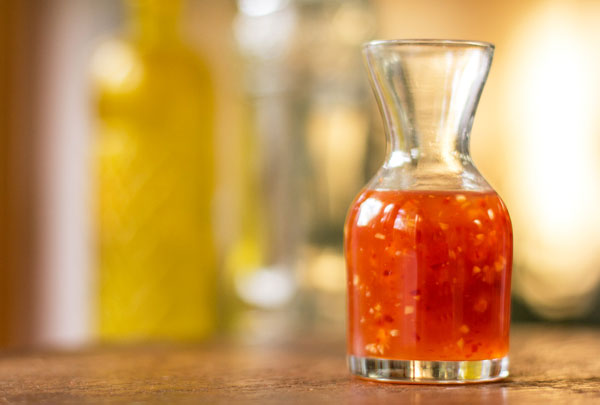 Once you see how easy it is to make an Asian sweet chile sauce (aka Thai sweet chili sauce), you'll never buy it again.  I've been buying this for years and have gone through many, many bottles, but after looking through a variety of recipes and seeing how easy it is to make, I decided to give it a try. Using a few standard items from my pantry, the process from start to finish took less than 15 minutes and the result was better than what I have been buying!  By making it from scratch, I was able to adjust the sweetness, the spiciness, the flavor, and thickness to my preferences.
The recipe for Asian sweet chile sauce below makes just short of a cup of sauce, is less sweet, and thinner than what I buy.  I find the store bought sauce too thick for my needs so I'm always adding water to thin it.  If you like yours thicker, then just add an additional teaspoon of cornstarch to the recipe below.
So far, I've made this Asian sweet chile sauce using three different blends of chile flakes.  Each batch yielded a slightly different flavor and color.  Darker chile flakes like chipotle, made a darker, almost brown sauce even though I used only a few flakes.  The flavor was nice, but not what I was going for.  Aleppo flakes with urfa biber was a nice combination with a great flavor but didn't provide enough of a spicy kick.  I think a chile pequin or Bird's eye chile would have taken it from great to wonderful.  My favorite batch was with hot New Mexico red chile and a chile de arbol, but then I'm sure that doesn't surprise you at all. 🙂 So if you have some chile flakes or dried chile pods in your pantry, you could be making this sweet and spicy chile sauce right now.
This Asian sweet chile sauce can be used in marinades or as a marinade, and as a dipping sauce for shrimp, springs roll or tofu bites.  You could add it to salad dressings, breads, stir-fries and noodle dishes.  Spice up some hummus or pour it on grill corn, asparagus or eggplant.  Last night I drizzled some on this Avocado, Orange, and Cucumber salad with quite enjoyable results.  The possibilities are endless.

Asian Sweet Chile Sauce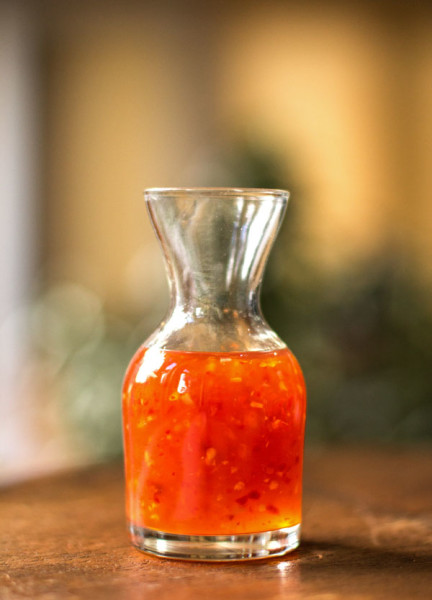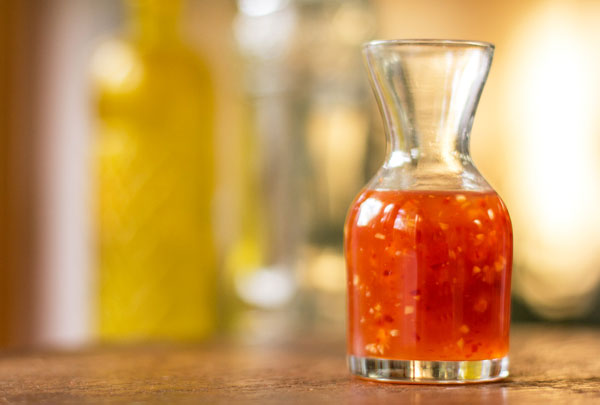 Asian Sweet Chile Sauce Recipe
No need to buy Asian style sweet sauce when it's so easy to make at home.

"*" See Kitchen Notes for more information or links to special ingredients.
Yields
:
1
cup (approximately)
Ingredients
½

cup

water

¼

cup

rice vinegar

¼

cup

sugar

1

large garlic clove,

smashed, minced

1 ½ - 2

teaspoon

red chile flakes*

1/8

cup

water

1 ½ - 2

teaspoon

cornstarch*
Instructions
Combine 1/2 cup water, the rice vinegar, sugar, garlic and chile flakes in a small sauce pan. Heat over medium heat, stirring to dissolve the sugar.

Bring to a simmer and simmer for 5 minutes, stirring occasionally.

In a cup or small bowl, make a slurry of the cornstarch and 1/8 cup water.

After simmering the sauce for 5 minutes, slowly pour in the cornstarch slurry. Bring the sauce to a boil and boil gently for 1 minute, stirring constantly. If the sauce isn't as thick as you want, boil for another minute.
Kitchen Notes
This Asian sweet chile sauce keeps in the refrigerator for a couple of months; however, it will start to separate.  Therefore, just like the store bought variety, shake before reusing.
Red chile flakes – One 8 – 9 inch hot red chile pod plus 1 chile de arbol pod makes about 1 ½ teaspoons of flakes and yields a flavorful sauce with a spice level around 7 on a 1 – 10 scale.  To make it even hotter, add 1 teaspoons flakes and use hotter chile.  If you have the pods, you can make your own chile flakes.
Cornstarch – We like our chile sauce thinner than what you buy, so I use 1 ½ teaspoons cornstarch.  For a thicker sauce use 2 teaspoons.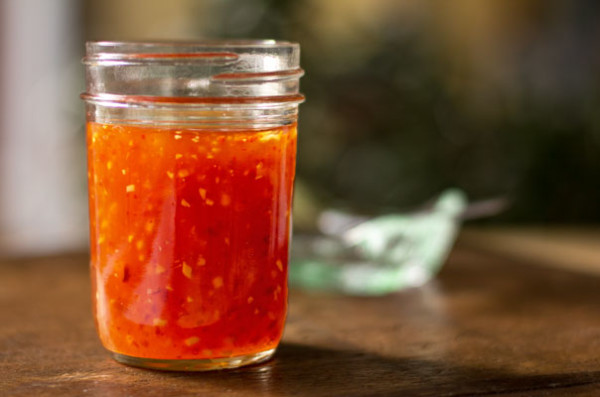 If you like this Asian Sweet Chile Sauce, then you'll also like some of these recipes.

Garden Update
On Saturday May 2, Bobby and I planted our summer garden: 8 tomato plants, 10 chile plants from Fords Fiery Foods and Plants, 5 bell pepper plants and several flowers and seeds.  Everything looked SO good!  Two days later in the late afternoon, a surprise hail storm hit Albuquerque. Bobby snapped this picture during the storm from the shelter of the front porch. That's hail flowing down the street. Once it was all over we had over an inch of hail in the garden beds and some sad looking stems from our transplants.  It was so sad that I just couldn't bring myself to take a picture. 🙁  Oh the trials and tribulations of gardening.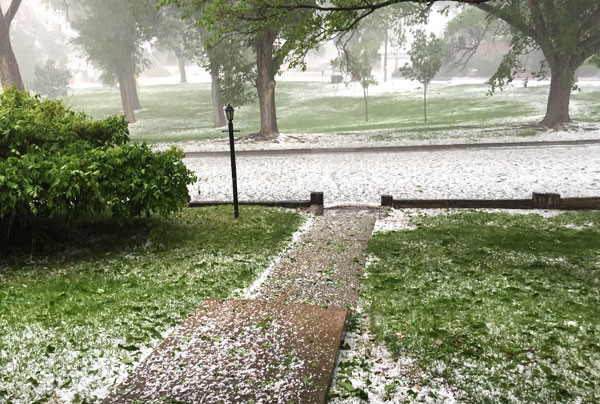 Save