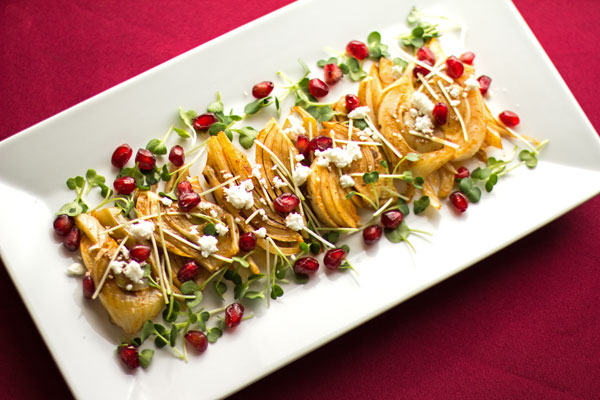 Inspiration for a new recipe can come in different forms and from different sources, which is the case with this fennel salad.  Back in August I saw Soni's Food Indian Spice Roasted Fennel and pinned it as a reminder to make it one day.  Then a few weeks ago when I dropped into the Santa Fe Olive Oil & Balsamic Company for a purchase and a tasting, I was asked if I would create a recipe and write a post on one of its products – specifically its Cranberry Balsamic vinegar.  After tasting this awesome balsamic and going through several different ideas for a recipe, I lit upon the marriage of Soni's roasted fennel with the cranberry balsamic and thus this Roasted Fennel Salad with Cranberry Balsamic was born.
This beautiful fennel salad is made with red chile spiced roasted fennel and a generous drizzle of cranberry balsamic, topped with feta cheese, pomegranate seeds and daikon sprouts. It is an enticing mix of hot and cold, sweet and tart, crunchy and soft. It pairs well with pork and poultry, and is the perfect salad for a soup and salad.  It pairs quite well with this red pepper soup.
But before we go to the recipe, I must say something about the Cranberry Balsamic. Have you ever opened a balsamic vinegar and just wanted to pour it in a glass and drink it?  Well, that's what I wanted to do with this cranberry balsamic.  What a perfect marriage of a great balsamic to an infusion of cranberry – sweet with a touch of cranberry tartness. This is a balsamic that I will keep in my pantry year round.
To learn more about the Santa Fe Olive Oil and Balsamic Company, read the information below.
Roasted Fennel Salad with Cranberry Balsamic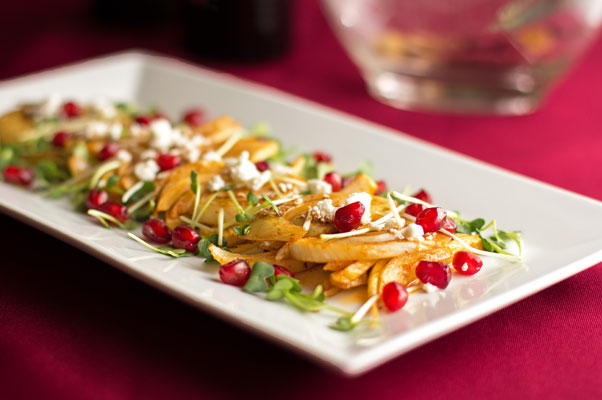 Recipe for Roasted Fennel Salad with Cranberry Balsamic
A colorful and flavorful salad that dresses up any table and any meal. A holiday favorite!

"*" See Kitchen Notes for more information or links to special ingredients.
Course:
Side Dish, Vegetarian
Ingredients
2

large fennel bulbs,

cored, sliced vertically into ¼-½" slices

1 ½

Tbsp.

olive oil

½

tsp.

red chile spice blend*

~2 Tbsp. feta,

crumbled

Daikon radish sprouts*,

chopped if desired

Pomegranate seeds

Santa Fe Olive Oil & Balsamic Company Cranberry Balsamic*
Instructions
Preheat oven to 400°

Slice the fennel and transfer to large bowl.


Whisk together the olive oil and red chile spice blend. Add the fennel and toss to coat with oil and spice.

Transfer fennel to a 9" x 13" casserole dish and spread out evenly.

Place in the oven and roast for 15 minutes. Remove from oven and flip the fennel over. Return to oven and roast another 15 minutes*.

Remove from the oven. Divide the fennel between 4 salad plates.

Drizzle a generous amount of cranberry balsamic on top of fennel.

Top each serving with feta, sprouts and pomegranate seeds.

Serve warm or at room temperature.

Kitchen Notes
This salad has a lot of versatility to it.  You can change the spices that you use on the roasted fennel, change the type of sprouts and seeds, and the balsamic (if you dare :)).  It's another one of those dishes that can be adjusted to what's available in your area and in your pantry.
Red chile spice blend – This spice mix gives the fennel, and thus the salad, a slightly spicy and smoky flavor. If you haven't made this blend yet, then just add some red chile powder, smoked paprika, garlic and onion powder, and salt to the olive oil.
Daikon Sprouts – The Daikon sprouts could be substituted with any type of radish sprout, a small bean sprout, or alfafa sprout, actually any sprout you enjoy.  Bobby found the whole sprouts hard to manage, so I cut them into smaller pieces which worked quite well.
Cranberry Balsamic – If you don't have a cranberry balsamic, then use your favorite balsamic and replace the pomegranate seeds with dried cranberries, or in addition to.
Cook time – We found that just 15 minutes of cook time left the fennel a bit too crunchy for our tastes; therefore, I added another 15 minutes which resulted in a slightly crunchy fennel, a more preferred texture for us.  Therefore, you might want to test the fennel after 15 minutes for your preferred texture and go from there.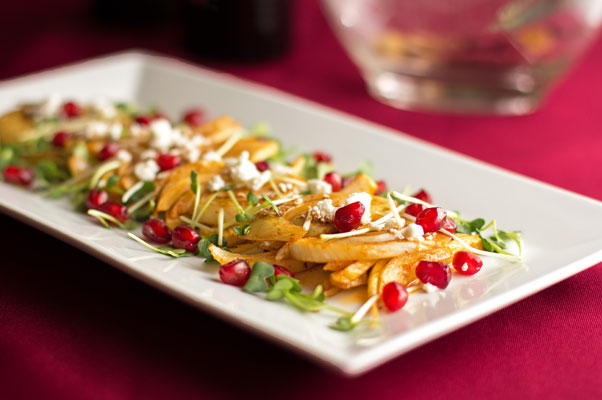 If you enjoyed this Roasted Fennel Salad with Cranberry Balsamic, then you probably will also enjoy these other festive salads.
Apple Salad with Green Chile Dressing
The Santa Fe Olive Oil & Balsamic Co. is a local company with two locations:  A Santa Fe location just off the Santa Fe Plaza and an Albuquerque location in the Nob Hill Shopping Center.  Each location encourages its visitors to test the company's numerous varieties of olive oils and balsamic vinegars.
Olive Oils – This company carries olive oil from Greece, Spain, Italy, Australia, and Chile – one of my favorites being a Chilean Picual Olive Oil.  It also have a wide variety of infused olive oils from roasted red chile to habanero, lavender to rosemary.  Its gourmet oils have an even large variety:  black & white truffle oils, bacon, meyer lemons, butter, cilantro lime and sun-dried tomato – just to name a few.
Balsamic – If you are a balsamic vinegar fanatic, then you really do need to check this place out. Its 25 Star Traditional is one of its best sellers and one of my favorites. But the ones you can have fun with and that inspire a variety of creations are the infused vinegars.  These vinegars range from fruity (e.g., cherry, blackberry ginger, Manderin orange, green apple, fig), to more savory (e.g., smoked balsamic, garlic, espresso, garlic cilantro).
So next time you are in Santa Fe or Albuquerque, be sure to stop in and get a taste or two or three.  Actually, plan to stay a while.  There's a lot to take in.  But you don't have to be present to buy. You can buy online at its online store.
Disclaimer:  I did not receive any compensation for this post other than a bottle of Cranberry Balsamic.  The Fennel Salad recipe and the opinion of the balsamic are my own.

Save