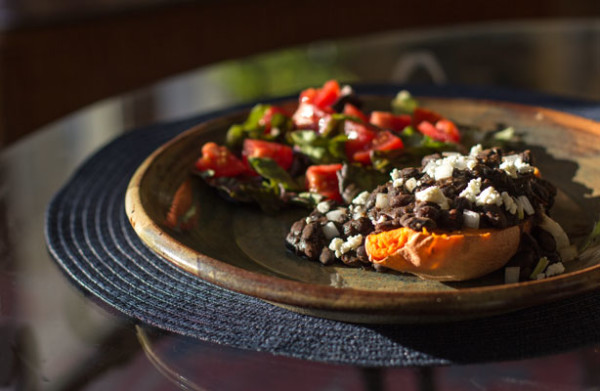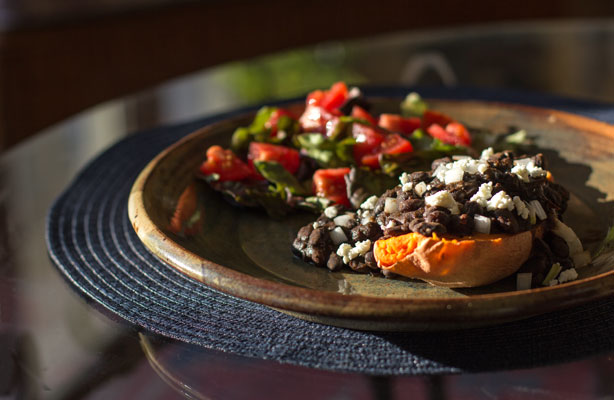 This black bean chili recipe is one of my pre-computer recipes that I've been playing around with since the early 90's.  It's a vegan black bean chili, but if you don't mind a little cheese, a topping of feta is a great finishing touch.  You can serve this chili over rice (brown rice is best) or polenta, or with buttermilk cornbread or tortillas.  But our favorite way is to serve it over sweet potato.  The sweetness of the sweet potato is the perfect complement for the richness and spiciness of the chili.
Black Bean Chili over Sweet Potato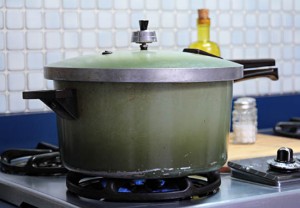 This recipe uses a pressure cooker, but you could cook this on a stove top in a large Dutch oven.  It would take 2 to 2.5 hours in a Dutch oven and less than an hour in a pressure cooker.  Also as a disclaimer on the pressure cooker, I'm still using my 40 year old pressure cooker and have no idea how the new ones work today. So the cook time might be a little different.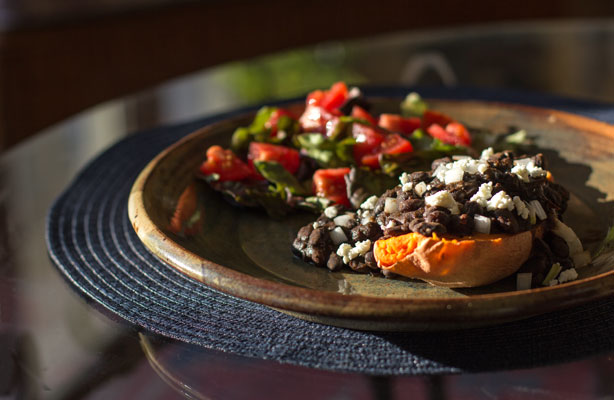 Black Bean Chili Served Over Sweet Potatoes (Recipe)
Love the combination of black beans and sweet potatoes. Create a complete meal by scooping some black bean chile over sweet potatoes. The sweet potatoes could be roasted, mashed, or baked. They all work.

"*" See Kitchen Notes for more information or links to special ingredients.
Course:
Main Course, Vegetarian
Ingredients
Beans and Brine
2

cups

dried black beans

1

Tbsp.

Kosher salt

Enough water to cover the beans plus 1" above
Chili ingredients
5

cups

vegetable broth*

1

medium onion,

diced

1

medium green bell pepper or poblano,

diced

½

cup

roasted green chile,

chopped

6

large cloves garlic,

minced

1

– 14.5 oz. can of diced tomatoes with juice or 1 ½ cups chopped fresh tomatoes.

2

teaspoon

red chile powder*

½

tsp.

chipotle powder*

1

Tbsp.

paprika*

½

tsp.

smoked paprika*

1

tsp.

toasted cumin/coriander mix

1

tsp.

dried oregano

1

bay leaf

¼

cup

fresh cilantro,

minced (optional)
Sweet Potato
½

small to medium sweet potato per serving,

roasted or microwaved

OR 1/2 cup mashed sweet potaotes
Toppings (use as many as you want or none at all)
Raw onion,

minced

Scallions with tops,

thinly sliced

Red chile sauce

Feta cheese,

crumbled

Sour cream or creme fraiche
Instructions
To brine the beans
Place about 5 - 6 cups of water in a large bowl with 1 Tbsp. coarse salt. Stir to dissolve the salt.

Add the beans and let brine 4 hours.

After 4 hours, drain and rinse the beans. Transfer to pressure cooker.
Making the chili
Add 5 ½ cups vegetable broth to the pressure cooker with the beans and start heating the broth and beans while you chop the vegetables.

Add all chili ingredients (except cilantro) to the pressure cooker. Stir well.

Close the cooker and bring to a medium high pressure.

Once the setting is reached, cook for 10 minutes.

Remove from heat and let set for 10 minutes.

Relieve the pressure on the cooker, open and test beans for doneness and salt. If not quite cooked, continue to cook for another 5 minutes or so at high heat until done and to desired consistency.

If using cilantro, stir it in now and serve over sweet potato with desired toppings.

If using roasted or microwaved sweet potato*, place ½ of a sweet potato in a bowl. Cut down the middle to open it up. Pour the desired amount of black bean chili on top of the sweet potato. Top with desired toppings.

If using mashed potatoes, scoop potatoes in a bowl. Make a hole in the center and scoop chili into the center. Top with desired topping.
Kitchen Notes
Vegetable broth – I don't make vegetable broth from scratch. I use water and a vegetable bouillon base (5 cups water to 1 tsp. base).  Between the brine and the base, you'll find that you won't need to add additional salt to the finished chili, that is unless you like food really salty.
Chile powders – As you can see from the recipe, I don't use a chili powder blend but rather several different chile powders and other spices and herbs.  By using the discrete components of a blend, you can create a flavor profile that best fits your palate.  Therefore, rather than grabbing a bottle of "chili powder", grab all of the "chile powders" you have in your pantry and create your own.
The Sweet Potato – The sweet potato can be baked, microwaved or mashed.  Here's a quick & easy mashed sweet potato recipe.
For the baked sweet potato, scrub it, poke a couple of times with a fork, coat the outside with oil or butter, and roast in a preheated 400°F oven for 40 – 45 minutes or until done.
For the microwaved potato, scrub, poke a couple of times with a fork, and microwave on high for 3 minutes. Turn over and microwave for another 3 minutes or until done.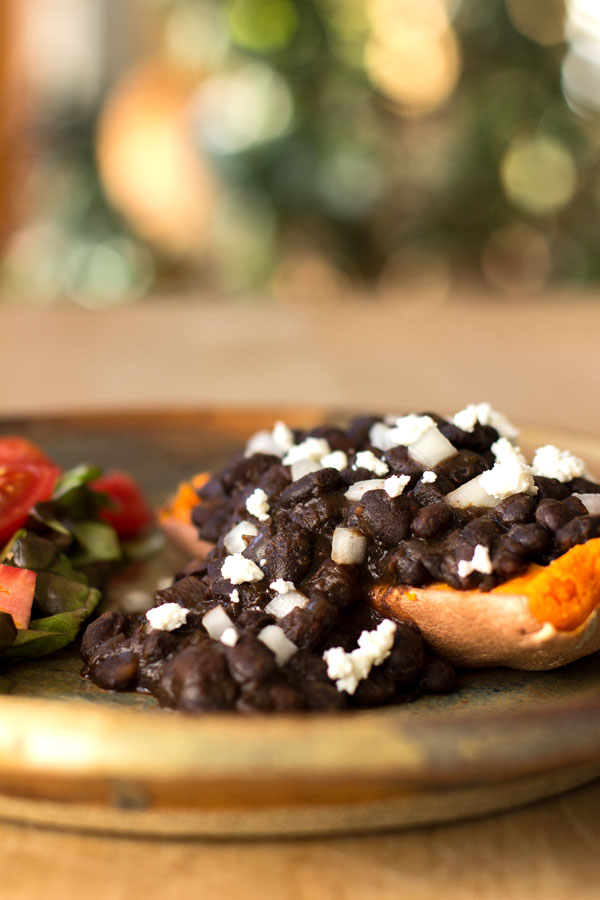 If you like this vegan Black Bean Chili recipes, you might want to check out these other black bean recipes.