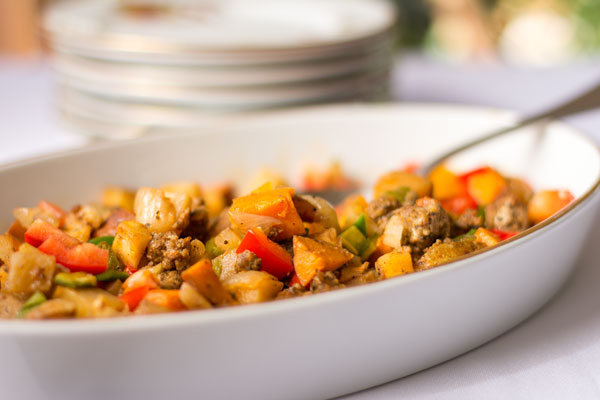 Roasted Vegetables with Mexican Chorizo is a potpourri of root vegetables roasted with onion, peppers and Mexican Chorizo.  It is a relatively easy dish to make but does require a lot of chopping, something that I enjoy doing. Once chopped, the root vegetables are tossed in a bowl with some simple spices and oil, then roasted.  After 20 minutes, the peppers and chorizo are added and the roasting continues until done.  This two-step roast allows the root vegetables to completely cook without overcooking the peppers and chorizo.  And what is the end result? A hearty bowl of goodness.  A complete meal all in one dish.
Roasted Vegetables with Mexican Chorizo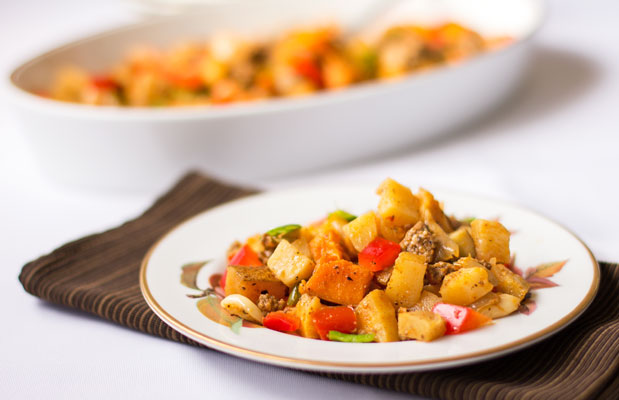 Roasted Vegetables with Mexican Chorizo Recipe
A one dish meal with roasted root vegetables and Mexican chorizo.
"*" See Kitchen Notes for more information or links to special ingredients.
Ingredients
The size of the vegetables is relative, but nothing really needs to be exact in this recipe. In reference to the chopped vegetables, I do chop the potatoes into larger pieces than the turnip and parsnip because the latter takes longer to cook.
1

medium to large sweet potato,

chopped into ½" cubes

1

medium to large russet potato,

chopped into ½" cubes

1

medium to large turnip,

chopped into ¼" cubes

3

medium parsnip,

chopped into ¼" cubes

1

medium onion,

coarsely chopped (no need to separate layers)

1

large head of garlic,

cloves peeled, trimmed, smashed

~2 Tbsp. garlic infused oil or chile infused* oil or EVOO

¼

tsp.

salt

1

tsp.

black pepper

1

tsp.

paprika

½ - 1

tsp.

red chile powder,

to taste

½

tsp.

ground cumin

1

medium to large bell pepper

green/red or both, chopped

½

pound

Mexican chorizo*

crumbled

Juice from 1 lime

2

tsp.

honey
Instructions
Preheat oven to 400° F.

Chop the root vegetables and onion, and smash the garlic. Transfer to a large bowl.

Add the salt and pepper, paprika,

chile powder

and cumin. Drizzle with oil. Toss to coat the vegetables with oil and seasoning.

Transfer to a large baking dish. Roast for 30 minutes.

While the root vegetables are roasting, chop the bell pepper and break up the chorizo.

After 30 minutes, remove from the oven and add the peppers and chorizo. Mix with root vegetables.

Return to the oven, lower oven temperature to 375° F and cook for 30 minutes or until vegetables are tender.

While the vegetables are cooking, whisk together the honey and lime.

Once cooked, pour the honey lime mixture over the vegetables and chorizo. Stir to coat and serve.
Kitchen Notes
Root vegetables – The combination that I used here is our favorite, but you can use whichever root vegetables you like.  The sweet potatoes could also be substituted with a winter squash.  Red beets do tend to bleed which doesn't make the final dish very pretty, but golden beets work.
Mexican Chorizo – You can use bulk chorizo or buy it in a casing.  If you buy it in a casing, 2 links is usually about a half of pound.  Remove the casing and crumble the sausage or you may choose to just slice the chorizo instead of crumbling it.
Substitution for chorizo – This dish can be made with Italian sausage (we like spicy Italian), regular pork sausage, or any uncooked sausage of your choice.
Vegetarian version – Omit the chorizo.  Increase the red chile powder to 1 tsp. and add ¼ – ½ tsp. chipotle powder (depending on how hot your chipotle powder is).  For the protein, top each serving with an egg.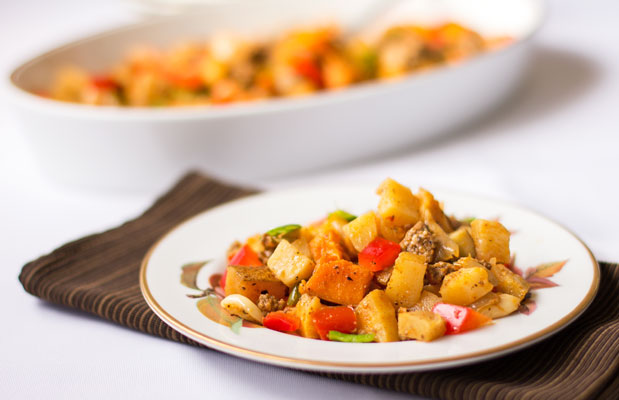 If you enjoy roasted vegetables, here are a couple more recipes you might enjoy.
Spicy Orange Roasted Sweet Potatoes
Roasted Butternut Squash with Apples and Manchego