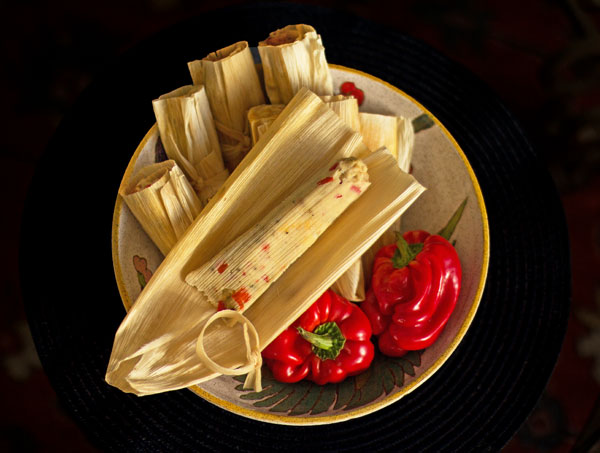 A mix of spicy red chiles, onion, garlic, and cheese give these vegetarian Red Chile Cheese Tamales a savory, chile sweet and spicy flavor that make truly killer tamales.  The flavor and texture of these tamales are so good that no sauce, salsa, or toppings are needed.
When I first started making these red chile cheese tamales, I used roasted fresh New Mexico red chile and Parrano cheese.  Recently I used Turkish antep aci dolma peppers (peppers in bowl) that I received from my friends at Fords Fiery Foods and Plants. These peppers paired with cheddar cheddar yield a more exotic tamale', richer and a little sweeter than the New Mexico reds which have a fruity and more earthy flavor.
Eating an antep aci dolma pepper is like eating a spicy red bell pepper.  It's sweet like a red bell, but spicier.  It's a great pepper for those who like sweet and spicy, but not too heavy on the spicy.  I found the spiciness to be that of pasilla chile (1000 -2000 scovilles) which is less than jalapeno (<2500), although it did vary from one pepper to another. It's not as meaty as a bell pepper, so roasting it wasn't really an option. However, sweating these peppers with onion in melted butter brought out the sugars, yielding a sweet and spicy mixture.  When I combined this mixture with tamale' masa and cubes of cheddar, the resulting tamales were exotic – rich and very Mediterranean.
To learn more about these peppers and another pepper from Fords, read about Fords Fiery Foods and Plants below.

Red Chile Cheese Tamales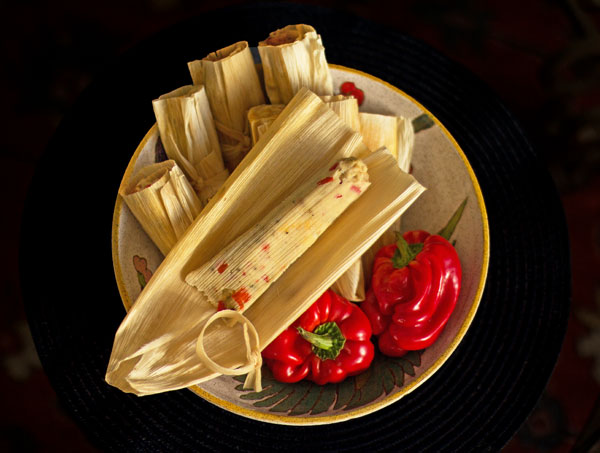 Recipe for Red Chile Cheese Tamales
These are my all time favorite tamales! Sweet and spicy with a creamy, light masa. Very versatile. Use your favorite red chile and cheese and create your own.

"*" See Kitchen Notes for more information or links to special ingredients.
Course:
Main Course, Vegetarian
Cuisine:
Mexican, Southwestern
Yields
:
15
tamales (about)
Ingredients
Supplies
About 24 dried corn husks

Flat casserole dish for re-hydrating corn husks

Flat casserole dish that fits inside larger one

Steamer than can hold 15 - 18 tamales

Large bowl for masa and tamales ingredients
Tamale Ingredients
¼

cup

butter

4 Tbsp.

1

medium onion

finely chopped

4

large garlic cloves

minced

2/3

cup

diced spicy red peppers*

½

tsp.

oregano

Mexican oregano if you have it

¼

tsp.

red chile flakes*

¼

tsp.

chipotle chile flakes*

2/3

cup

cheese*

¼" cubes (mix of aged cheddar and mild cheddar)

2

cups

Masa Harina

½

tsp.

salt

1

tsp.

baking powder

2

cups

vegetable broth

chicken broth or water
Instructions
Rehydrate the corn husks
You'll need two casserole dishes, a large one and one that fits just inside it.

Loosen the corn husks and lay them flat in the larger dish.

Bring a large pot of water to a boil. Remove from the heat and pour over the husks. Place the smaller casserole dish on top to hold the husks in the water.

Let the husks soak until ready to assemble the tamales.
Make the filling and tamales
Start heating up the broth or water for the masa. Heat to about 120°F.

Melt the butter in a skillet over medium-low heat. Add the onion, garlic, and chile peppers. Sweat until translucent.

Add the oregano and chile flakes. Simmer for a couple of minutes, then remove from the heat.

In a large bowl, combine the masa harina, salt, and baking powder. Stir to combine.

Add 1 ¾ cups warm broth to the masa harina. Using a rubber spatula (or your hands), mix to combine ingredients.

To the masa, fold in the cook vegetables and cheese until evenly distributed throughout.

The masa mixture should be the density of a thick quick bread batter. If not, add the rest of the broth and mix into the masa.
Assemble tamales
Select one of the narrow corn husks to create tamales ties. Tear the husk into thin strips about ¼ inch wide.

Pull a corn husk from the water shake off excess water. Using a spatula, place about ½ cup tamale mixture lengthwise down the center on the wide half of the husk. (You'll be folding the husk in half once they have been rolled so don't go too far down the husk.)Using corn husks strips to tie tamales | mjskitchen.com

Fold one side of the husk over the filling and press to shape. Continue roll the remaining husk around the masa. You should have a tapered cigar looking shape with the top half fat and happy with masa.

Fold the lower, unfilled portion of the husk up and on top of the filled half. Wrap one of the ties around the tamale and tie into a knot.

Repeat until the tamale filling is gone.
Steam the tamales
Place some of the extra corn husks around the sidewalls of the steamer.

Place the tamales in the steamer, standing up on the closed ends. If the tamales do not fill the steamer enough to stand up relatively straight, use extra corn husks to separate the tamales and help them to stand up.

Spread a couple of corn husks across the top of the tamales. This keeps water from the lid from dipping into the open ends of the tamales.

Place the lid on tight and steam the tamales for an hour.

Remove from the heat, uncover, and let sit for 10 minutes. Remove one of the tamales and let sit another 2-3 minutes.

Test a tamale by opening it up. If the husk doesn't pull away from the steamed dough, then steam the tamales for another 10 minutes and test again. NOTE: Some of the cheese will melt and stick to the husk. Don't worry about that. Just scrape a knife or fork between the husk and the tamales to unstick. However, if the masa is sticking to the husk, then they need to steam a little more.
Kitchen Notes
Spicy Red Peppers – You can use just about any red chile pepper in these tamales, but to keep the flavor that I've talked about here, you'll need to look for a chile that is somewhat sweet and spicy.  The spiciness of the chile is up to you. How spicy do you want the tamales? How much spice can you handle?  As I mentioned earlier, I've used roasted New Mexico red chile many times with fabulous results.  If you just want the sweet and not the spice, use either fresh sweet bell peppers or roasted bells.
The chiles can be roasted or fresh (not roasted) – If roasted, sweat the garlic and onion first, then add the chopped roasted chile at the end with the chile flakes.  If not roasted, then follow the directions in the recipe.
Chile Flakes – Adding ¼ teaspoon of one or two different types of chile flakes or powder to the mix is meant to complement the red chiles, not overpower them.  Therefore, try to use chiles flakes that have a bit of a different flavor and spice level.  Chipotle flakes are good because they are smoky and hot.  The maras biber is a Turkish chile that works quite well with the aci dolmas.  You could also use paprika, cayenne, serrano, or aleppo.
Cheese – There are several types of cheese that work in these tamales.  The main thing to look for is a rather mild cheese, nothing too strong, and a semi-hard cheese.  Cheddar, Leyden, Parrano, and beer cheese work nicely.  For more cheese ideas, check out this Conversation with a Cheesemonger.
I actually received two types of peppers from Fords – the antep aci dolma and a new pepper hybrid of Ford's, the Pimenta reaper (the smaller pepper in the photo above).  These are two completely different peppers both in taste and spiciness.
Antep Aci Dolma Peppers – "A stable hybrid created by an agriculture university in Ankara, Turkey." They are a very sweet pepper but with quite a bite.  Their sugar content is high which really comes out when heated. Not only did I use them in these red chile tamales, but I chopped them up in scrambled eggs, added them a bowl of pinto beans., and used them as a topping for pizza.  All were delicious!  I can easily see adding them to yeast bread or grits.  If you want to give these peppers a try, you can purchase the seeds now through Fords' website (click on the link above) and start your own plants this winter.  OR you could wait and purchase some starter plants from Fords in the spring.
Pimenta Reaper Peppers – These peppers are "a cross between the Carolina reaper and the Pimenta puma." Well, let me say that I've never had either the reaper nor the puma, but the Pimenta Reaper surpassed my heat tolerance by a long shot.  When I took a tiny bite, the heat was instantaneous and smokin' HOT. I really could feel heat coming out my ears! After drinking a glass of milk, the heat went away and the flavor that lingered in my mouth was really, really nice and it lasted a long time.  There was a hint of habanero flavor, but fruitier and somewhat buttery. I made a couple of pepper sauces using these peppers.  They are resting now so I'll share those with you later, once they are ready.  If you like it smokin' hot and want to give this new hybrid a try, seeds for these peppers will be available for purchase in the early spring. 
Disclaimer:  I did not receive any compensation for this post, just the chile peppers you see in the picture.  The red chile cheese tamales recipe and the opinion of the chiles are my own.  I do want to thank Fords Fiery Foods and Plants for continuing to educate me on the various chiles found around the world!

Tamales on MJ's Kitchen.
Red Chile Cheese Tamales (vegetarian)
Black Bean Tamales with Spicy Mango Sauce (vegan)
Green Chile, Corn, and Mushroom Tamales (vegan)