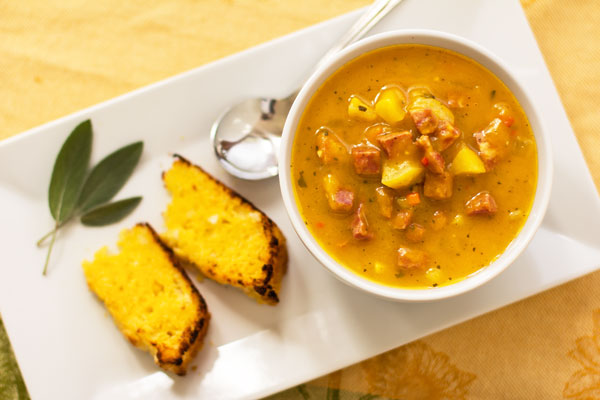 Sage is a perennial herb that makes a gorgeous plant for any herb garden and supplies its grower with an abundance of dried sage that is a thousand times better than anything you can buy off the shelf. Each year I dry enough sage for a year's worth of recipes and then some.  One such recipe is this Sage Pumpkin Soup with Apples and Andouille which uses a generous amount of crushed dried sage to complement its other ingredients.
This pumpkin soup uses pumpkin puree' not just for its flavor, but also as a thickener in place of flour, cornstarch and/or cream.  Onion, apple, and andouille sausage provide textures and a depth of flavor that makes every bite a bite to remember.  Serve as a starter or a meal.
Sage Pumpkin Soup with Apples and Andouille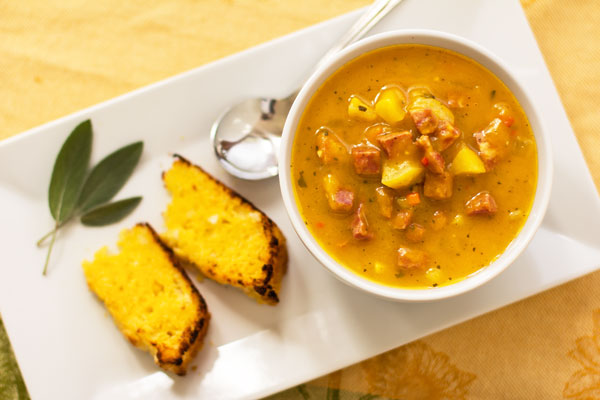 Sage Pumpkin Soup with Apples and Andouille Recipe
A nice twist on pumpkin soup!

The prep and cook assume you already have pumpkin puree.
"*" See Kitchen Notes for more information or links to special ingredients.
Ingredients
The amounts below are not exact as exact measurements for a soup are usually not necessary.
1

Tbsp.

olive oil or garlic infused oil

½

large onion,

chopped

4

large garlic cloves,

minced

½ - 1

small hot chile pepper*,

minced

2

crisp apples*,

diced

2

andouille sausages,

diced

2

cups

pumpkin puree'*

2

cups

chicken stock + extra water if needed

1 ½ - 2

tsp.

dried sage,

crushed or 3 tsp. fresh sage, minced

½

tsp.

ground white pepper

1

tsp.

apple cider vinegar
Instructions
Prepare all the ingredients first, because once you start cooking this soup, things move pretty fast.
Heat the oil in a 4.5 quart soup pot. Once hot, add the garlic, chile, and onion. Turn heat down to medium low and sweat the onions until translucent.

Add the apples and Andouille. Saute' for 2 minutes.

Stir in the pumpkin puree'. Once all ingredients are coated with the puree', pour in the chicken stock stirring constantly.

Increase heat to medium. Add the sage, white pepper and vinegar.

Bring soup to a boil, stirring frequently. Reduce heat and simmer for 5 minutes.

Taste for seasoning and salt. Add additional sage if you want it more sagey. Additional salt should not be needed because of the andouille and chicken stock, but that's for you to decide.

Remove from heat, serve and enjoy.

Serve with

buttermilk cornbread

, cornbread crackers made from leftover cornbread, or fried corn tortilla strips.
Cornbread Crackers (A great way to use leftover cornbread)
Slice stale cornbread into narrow wedges.

Brown under broiler.
As with any soup, if you have time, let the pumpkin soup cool to room temperature or in the refrigerator overnight. This allows the flavors to meld. When you reheat, you may need to add a bit more water, as this soup does thicken the longer it sits.
Kitchen Notes
Chile – This can be pretty much any chile pepper you have on hand.  Jalapeno, ancho, yellow hots (guero), cherry bomb, and even habanero.   Each year I grow guero chiles that I use for my pickled peppers, so that's what I use.  The amount you use, 1 full chile or 1/2, depends on how hot the chile is, how spicy the andouille is and how spicy you want to soup to be.  For this particular soup I usually use 1/2 ripe guero, especially is the andouille is really spicy.
Crispy apples – I highly recommend crispy apples because their texture holds up better and they don't become mushy.
Pumpkin puree' – Making your own roasted pumpkin puree' is the best way to go, but canned puree' works as well.
To roasted a pumpkin - See instructions below.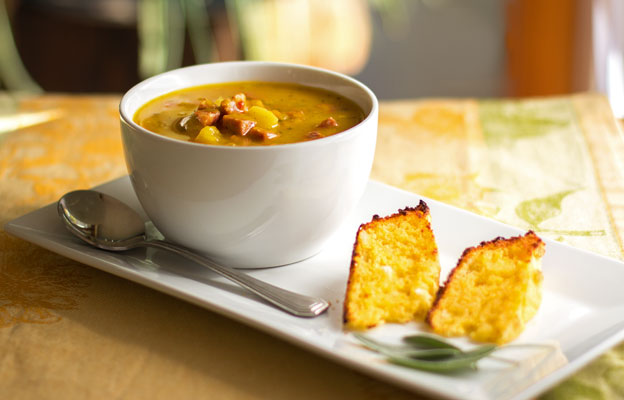 To roasted a pumpkin
Cut in half lengthwise, drizzle olive oil on the cut surfaces, and sprinkle with pepper.  Roast in a 400°F oven, cut side up, for 40 minutes or until fork tender.  Remove from the oven and let cool enough to handle. Using a spoon or fork, scoop out the seeds and fibrous pulp. Discard.  Scoop the roasted flesh into a large bowl (for an immersion blender) or blender. Blend until smooth.
A roasted pumpkin usually yields more puree' that one can use for just one recipe.  So if you have extra, here are a few more recipe ideas for pumpkin puree'.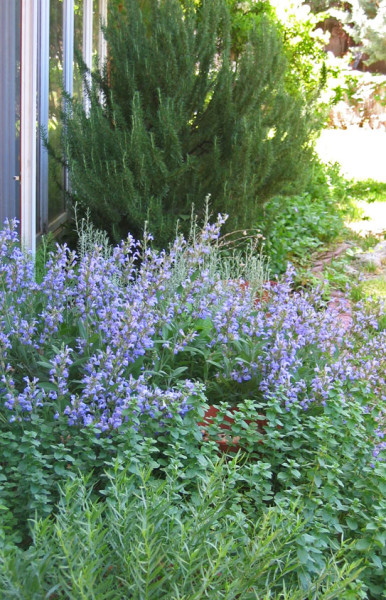 Sage Pumpkin Soup with Apples and Andouille
Spicy Pumpkin and Red Chile Soup
My Herb Garden (front to back)
Tarragon
Oregano
Sage (Blooming)
Rosemary (Yes, the big tree in the back is a rosemary bush)