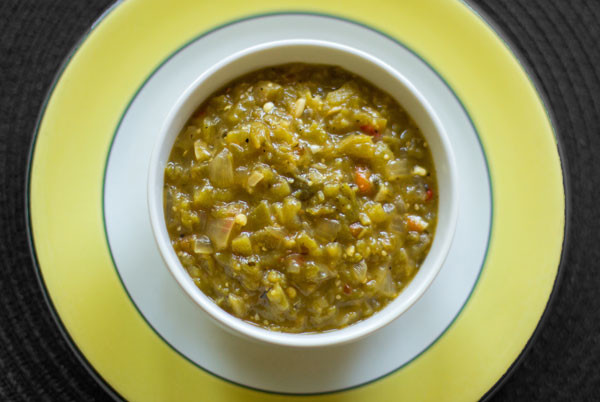 This Green Chile Tomatillo Sauce is a variation of my green chile sauce. It uses roasted green chile and roasted tomatillos.  It's a great sauce to make when you need to tame the heat of some really hot chiles or make a milder sauce for people that can't handle the heat.
This sauce is just as easy to make as a green chile sauce, especially if you already have the roasted green chile.  If not, just roast the chile and tomatillos at the same time. However,  you'll need to keep a close eye on the tomatillos, because they roast very quickly on a grill.  You could also roasted them in the oven for more control.
This green chile tomatillo sauce can be used in every way that a green chile sauce is used.  Pour it over burritos, tacos, stuffed sopapillas, or scrambled eggs.  Use it as an enchilada sauce for stacked or rolled enchiladas, or restaurant-style enchiladas.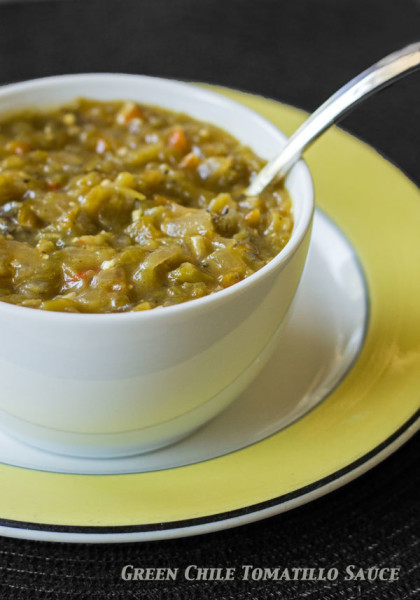 Green Chile Tomatillo Sauce Recipe
Recipe author:  MJ of MJ's Kitchen
Yields 3 to 4 cups of chile sauce
Roasting time for tomatillos:  10 minutes @ most
Prep, cooling, peeling, chopping time for roasted chile: 2 hours
Once you have the roasted chile and tomatillo, it takes less than 30 minutes to make this green chile tomatillo sauce.
Ingredients
2 Tbsp. canola oil or bacon drippings
1 medium onion, finely chopped
4 large cloves garlic, minced
1 – 2 Tbsp. flour*
2 cups vegetable broth or chicken broth/stock
1 cup roasted, peeled, deseeded, and chopped green chile*
10 – 12 ounces tomatillos*
1 tsp. dried Mexican oregano
½ tsp. salt or to taste
1 – 2 tsp. honey (optional – add only if it's too tart or too spicy for your tastes)
Instructions
There are several methods for dealing with the tomatillos.  If you want them a little sweeter and less tart, then "roast" them as indicated in Step 1 (skip Step 3).  If you want them tart, then skip Step 1 and 2, and start with Step 3.
Roast the tomatillos, on a hot grill, under a broiler or in a 400ºF oven.  On the grill or under the broiler, turn frequently until skin starts to char, but don't let it turn black.  If using the oven, roast for about 20 minutes or until tomatillos start to brown.
Core, place in blender and puree'*.  Pour into a measuring cup.  Add 1 cup of green chile.  Set aside.
For a tarter flavor…Add the coarsely chopped tomatillos to a food processor and pulse several times until tomatillos are finely chopped.  Add to the onion and garlic in Step 4.
In a heavy saucepan, heat the oil over medium-low heat. Add the onion and the garlic. Sweat the vegetables, stirring occasionally, for about 5 – 7 minutes or until the onion is translucent (and tomatillo is soft if using raw tomatillos).
Add the flour and whisk to incorporate the flour into the oil and to coat the onion.
Slowly stir in 1 cup of liquid stirring vigorously to blend the water with the flour and to prevent lumping. Add the rest of the liquid, the chile, roasted tomatillo puree', oregano, and 1/2 tsp. salt.
Bring to a boil then reduce heat for a low simmer. Simmer for 15 minutes or longer to thicken the sauce.  If sauce doesn't thicken, sift in another tablespoon of flour, stirring to incorporate.  Cook a little longer until sauce thickens to desired consistency.*
Use immediately or within 3 to 4 days.  Freeze after that.  It freezes quite well!
See Kitchen Notes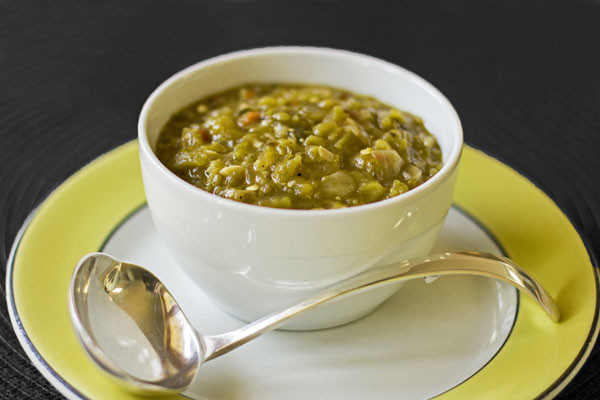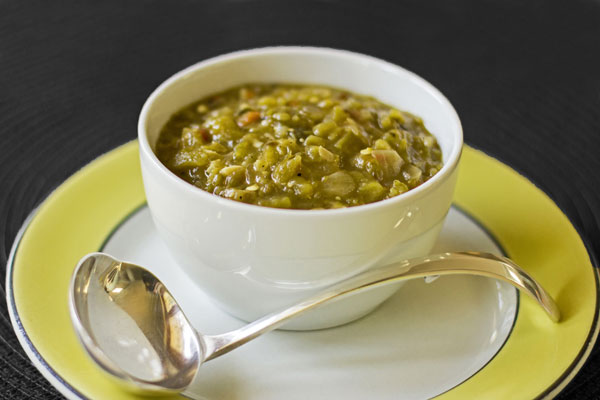 Kitchen Notes
Green chile – Use meaty fresh green chile pods. I use a medium hot New Mexico green chile, but any meaty chile that roasts well would work.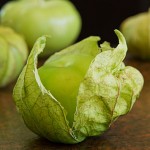 Tomatillo – When choosing tomatillos, choose small green ones with the husk still intact and sticky for a semi-sweet, tart acidic flavor.  Larger tomatillos which are lighter green or have started to turn yellow are a little overripe, but can still be used to yield a little sweeter flavor. Avoid tomatillos that have lost their husks, dried up, or are blemished.
After roasting the tomatillo, you can choose to peel them but you really don't need to.  The peeling is very thin and breaks down easily in the blender.
Honey – Honey can be added to help reduce the heat if too hot or the tang if too acidic.  Just don't add too much or it could make your sauce sweet.
Consistency* – A thicker sauce is needed for smothering burritos or pouring eggs and such.  However if you plant to make enchiladas, then "a little thinner sauce" is needed to dip the tortillas in during assembly.
Gluten-free – For a gluten-free sauce, omit the flour. Once the sauce is made, sift up to 1 Tbsp. GF cornstarch into the sauce, stirring until you get the consistency you want.
This green chile tomatillo sauce can be used any time you wish to add green chile sauce to a dish and smother a dish in green chile.  Below are some other chile sauces that can be in the same way and that can give you and your guest the option of "Red or Green or Christmas?".