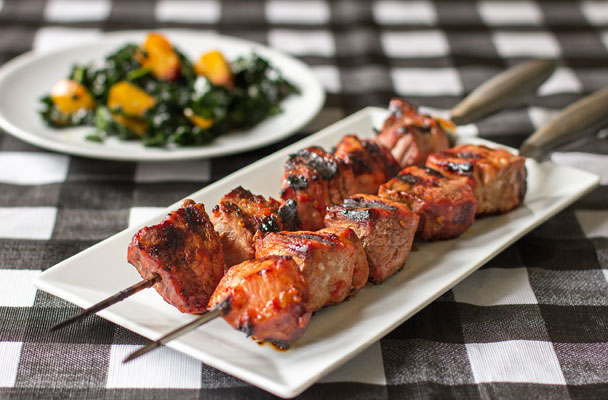 A few weeks ago you were introduced to my Tomato Red Chile Jam, a sweet, spicy, and savory jam.  There are several ways to use this jam, but one of our favorites is as the marinade for pork kabobs.  If you already have made the jam, the marinade and the pork kabobs are so easy to prepare and grill.  As kabobs, the pork grills relatively quick and can be ready for the table within 45 minutes from applying the marinade.
After assembling the pork kabobs, use the marinade left in the bowl to make a little sauce. Serve these with a vegetable side or salad. You could also add a simple rice or polenta. A great little quick & easy meal.
Pork Kabobs with Tomato Red Chile Jam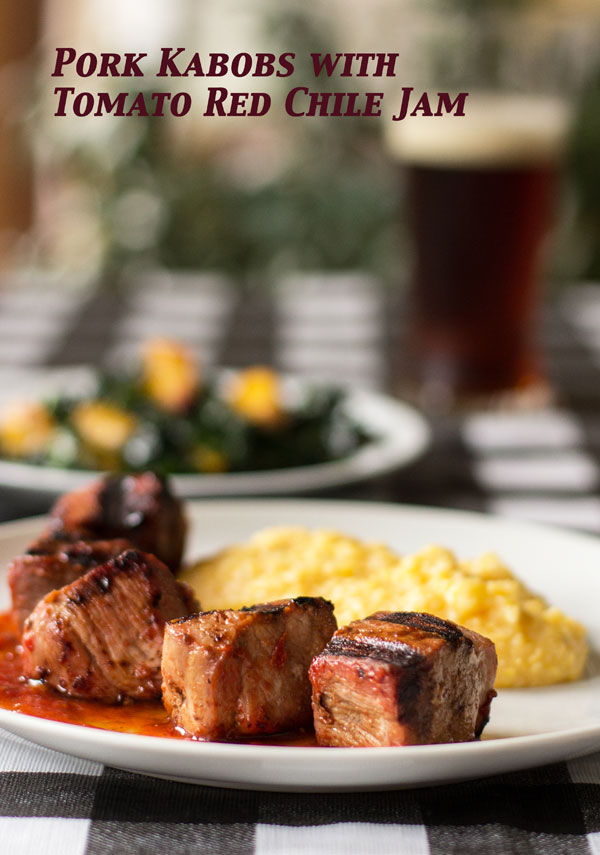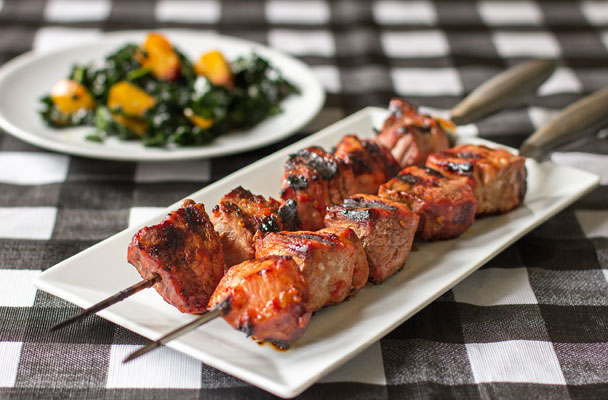 Pork Kabobs with Tomato Chile Jam Recipe
If you already have the Tomato Red Chile Jam made, this is a very quick & easy dish to make. The time to marinate can be as short as 15 minutes, but you could leave it in the refrigerator overnight.
"*" See Kitchen Notes for more information or links to special ingredients.
Ingredients
½

cup

Tomato Red Chile Jam

2

tsp.

cornstarch

½

tsp.

salt

2

pounds

pork loin,

trimmed of fat and cut into 1 ½ - 2" cubes*
Instructions
In a large bowl whisk together the jam, salt, and cornstarch.

Add the pork cubes and stir with a spatula until the pieces are well coated with the jam mixture. Refrigerate for 15 minutes or up to 24 hours.

When ready to cook, prepare the grill for a medium heat.

Skewer the pork onto four skewers. Leave a little space between the pieces in order to allow for even cooking. Save any marinade left in the bowl for a sauce.

Grill the kabobs for about 6 - 7 minutes per side*. The larger the pieces, the longer the time. Look for an internal temperature of 140 - 145º F.

While the pork is grilling, heat the saved marinade with ¼ cup water and a little more jam if needed. You'll only need a little more than ¼ cup of sauce. Bring to a boil stirring constantly, then reduce heat and continue stirring until the sauce starts to thicken. Place a little of the heated marinade on each plate and top with pieces of grilled pork.
Kitchen Notes
The Pork – This recipe works best with a lean pork such as a pork loin or pork tenderloin.  It may be hard to cut all of the meat into cubes as you can see in the pictures. In some cases, you may end up with a long narrow piece. Pieces such as that can be folded when skewered.
Skewering technique – One 2 pound pork loin yields enough for two meals for Bobby and me; therefore, when I assemble the kabobs, I skewer the pieces based on the size – largest pieces on the same skewers and smaller pieces on other skewers.  We eat the smaller pieces first then save the larger pieces for another meal because they will be a little undercooked.  (See Grill time)
Grill time – If you plan to make this two meals, then grill all four skewers for the same length of time, about 12 to 14 minutes (6 – 7 minutes per side).  This will cook the smaller pieces perfectly.  The larger pieces will be a bit undercooked which work as leftovers.  When you heat them up on the stovetop or in the microwave for a second meal, they should be perfectly cooked as well.  If serving 4 to 6 people, then remove the smaller pieces after 12 minutes and cover to keep warm.  Cook the larger pieces another 2 to 3 minutes.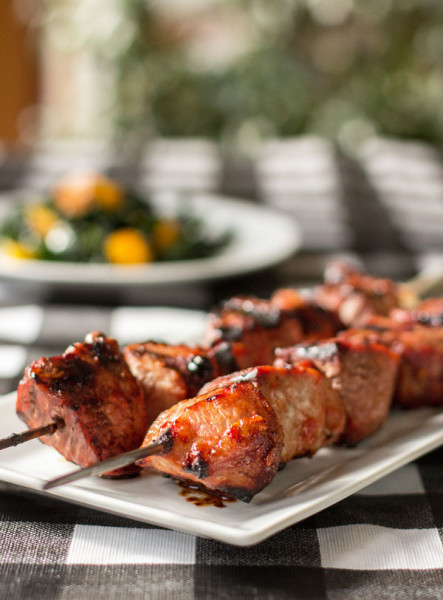 If you enjoy these Pork Kabobs with Tomato Red Chile Jam, you'll also love these other recipes.
Parting Shots – Fort Davis to Mustang Island, Texas

Bobby and I spent a couple of weeks in September doing some traveling in south Texas.  We started by driving through the Davis Mountains to the quaint little town of Fort Davis, Texas.  While there, we took a side trip to Marfa, a popular artist town out in the middle of absolutely no where!
After a couple of days in Ft. Davis, we continued to drive southeast to Mustang Island, just east of Corpus Cristi, Texas.  Here we rented a funky little beach house with a fabulous beach side deck, a breathtaking view of the Gulf of Mexico, and short and easy access to the beach via a boardwalk.  Below is a panorama of the beach and Gulf, taken from the boardwalk.
Click to enlarge.

With an east facing beach house, it was hard not to be up early enough to watch the many beautiful sunrises.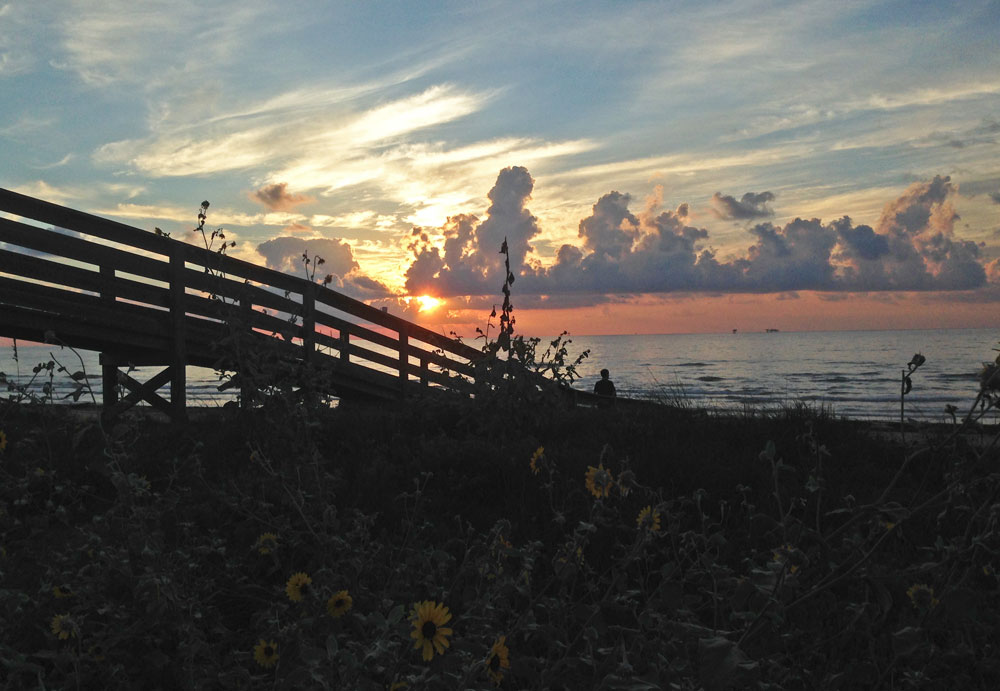 Needless to say it was a very relaxing vacation during which I left the laptop off and other than my ereader, totally disconnected.  🙂