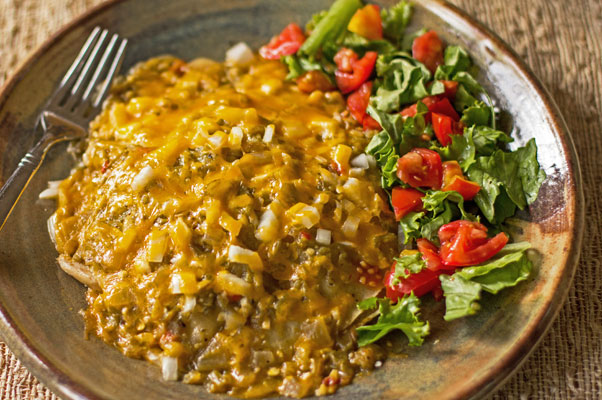 During chile roasting season, there are at least three things that I always make – green chile sauce, green chile stew, and green chile enchiladas.  Last weekend after roasting up a batch of chiles I had a craving for enchiladas which lead to a pot of chile sauce and these Green Chile Chicken Enchiladas.   If you already have some cooked chicken and the chile sauce, it only takes a few minutes to throw these restaurant-style enchiladas together.  Assemble one serving per plate, put in the microwave for a couple of minutes and while they are heating up, fry an egg to top it all off – a quick & easy, deliciously hearty meal.
In the summer of 2017, we grew tomatillos and made these enchiladas using my green chile tomatillo sauce.  They were excellent.
Since there is only the two of us, this is my preferred method of making enchiladas. If you have a larger family, it's really easy to convert this recipe into a batch of stack enchiladas.  The instructions for doing this can be found in the Kitchen Notes.
Green Chile Chicken Enchiladas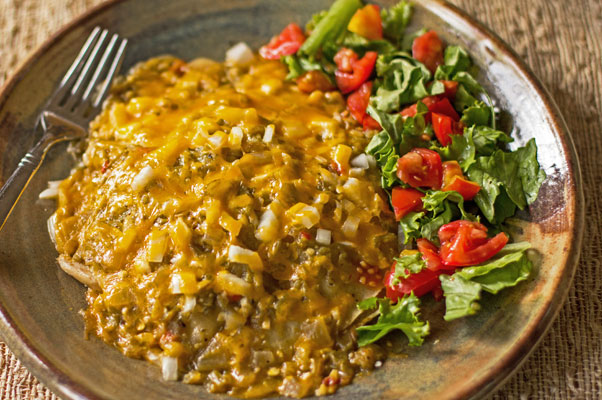 Green Chile Chicken Enchiladas Recipe
These restaurant style enchiladas make a delicious quick & easy meal provided you already have the green chile sauce and the cooked chicken.
"*" See Kitchen Notes for more information or links to special ingredients.
Course:
Chicken, Main Course
Cuisine:
Mexican, New Mexico, Southwestern
Ingredients
The amounts for the following ingredients are not exact and can vary according to your personal preferences.
5 - 6

corn tortillas*

1 - 2

cups

cooked chicken,

chopped

1

generous cup of grated cheddar cheese*

½

cup

diced onion

2

cups

green chile sauce or green chile tomatillo sauce

2

eggs
Instructions
Assemble each serving of enchiladas on a microwave safe serving plate.
Dip one of the corn tortillas in the green chile sauce. Place on the plate.

Top with a bit of cheese, chopped chicken, and some onion. Top with a scoop of green chile sauce.

Dip a second tortilla* in the green chile, place it on top of the previous enchilada layer, and top with more chicken, cheese and onion.

Dip a third tortilla in the green chile and place on top of the enchiladas.

Pour some of the green chile sauce over the top, add a few diced onions, and top with cheese.

Prepare the second serving the same way.

Place one plate in the microwave and heat on high for 2 minutes.

While the enchiladas are in the microwave, fry an egg sunny side up or over easy. Place one egg on top of each serving of the heated enchiladas.
Kitchen Notes
Green Chile Sauce – If you don't have the chile to make your own sauce, you could probably find jars of Green Chile Sauce in the ethnic aisle at your local grocer or at a market that specializes in southwestern and Mexican cuisine.  You could also buy it online.  Check out this list of Sources of New Mexico Chile Products.
Tortillas – The number of tortillas is dependent upon how many layers per enchiladas.  Two layers require 3 tortillas, one layer requires 2. And if you're really hungry, use 4 tortillas and build a 3 layer enchilada. (I usually go with one layer, Bobby goes with 2.)
Chicken – Use any leftover chicken or turkey or even pulled pork for that matter.  If you don't have any leftover chicken and really want these enchiladas, never fear.  Cover 3-4 chicken thighs with water, add 1/2 tsp. salt, 1 Tbsp. peppercorns and 1 tsp. oregano.  Cook for 1 – 2 hours depending on how much time you have.  Remove the chicken and let it cool.  Pull the chicken off the bones, chop and use in these enchiladas.  Strain the stock through paper towels and use for the green chile sauce, in a soup or freeze for later.
Cheese – We prefer cheddar cheese, Monterey Jack or a mix of the two.
Other toppings– As with any enchiladas, you can add other toppings such as sour cream and/or guacamole. However, I find these enchiladas quite filling and tasty enough to where others toppings are not needed.
Batch of enchiladas – To serve 4 to 6 people, you'll need 12 to 18 tortillas, respectively, ~4 cups chicken, more onion, at least 2 cups cheese and about 4 cups green chile. To assemble, follow the assembly instructions for my calabacitas enchiladas.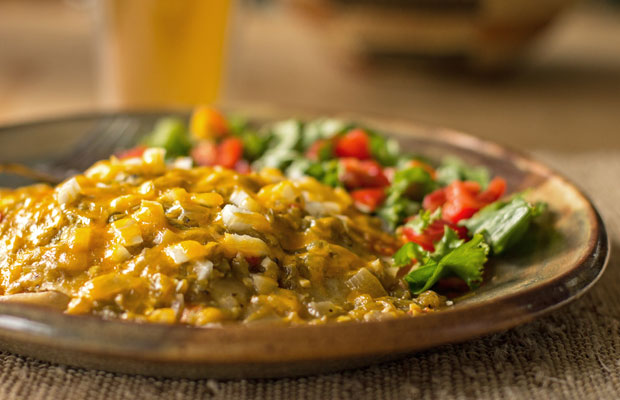 If you like these Restaurant Style Green Chile Chicken Enchiladas, then you'll probably like these others as well.  Any of these enchiladas can be served with red or green or both (Christmas) and can be made as single serving restaurant style enchiladas.
New Mexico Red Chile Enchiladas
Black Bean and Shiitake Mushroom Enchiladas