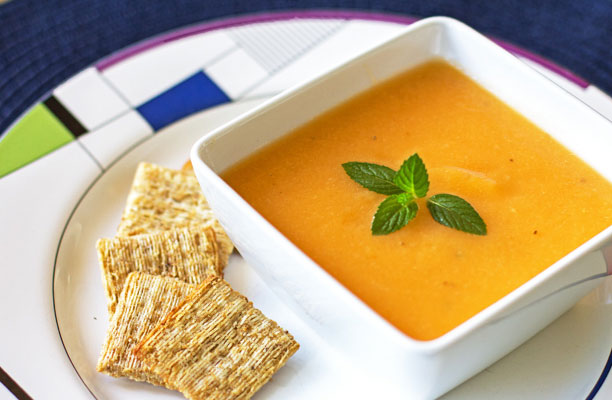 I think everyone will agree that all melons  – watermelon, cantaloupe, honeydew – are best eaten in their prime, when they're sweet and firm.  But sometimes, you'll buy a melon that has gone past its prime or one that, you can tell, is just never going to get there. Either the melon is overripe and mushy or under ripe and not very sweet.  When this happen, a cold soup is a great way to save the melon and actually enjoy it.  My favorite is this Cold Cantaloupe Soup with Cucumber.  This soup makes a great starter, a palate cleanser, or a complement to a grilled cheese sandwich.  The sweetness of the cantaloupe is balanced with the spiciness of pickled pepper vinegar and the savory bite of ground white pepper.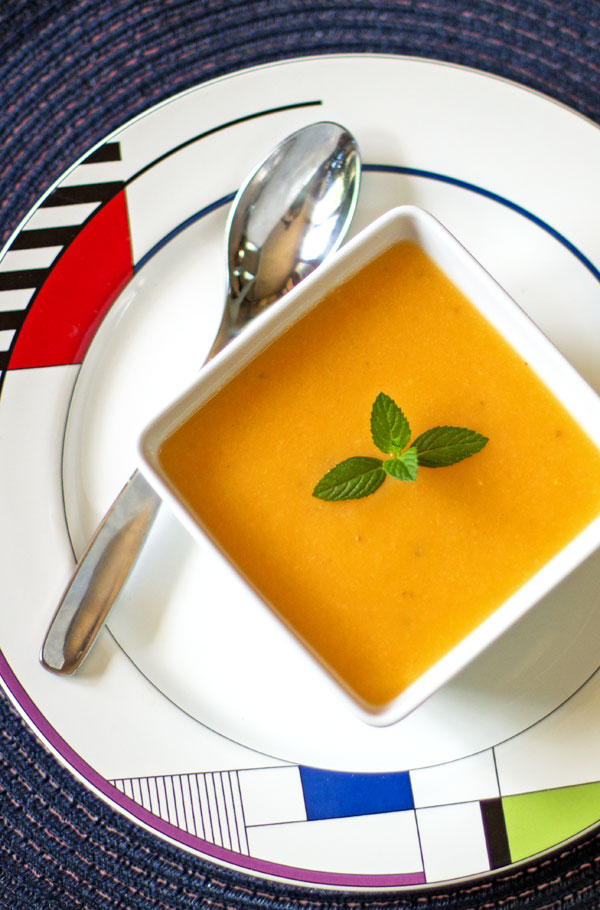 [print_this]
Cold Cantaloupe Soup with Cucumber Recipe

Recipe author: MJ of MJ's Kitchen
Yields about 4 cups
Prep Time: 15 minutes
Chill time: overnight OR, if all of the ingredients are cold, you can serve immediately after blending.
Ingredients
½ cantaloupe*
½ medium cucumber, peeled
1 Tbsp. minced sweet onion
1 Tbsp. pickled pepper vinegar or lime juice*
1/8 tsp. salt
1/8 tsp. white pepper*
½ cup milk of milk substitute (I used Organic Brown Rice milk)
Chopped fresh mint
Instructions
Place all ingredients except for the mint in a blender. Blend until smooth.
If too thick to your liking, add a bit more milk.
Transfer to a container and place in the refrigerator overnight to chill.
When ready to serve, pour into serving cups or bowls and top with mint.
*See Kitchen Notes
[/print_this]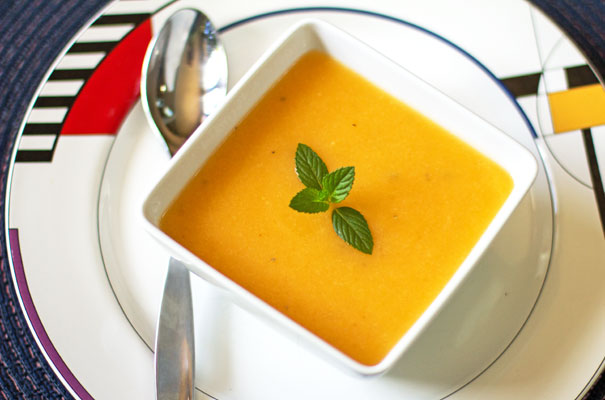 Kitchen Notes
Cantaloupe – The main thing to keep in mind when determining if a melon would work with this soup is its sweetness.  If the melon is really sweet, then the soup is going to be really sweet.  The acid and the pepper do tone the sweetness down some, but it might not be enough for some palates. The last melon I used was an overripe muskmelon.  It was overripe mushy but not very sweet; therefore, it made a great slightly sweet and savory cold cantaloupe soup.
Pickled Pepper Vinegar – This is the preferred acid for this cantaloupe soup because it's spicy and garlicky.  However lime juice, olive brine, or a dash of rice vinegar also works. If you want a little spiciness, add a dash of hot sauce or pepper sauce, or throw a couple slices of jalapeno into the blender.
White pepper – I love to salt and pepper my cantaloupe; therefore, I thought that same seasoning would be great with this cantaloupe soup. I've made this soup with both back pepper and white pepper and, to me, the white pepper is excellent. So I highly recommend it.  However, if you don't have white pepper, don't hesitate to use black pepper.
Milk or milk substitute – This ingredient is used to help create a smooth and creamy texture.  Almond milk and rice milk are my preferences.
If you like cold soups as much as I do, then I'm sure you're going to love this Cold Cantaloupe Soup.  Here are a few more cold soups for you to try.
Cold Curried Green Vegetable Soup
Cold Asparagus and Garlic Soup
If you are looking for something else to do with cantaloupe, here are a couple more ideas.
Cantaloupe Walnut Salad with Lime Dressing