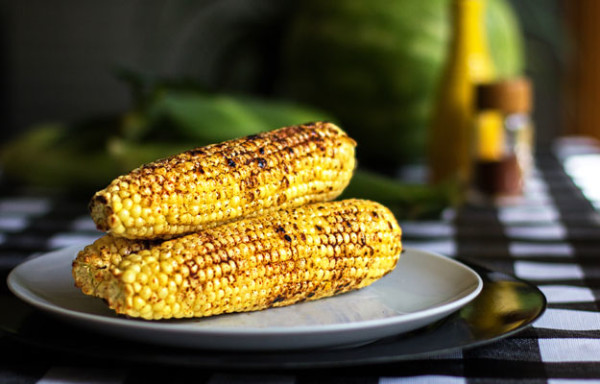 The sweet corn of summer – YUM!  Sweet corn has hit the local markets early this year and it's been exceptional.  It's also been relatively cheap; therefore, we've been buying a lot of it. There are so many ways to cook corn, but our favorite is to grill it.  Sometimes we'll leave it wrap in the corn husks and let it steam in the husks; however, we also like it shucked and cooked directly over the flame with a drizzle of olive oil and a generous dusting of a red chile spice blend.  The spices roast along with the corn yielding a spicy and smoky flavor.  This Grilled Corn with Red Chile Spice is about as easy a side as you can make, and, in my book, could be a meal by itself.  Hope you give it a try.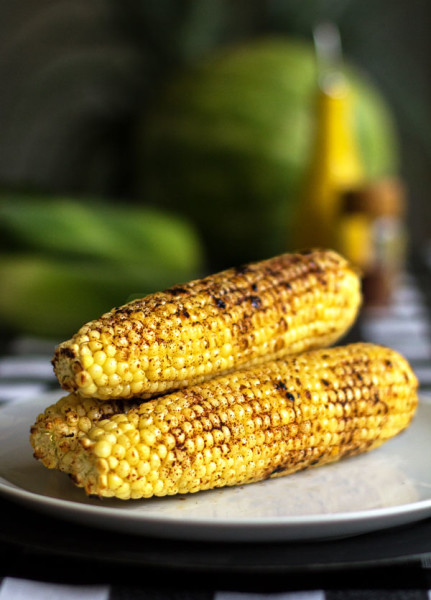 [print_this]
Grilled Corn with Red Chile Spice Recipe
Recipe author:  MJ of MJ's Kitchen
Yield:  Unlimited
Prep and Cook Time: less than 30 minutes
There are no measurements for this recipe.  Just make up a batch of the spice blend, shuck as many ears of corn as you need, and drizzle and sprinkle to your taste.
Ingredients
Ears of sweet corn, shucked and cleaned
Extra virgin olive oil (EVOO)
Red Chile Spice Blend
Instructions
Prepare the grill for a medium heat.
Shuck and clean the corn.  Place on a large plate with a little space between each ear of corn.
Drizzle with EVOO and sprinkle with red chile spice blend. (I usually go light on the EVOO drizzle and quite generous on the seasoning.)
Roll each ear of corn on the plate, coating with oil and spice blend.  Add a little more of oil or spice if you need it.
Place the corn directly on the hot grill.  Cook for 10 – 12 minutes, turning every 2 to 3 minutes to cook on all sides until done.
Remove from grill and enjoy!
[/print_this]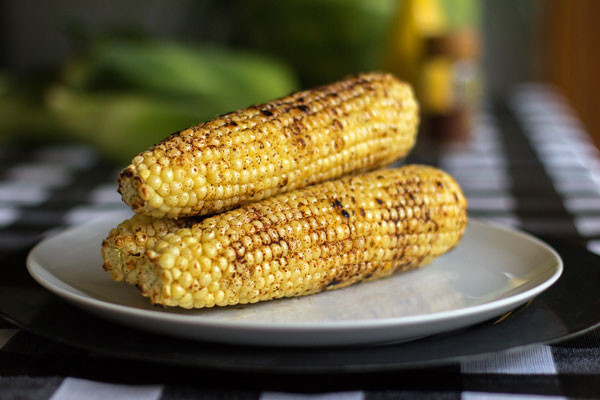 Kitchen Notes
There's really not a whole lot to say here because this is such a minimal recipe; however, since I'm one that always has something else to say…. 🙂
If you don't have the spice blend, just sprinkle the oiled corn with your favorite red chile powder(s) and some garlic and onion powder or salt.  If you use powder, then sprinkle the corn with some salt as well, just don't over do it.  And if you prefer green chile powder over red, then use the Green Chile Spice Blend.  It's all good!
Hope you give this Grilled Corn with Red Chile a try this summer.  Your mouth will thank you for it.
Save