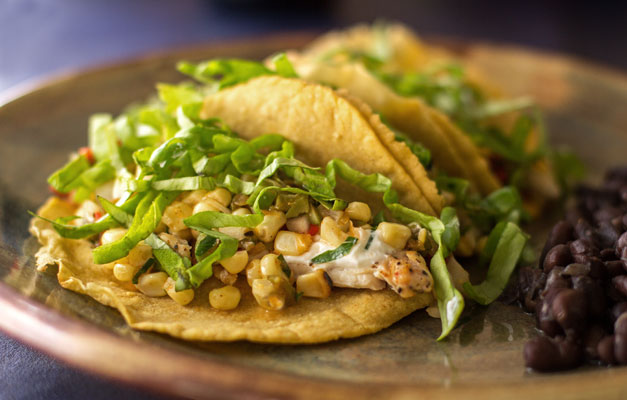 With all of the grilled corn we've been eating lately, it's not surprising to find an ear or two leftover in the refrigerator.  It was a couple of those ears and some of last year's roasted chile that inspired this Green Chile Corn Relish. I was originally just going to use it as a side dish, but then I got a craving for tacos.  That craving resulted in these quick & easy Chicken Tacos.  Adding the relish to the chicken yielded a delightfully delicious taco with a smoky and spicy flavor.
For these tacos, I used a chicken breast, sliced thin, and pan fry quickly. For the chile I used a mix of medium roasted green and hot roasted red.  The hot red chile gave these tacos a bit of a bite, leaving a mild and pleasant burn in the mouth.  If you aren't a spicy food eater, then just replace the chile with roasted sweet peppers.   Regardless of the type of pepper, the flavor of roasted peppers with corn is hard to beat.
Below you will find a recipe for the Green Chile Corn Relish, followed by the recipe for the Chicken Tacos.  I separated the recipes because the relish also makes a simple side dish or a nice lunch, thus deserving its own space.
Green Chile Corn Relish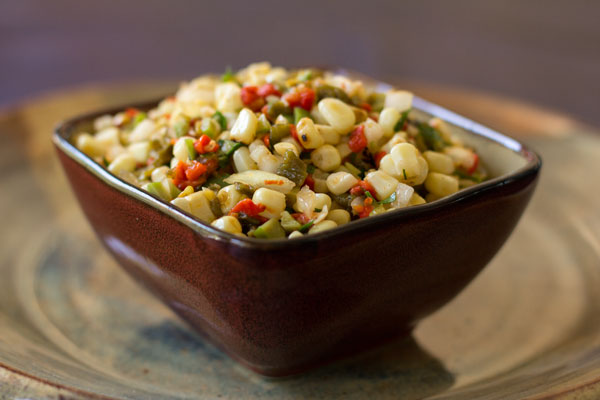 [print_this]
Green Chile Corn Relish Recipe
Recipe author:  MJ of MJ's Kitchen
Yields 2 – 3 cups
Prep time: 15 minutes
Ingredients
The amounts below do not have to be exact.
¼ cup sweet onion, diced
½ cup roasted green/red chile, chopped*
~1 cup corn, cooked or grilled (corn from 1 large ear)*
¼ cup green olives, minced
2 Tbsp. olive brine (from jar of olives)
1 Tbsp. fresh cilantro or parsley, chopped*
Instructions
Place all of the ingredients into a large bowl.
Stir to combine.
Refrigerate until ready to serve.  Can be made a day in advance.
*See Kitchen Notes below.
[/print_this]
Kitchen Notes
The Chile – About any roasted chile or pepper would work in this recipe.  It can be hot, medium, mild or just sweet – whatever you prefer and have available.  I prefer to roast them because roasting brings out the flavor, but you could also just chop them raw, adding a bit of a crunch to the relish.  A mix of roasted and raw would work quite well.
Cooked Corn – For this particular batch of relish I used one large ear of leftover grilled corn.  Leftover corn from any source would work.  If you don't have leftover corn, use canned or frozen.  Just cook the frozen corn before adding it to the relish and then refrigerate.  This relish is best served cold.
Cilantro or Parsley – I know there are a lot of people that taste soap when they eat cilantro, so don't hesitate to substitute it with parsley.  I have made this relish with both parsley and cilantro and both batches were great!
Chicken Tacos with Green Chile Corn Relish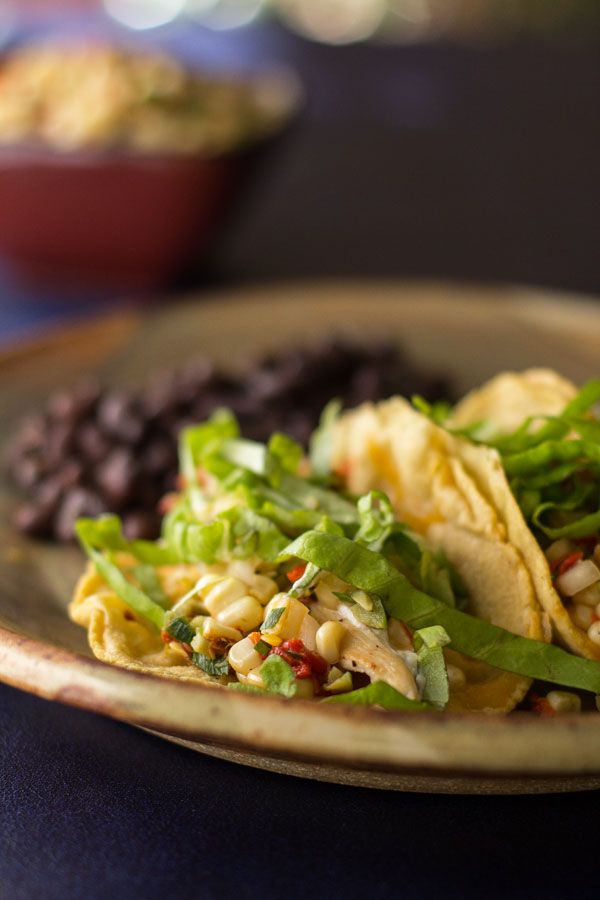 [print_this]
Chicken Tacos with Green Chile Relish Recipe

Recipe Author: MJ of MJ's Kitchen
Makes 6 tacos
Prep and Cook Time: Less than 30 minutes
Ingredients
1 large chicken breast, sliced into ¼" strips*
1 Tbsp. Bacon drippings*
Salt and pepper
Other taco ingredients
Green Chile Corn Relish (recipe above)
Grated cheddar cheese
Greek yogurt or sour cream
Shredded lettuce
Corn tortillas, warm
Instructions
Salt and pepper the chicken and toss to coat.
Heat the bacon drippings in a skillet over high heat. Add half of the chicken, laying each piece flat. Cook 1 minute a side. (These small pieces cook very quickly). Transfer to a paper towel to drain. Repeat with the other half of the chicken pieces.
Heat a griddle of cast iron skillet.
Place some of the cheese down the middle of a tortilla. Top with 2 to 3 pieces of chicken. Tear the chicken into smaller pieces if pieces are too big.
Place tortilla with cheese and chicken on the hot griddle until the cheese starts to melt and the tortilla softens.
Remove from griddle, top with yogurt, relish and lettuce.
Serve with a side of beans, if desired, and enjoy!
*See Kitchen Notes
[/print_this]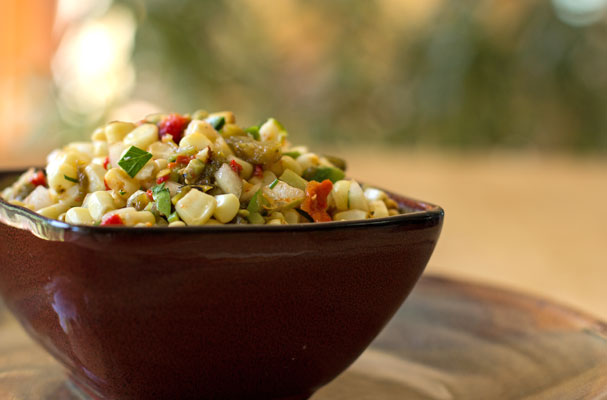 Kitchen Notes
The Chicken – As I mentioned earlier, any leftover chicken (light or dark meat) works.  Since I didn't have leftover chicken I used a large chicken breast.  I sliced the chicken breast very thin so that the pieces cooked quickly.  And yes, I did fry the chicken pieces in bacon dripping which gave the tacos a bit of a smoky bacon flavor, adding to the overall flavor of the tacos.
Bacon Drippings – I know this isn't the healthiest fat to use, but I just couldn't resist.  The frying of the chicken pieces is hot and quick so they really don't absorb much of the fat, but do pick up a bit of bacon flavor.  (Nice rationalization for the bacon drippings don't you think? :)) If you have an aversion to using bacon dripping, then any fat will do.  Avocado or olive oil would be a healthier choice.
Other topping for tacos – Chopped tomatoes or avocados would work nicely with these tacos, but don't add them to the relish just in case you have some relish leftover for another meal or another batch of tacos.
Be prepared to make yummy noises while eating these Chicken Tacos with a Green Chile Corn Relish.  They are spicy, flavorful, and make a delightful meal.
If you enjoyed these chicken tacos, the you might also enjoy these tacos with grilled portabello mushrooms and a red chile yogurt sauce.