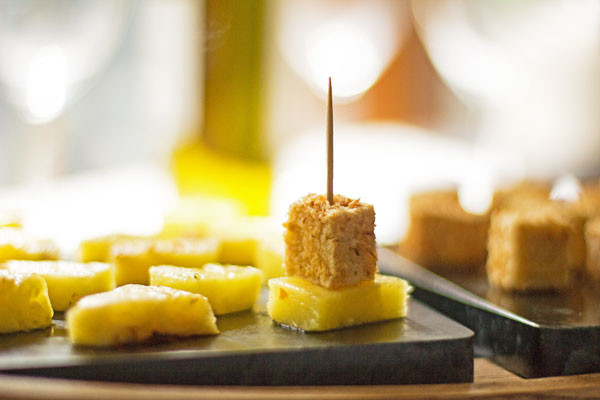 These Coconut Crusted Tofu and Pineapple Bites were inspired by two completely different sources – Soni's Food's Coconut Crusted Tofu with Spicy Mango and Cucumber Topping and this very cool Hot and Cold Soapstone Serving Platter from uncommongoods.  Wanting to incorporate more tofu into our diet, I got really excited when I saw Soni's recipe and just had to give it a try. Unfortunately, the mango I had was not very good, so instead, I zoned in on the fresh pineapple sitting on the counter and started thinking about how I could use it instead.  Literally, a few minutes later this complimentary serving platter was delivered to my door and everything just fell into place.
Here we have a tasty bite-size appetizer that capitalizes on the complementary flavors of coconut and pineapple and the sensation of hot combined with cold.  The tofu is coated with shredded coconut then lightly fried and served warm.  The pineapple is quickly broiled than marinated in a sweet and spicy chile sauce, chilled and served cold.  The platter from uncommongrounds allows you to serve this appetizer by keeping the tofu warm on a hot piece of soapstone and the pineapple cold on a cold piece of soapstone.  After the recipe, I'll be telling you more on how this works. It's really cool!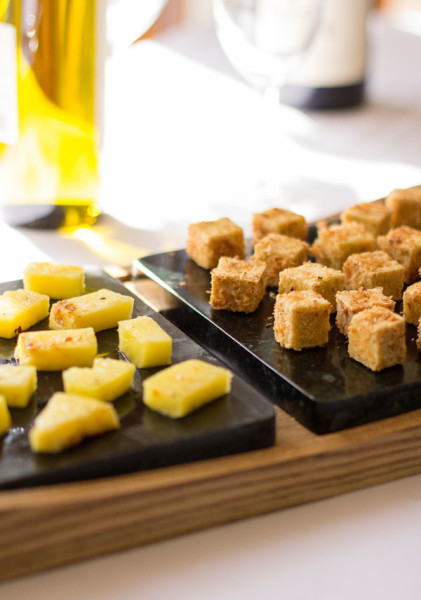 [print_this]
Coconut Crusted Tofu and Pineapple Bites Recipes
Recipe Author:  MJ of MJ's Kitchen
Makes about 30 bites
Prep and Cook Time:  less than 45 minutes
Ingredients
4 slices of fresh pineapple, ½" slices, cored
Sugar (optional)
¼ cup Thai-style sweet chile sauce*
1 package (12 – 14 oz.) extra firm tofu
1 cup shredded unsweetened coconut
1 Tbsp. cornstarch
¼ tsp. zesty lime sea salt*
canola or avocado oil for frying
Instructions
Drain the tofu and cut into cubes (~3/4 – 1″ cubes).  Place on paper towels then topped with paper towels and let drain. (You could also drain the tofu prior to cutting it up.  Your choice.)
Prep the pineapple slices by sprinkling one side with a little sugar (if desired).  Place under broiler until sugar has melted and the edges of slices start to brown.  Remove from broiler, cut into bite size pieces, and transfer to a bowl with the sweet chile sauce.  Toss to coat.  Set in the refrigerator to cool.
In a large bowl combine the coconut, cornstarch and sea salt.  Add about half of the tofu, toss to coat, pressing the coconut onto the tofu surfaces.
Heat up the frying oil.  When hot, add the tofu pieces in small batches.  Fry about 1 minute or until coconut is light brown. Flip and fry another minute or two.  Be careful not to over fry as the tofu will dry out and become tough.  Remove from oil and place on a paper sack or paper towel to drain.  Repeat with the remaining tofu.
At this point you can assemble the bites by placing a piece of tofu on top of a piece of pineapple and join with a toothpick, or you can place the tofu on a hot platter and the pineapple on a cold platter and let your guest do the assembling.  See the writeup below for a great device for making the latter method easy to do.
You can pour a little more of the sweet chile sauce in a small bowl for extra dipping if you choose.  One can never get too much chile sauce.
*See Kitchen Notes
[/print_this]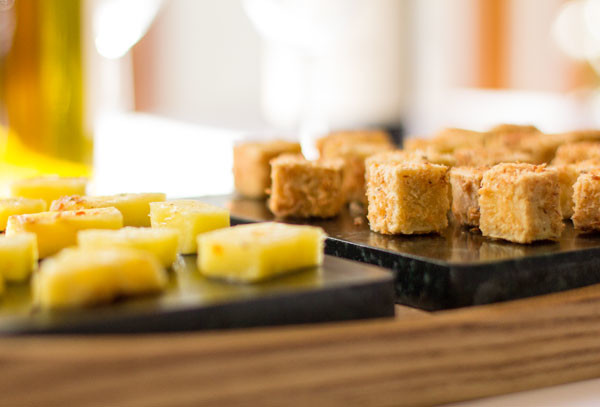 Kitchen Notes
Thai Sweet Chili Sauce – The first time I made this I used Mae Ploy Sweet Chili Sauce, but then the next time, I made my own.  It turned out pretty darn good. It was so easy to make (less than 15 minutes) and used some very common pantry items.  However, if you don't want to make your own, the commercial brand sweet chili sauce still works great.
Zesty Lime Sea Salt – This is a fabulous sea salt, but if you don't have it, you can always use regular fine ground sea salt and then squeeze a little lime over the tofu before serving.
Make it a meal – Instead of cutting up the tofu and the pineapple into bite-sized pieces, cut the tofu into 1/2″ slices.  Coat and fry the slices, then place on top of the slices of broiled pineapple.  Pour some of the sweet chile sauce on top.  Serve with a simple cucumber salad for a complete meal.
Uncommongoods is an privately-owned retailer that supports artists and designers by providing an outlet for their work.  About half of the products sold by uncommongoods are made by hand and about one-third of them incorporate recycled or upcycled materials.  It has a huge selection of gifts for Mother's Day that can be found here, as well as gifts for just about any occasion that can be found on through its homepage.
Uncommongoods contacted me to review one of its recommended Mother's Day gifts.  After going through its selection several times (so many nice choices), I settled on this Hot and Cold Soapstone Serving Platter (below) which you can learn more about here. This platter comes with two pieces of beautiful soapstone and a wooden caddy.  It worked perfectly for this appetizer.  After heating one of the stones in the oven @ 350°F for 30 minutes and chilling the second stone in the refrigerator for the same amount of time, both components for this appetizer stayed close to their desired serving temperatures.  After an hour, the hot stone was still very warm to the touch and so was the tofu.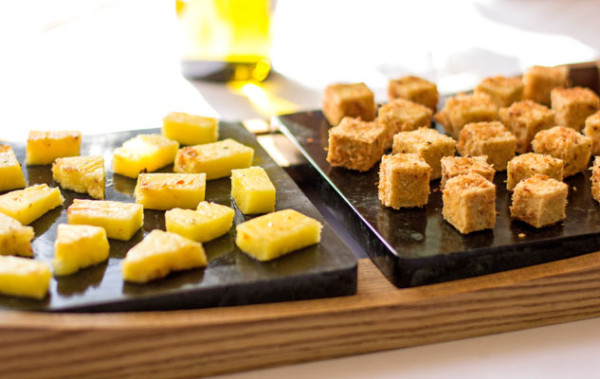 Even though the platter did not come with instructions, I was able to find them on the product page.  The one thing I did do that was not mentioned was to coat each stone lightly with a touch of oil.  This was more for aesthetics than anything else.  Both soapstones were lovely but a little different in coloration which is expected.  With the two stones it gives one the option of using both for a chilled appetizer, a hot appetizer or a hot and cold appetizer as I've done here.  Please take a moment and browse through some the other unique gifts by clicking here.
Disclaimer – I did not receive any compensation for this post, just the serving platter you see in the pictures.  The recipe and the opinion of the serving platter are my own.  Thank you uncommongoods for introducing me to your company and for this fun serving platter!