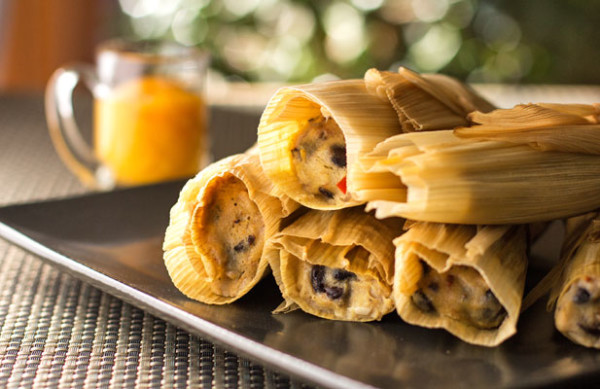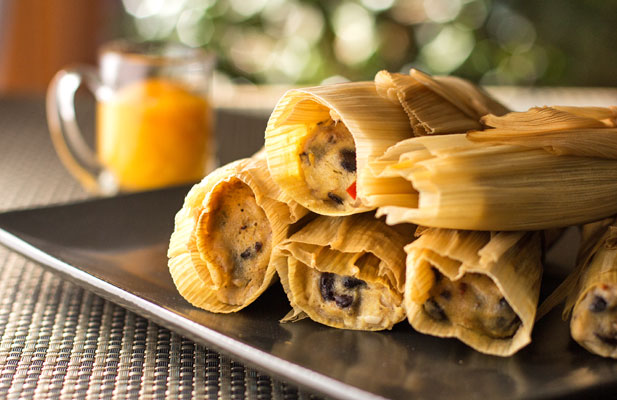 It's time for another tamale recipe!  I don't know about you, but I love making tamales. Some people enjoy spending a couple of hours making a cake, but me, I'd rather spend it making tamales.  These Black Bean Tamales are made with black beans, a little onion, sweet pepper, and a chipotle seasoned masa.  For this batch, I used canola oil, but I've also used melted butter. I quit using lard in my tamales years ago.
If you've seen my other tamales recipes you know that I prefer to mix the filling in with the masa rather than apply them separately.  It makes the assembly process much easier and faster. It only takes about an hour to make the filling and the masa, and to assemble the tamales.  Once that's done, you just place the tamales in a steamer for 1 to 1 ½ hours, and go relax, read a book, have a beer.
Three suggestions for serving these vegan black bean tamales:
Serve them right out of the steamer.  There's nothing much better than a steaming, moist tamale, and these are no exception.  Serve with this complementary salad – Orange and Cabbage Slaw.
Serve them with a little red chile sauce. However, don't smother them.  The chile sauce would overpower the flavor of these tamales and you certainly wouldn't want to do that. Just drizzle a little red chile over the black bean tamales. That's all you need.
Last, but certainly least, serve them with a spicy mango sauce.  We all know that mango and black beans is a marvelous combination; therefore, a spicy mango sauce is a perfect match for these black bean tamales.  Below is a recipe for a spicy mango sauce made with pickled chile peppers.
Black Bean Tamales with Spicy Mango Sauce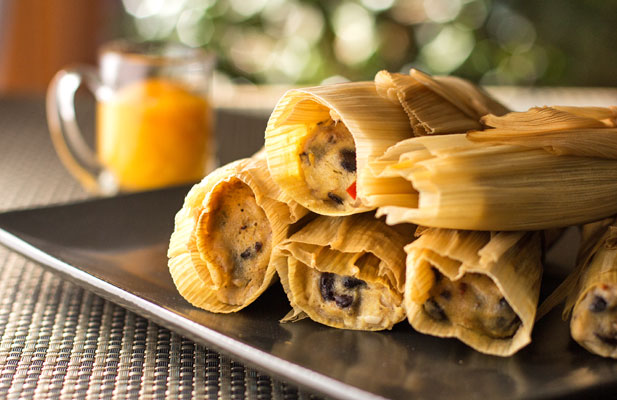 Black Bean Tamales with Chipotle Masa Recipe
Vegetarian black bean tamales topped with a spicy mango sauce.

"*" See Kitchen Notes for more information or links to special ingredients.
Ingredients
24

corn husks

Boiling water
Filling
1

T.

oil

½

cup

minced onion

½

cup

minced red sweet pepper

3

garlic cloves,

minced

1 ½ - 2

cups

black beans,

drained and rinsed*
Masa
2

cups

hot broth or 1 cup hot water + 1 cup hot broth*

1 ½

tsp.

chipotle flakes*

2

cups

masa harina

½

tsp.

salt

1

tsp.

baking powder

½

tsp.

Mexican oregano,

crushed

¼

canola oil or butter,

melted*

Chilled Spicy Mango Sauce

See Recipe Below

Fresh Cilantro,

minced
Instructions
Corn Husk prep
Lay the corn husks in a flat casserole dish. Cover with boiling water. Weigh down with something that helps to submerge the husks in the water. Set aside and let husks rehydrate.
Masa liquid prep
Add the chipotle flakes to 2 cups hot broth/water. Set aside.
Filling
Heat 1 tablespoon oil in a skillet over medium heat.

When the oil is hot, add the red pepper, onion, and garlic. Sauté until onion is soft and translucent.

Add the beans, stir to combine and heat through. Remove from heat.
Masa
In a large bowl, whisk together the masa harina, salt, baking powder and oregano.

Add the canola oil and broth/chipotle liquid.

Whisk to combine. Masa should have a soft cookie dough texture.

Add the black bean mixture and stir to incorporate the vegetables into the masa.
Assembly of tamales
Select one of the narrow corn husks to create tamales ties. Tear the husk into thin strips about 1/4 inch wide.

Pull a corn husk from the water and let it drain. Using a spatula, place about 1/2 cup tamale mixture lengthwise down the center on the wide half of the husk. (You'll be folding the husk in half once they have been rolled so don't go too far down the husk.)Using corn husks strips to tie tamales | mjskitchen.com

Fold one side of the husk over the filling then roll to the other end of the husk. You should have a tapered cigar looking shape.

Fold the lower, unfilled portion of the husk up and on top of the filled half. Wrap one of the ties around the tamale to hold the tamale closed.

Repeat until the filling is gone.
Steaming the tamales
Place some of the extra corn husks around the sides of the steamer.

Place the tamales in the steamer, standing on the closed ends. If the tamales do not fill the steamer enough to stand up relatively straight, use extra corn husks to separate the tamales and help them to stand up.

Place a couple of corn husks on top of the tamales. This keeps water from the lid from dipping into the open ends of the tamales.

Place the lid on tight and steam the tamales for an hour.

Remove from the heat and let sit for 10 minutes. Remove one of the tamales and let sit another 2-3 minutes.

Test a tamale by opening it up. If the husk doesn't pull away from the steamed dough, then steam the tamales for another 15 minutes and test again.
To serve
Spread some of the Spicy Mango Sauce on a plate, sprinkle with fresh cilantro, then place the tamales on the sauce.


Serve with a side like the ones mentioned in the introduction.

Kitchen Notes
Black Beans – It's best to make your own black beans from dried, but if you don't canned beans are just fine.  One 15 ounce can, drained and rinsed usually yields about 1 ½ cups  of beans which is just enough for this recipe.
Broth – A good broth or stock can add quite a bit of flavor to the masa mixture. I usually use 1 cup chicken or vegetarian broth plus 1 cup water. For a quick broth, use a broth base like Better Than Bouillon.
Chipotle Flakes – Chipotle powder can be used in place of flake. Just substitute flakes with 1 ½ teaspoon of powder. You could also use 2 to 3 chipotles in adobo sauce. If you do, add them to the bean mixture, not the masa liquid to prevent turning your masa brown (an aesthetic thing).
Canola Oil or butter – If you're vegan, then this isn't a question – canola oil. However, melted real butter works just as well as canola oil. You might notice a little difference in texture as well as a slight difference in taste. The main difference comes in reheating the tamales. I have found that tamales made with canola oil don't dry out as much and freeze better than those made with butter.
Reheating tamales – To reheat leftover tamales, wrap in a damp paper towel and microwave on high for 1 to 2 minutes, turning once. How long depends on the wattage of your microwave.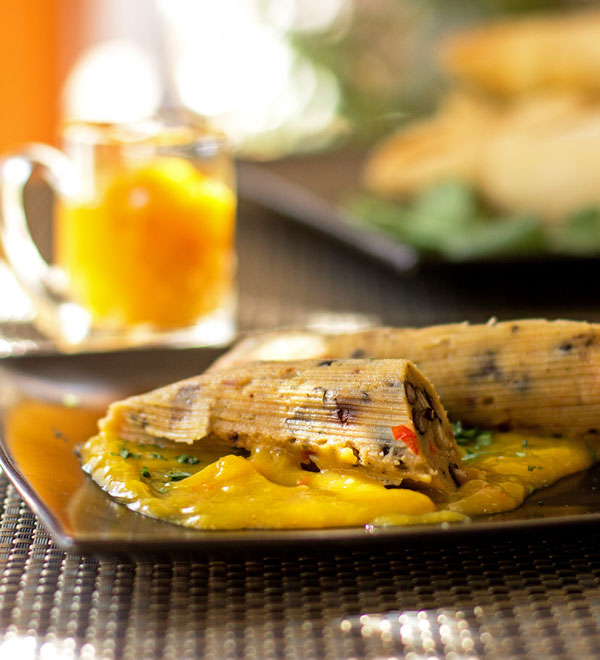 If you like these Black Bean Tamales with a Spicy Mango Sauce, then you would probably enjoy my other tamales.
Corn, Mushroom and Green Chile Tamales

Spicy Mango Sauce

Spicy Mango Sauce Recipe
This mango sauce is great with Black Bean tamales, grilled lamb or baked pork.
"*" See Kitchen Notes for more information or links to special ingredients.
Course:
Condiments, Sauces & Dressings
Ingredients
2

cups

ripe mango*,

diced

Juice from 1 lime

1/4

cup

onion,

minced

1

T.

Pickled chile peppers*,

minced

1

T.

Pickled chile pepper vinegar*,

1

tsp.

honey or other sweetener

(optional)

1/8

tsp.

red chile powder*

2

dashes smoked paprika
Instructions
Toss the mango with the lime juice. Transfer to a sauce pan and pureé using an immersion blender.

Heat the mango pureé over medium low heat. Once it starts to boil (be careful, it's thick so it will splatter), add the onion, pickled peppers, vinegar and honey. Continue to heat until onion is soft.

Using the immersion blender, pulse the pureé a few more times to incorporate the onion and peppers even more into the sauce.

Add the red chile powder and a couple dashes of smoked paprika.


Taste. Adjust seasoning if needed.


Transfer to a refrigerator container and chill.
Kitchen Notes
Mangos - Use ripe to overripe mango.  Do not use green mangos.
Pickled Peppers and Pickled Pepper Brine - If you don't have pickled chile peppers, like jalapeno, then substitute, fresh chile, minced fine. For the pickled pepper vinegar you could substitute rice vinegar.
NOTE: This does make a very thick sauce. If you want it thinner, add a little liquid (e.g., water, mango juice, orange juice)