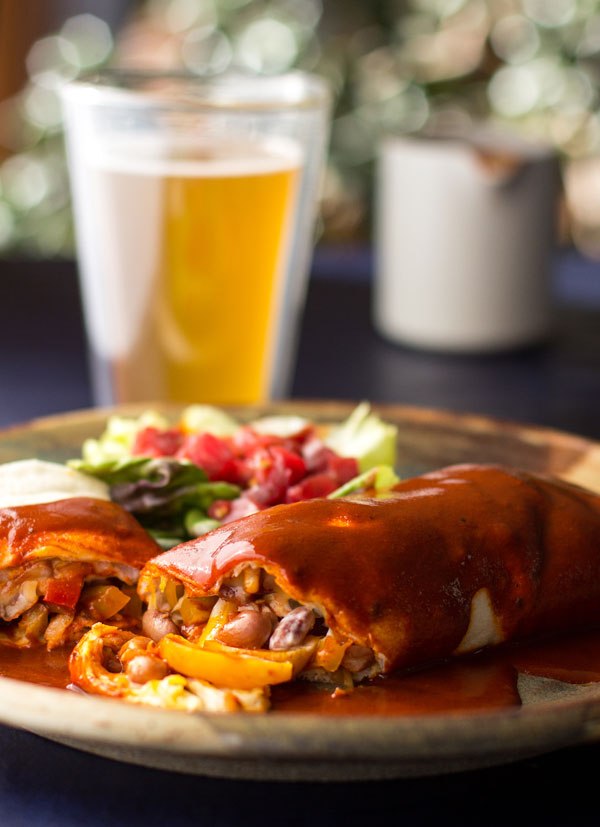 Back in a 2013 post I mentioned there were two dishes that Bobby brought into our kitchen from his college days that have remained dinner staples for over 40 years.  One was a green bean and potato dish and the other was the pinto bean burrito.  Of course both have been enhanced over the years, but they still remain two of our favorite comfort foods.  Bean burritos during our college days were canned pinto beans rolled in a flour tortilla with cheese, sour cream and Rotel green chile tomatoes. Once we moved to New Mexico, the salsa was replaced with a smothering of red chile, the canned beans with pressure cooked dried beans, and the toppings…well that changes on and off because of all of the possibilities.  However, one topping that we repeatedly choose is quick seared onion and sweet peppers.  We call these burritos our meatless Fajita Style Bean Burritos with Red Chile.
Normally, fajitas are all about seared meat (usually skirt or flank steak), served with a nice healthy serving of onion and sweet peppers also seared in a hot cast-iron skillet.  On the side are toppings such as sour cream, cheese, guacamole, sliced avocado, lime, salsa…whatever you desire at the time. So when you think of these bean burritos with red chile, think of your favorite fajitas, but with beans instead of meat, and a smothering of red chile sauce.
For this batch of bean burritos, I cooked up a pot of pinto beans, then added two chipotle in adobo sauce.  The chipotle added a smokiness to the bean burritos that complemented the red chile quite well.  Other toppings included seared peppers and onion (a must for any kind of fajita), cheese, and sour cream.  If I had had a good avocado, it would have been sliced and added to the filling as well. There are many other ingredients you can use, but the stars of this show are the beans, the seared vegetables and the red chile, of course.  Hope you enjoy these meatless bean burritos with red chile!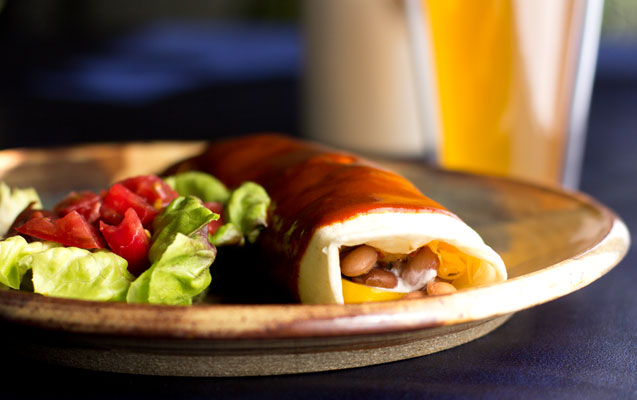 [print_this]
Fajita Style Bean Burritos with Red Chile (Recipe)
Recipe author:  MJ of MJ's Kitchen
Makes 3 to 4 burritos
Prep and Cook Time:  less than 30 minutes if you already have the beans cooked or you use canned beans
Ingredients
1 medium onion, sliced then cut in half
1 large sweet bell pepper (any color or different colors), sliced and halved
1 tsp. oil*
~2 cups cooked pinto beans or black beans*
1 – 2 chipotle in adobo sauce
1/8 tsp. ground cumin*
¼ tsp. dried oregano*
Four, 6 or 8 inch flour tortillas
1 – 2 cups red chile sauce*
Topping (pick and choose to your liking)
Cheddar or Monterey Jack cheese, grated
Sour cream or sour cream substitute
Shredded lettuce or cabbage
1 firm tomato, chopped
Fresh cilantro, chopped
Green or black olives, chopped
Avocado – sliced or guacamole'
More red chile or your favorite salsa
 Instructions
In a cast iron skillet (or heavy skillet) sear the onion and sweet pepper over high heat. Add a little oil to prevent sticking if you need to.  Cook until the onion starts to brown. At this point the peppers should be semi-soft.
Heat the beans with the chipotle, cumin and oregano*.
Heat the red chile.
Warm the tortillas by placing on a cast iron griddle and turning until heated through.*
Assemble each burrito by placing some beans on a tortilla with some vegetables and other desired toppings.
Roll burrito and turn over so the seam side is down. Smother with red chile and additional toppings (if you want).
*See Kitchen Notes
[/print_this]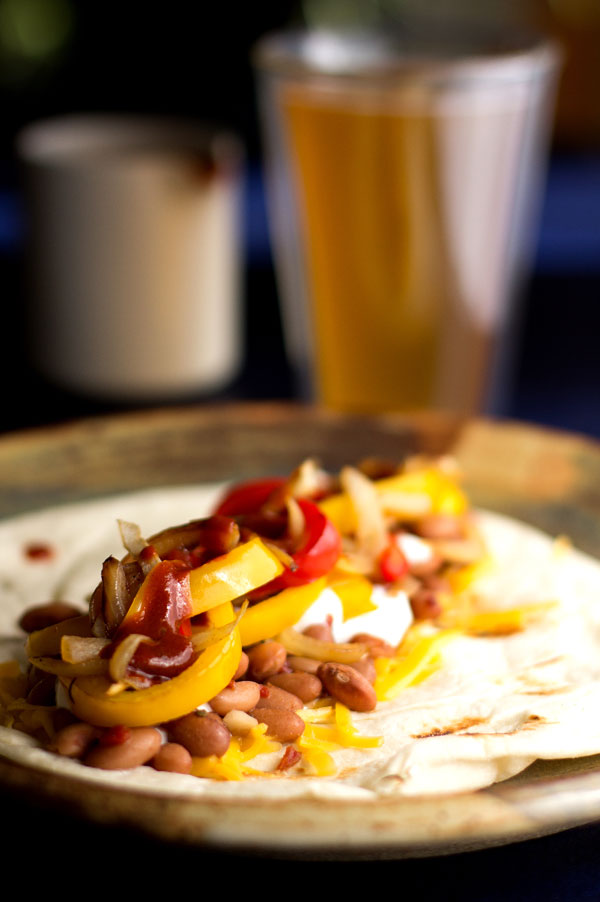 Kitchen Notes
The oil – If you use a well seasoned cast iron skillet, you shouldn't need any oil.  However, if you are afraid of the vegetables sticking, especially the onion, then coat the skillet with a touch of oil.
Pinto Beans – Sometimes we'll switch up the pinto beans with black beans.  You could also use a mix of beans.  My sister-in-law served these with canned tri-beans – a mix of pinto, black, and kidney.
Cumin and oregano – Added cumin and oregano is for when you use canned beans.  If you cook the beans from scratch, then add cumin and oregano when you initially cooked them. You won't need to add anymore when you reheat the beans for the burritos.
Red Chile Sauce – If you don't have any red chile, you can substitute your favorite enchilada sauce or salsa.  If you prefer green chile, you could also smother this in green chile sauce.  That makes a nice tasting burrito as well.
Warming the tortilla – There are many ways to warm flour tortillas.  When I only need 2 to 4 tortillas, I'll either warm them on a hot griddle or turn a gas burner down low to where the flame is well below the grate and warm them directly over the flame by laying them on the grate and turning often.  This method you need to be careful of, because they can burn pretty quickly.
Parting Shot
While I was photographing these burritos the other day, I drew an audience.  One of our neighborhood roadrunners came to check out what I was doing.  This picture was taken through the window with a 50 mm lens.  Wish I had had a longer lens.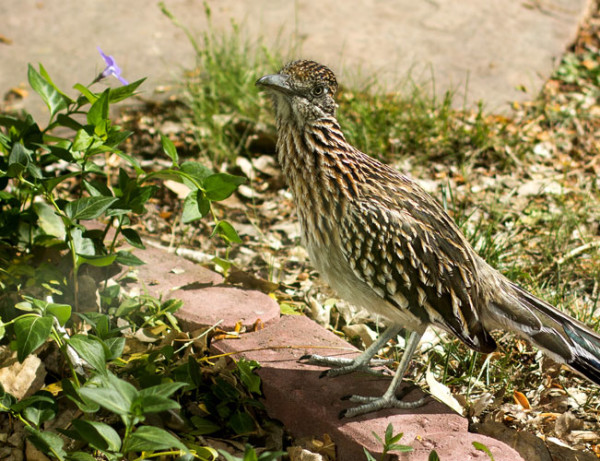 Now go grab yourself a beer and enjoy one of these Fajita Style Bean Burritos with Red Chile!  And if you are looking for other dishes that you can smother with some of the leftover red chile, check out this Smothered in Red post.
Click the link for more recipes with New Mexico Red Chile.
Save