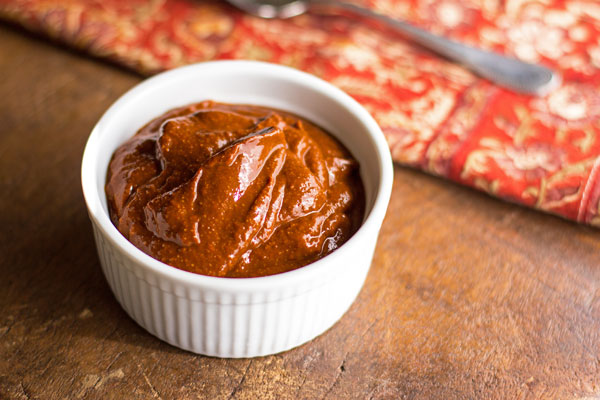 Thanks to my chile loving soul mate, European blogger friend, Sissi of With a Glass, I have now had the privilege of tasting a new chile…the Peruvian Aji Panca chile.  Thank you Sissi!!!!  What a chile!  A few weeks ago, I received a bottomless package of goodies from Sissi that consisted of products from all around the world – biscuits from Switzerland, chocolate from France, spicy seasoning from Japan, and dried aji panca chile from Peru (just to name a few).  Of course I zoned in immediately on the dried chiles.
The first thing I did was heat up some water and rehydrated one of the chiles just to see what they tasted like.  What I tasted, was not what I was expecting.  From the look and smell of the chile I was expecting a very strong smoky flavor with a lot of heat…like chipotle.  But instead, I tasted a slightly smoky, sweet raisin or dark berry flavor with a little bit of heat.  It was SO different from the flavor of dried red chile here in New Mexico and SO good! I was surprised to find in my research that the smokiness of the chile is characteristic of the chile itself and not due to any smoking process.
After tasting the chile, it didn't take me long to decide what to make.  This Aji Panca Chile Paste is a thick, smoky, sweet, nutty, and spicy paste, but not too spicy.  The nuttiness comes from toasted pepitas or pumpkin seeds which make a great complement for just about any chile. The richness of this paste is that of a black mole'.  So far we have used this paste on shrimp tacos and with scrambled eggs.  We finished it off with some chips.  It's a good thing we didn't start with the chips or else we wouldn't have had any paste left for the tacos nor the eggs.  This is a great tasting chile and makes a very unique paste that any chili/chile fan would love.
AND, as one of my readers discovered – this recipe works great for other types of dried chile as well: "Just made this with Aji Amarilo and it's fabulous."
Aji Panca Chile Paste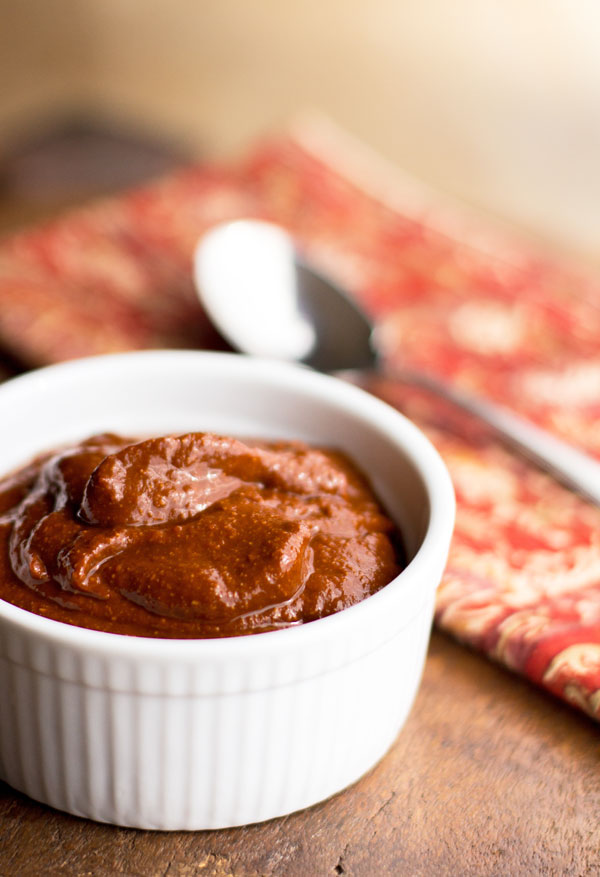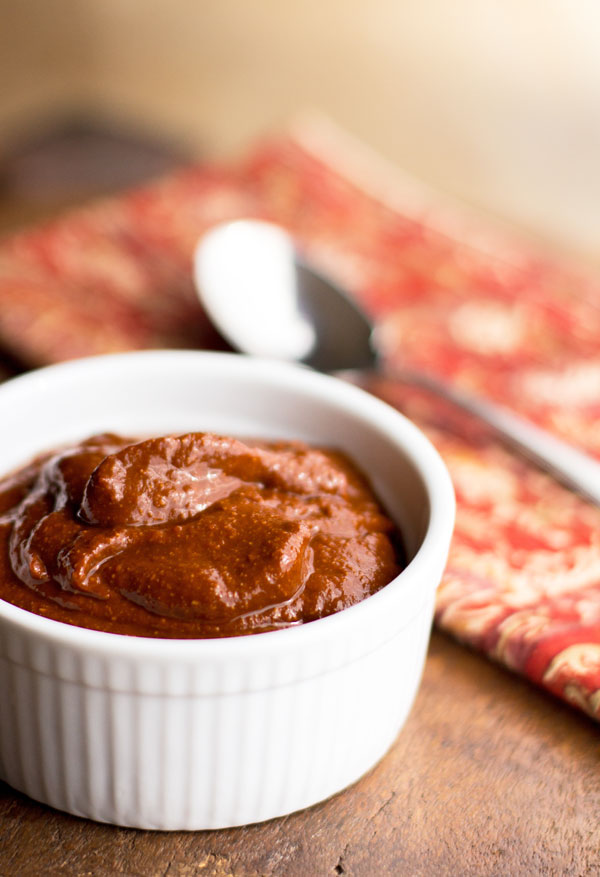 Aji Panca Chile Paste Recipe
A spicy and uniquely tasty Peruvian chile paste.

"*" See Kitchen Notes for more information or links to special ingredients.
Course:
Condiments, Sauces & Dressings
Ingredients
25

grams

or ~1 ounce dried aji panca chiles*

15

grams

or ¾ ounce pepitas

(pumpkin seeds)

1

small garlic clove,

sliced thin

1/8

tsp.

+ 1 dash salt or to taste

Boiling water

2

tsp.

canola oil or mild tasting oil

1

Tbsp.

minced yellow onion

Juice from ¼ lime
Instructions
For Step 6, you can transfer the ingredients to a blender or to a bowl suitable for an immersion blender. I use a glass, 4 cup measuring cup. It provides the width and the height needed for this amount of sauce (with just a touch of splatter).
Remove the stems and shake out the seeds from the dried chiles.

Crumble the dried chiles into a small bowl.

Bring about 1 cup of water to a boil. Pour SOME of the boiling water into the bowl with the chiles, just enough to completely cover. Let the chiles rehydrate for about 15 minutes.

Lightly toast the pumpkin seeds and the sliced garlic in a dry skillet over a medium low heat. Once toasted, add to the re-hydrating chiles.

In the skillet that you toasted the pumpkins seeds, heat the canola oil over a medium low heat. Add the minced onion and sweat the onion until it is soft and translucent.

Transfer the salt, cooked onion with oil, lime juice, and chile, pepitas and soaking water to a blender.

Blend the ingredients until you have a nice puree'. If it is thicker than you want, add 1 Tbsp. of hot water and blend. Continue adding 1 Tbsp. of water at a time until you get the desired thickness.
Kitchen Notes
Aji Panca chili (or chile) – This chili has a very mild heat. According to Chili Pepper Madness, its heat comes in only at 500 Scovilles which is low compared to jalapeno at 3500 Scovilles. Compared to New Mexico chile, I would consider it mild medium. So if you want the paste a little spicier, then throw in a hotter chile pod to boost up the heat level. Just don't get carried away because you don't want to miss the flavor of the aji panca which is quite unique.
One can buy aji panca chile on line.  Below are a few suppliers that I found.
MarxFoods
SpiceJungle
My Spice Sage
A few suggested uses:
Spread for sandwiches or quesadillas
Flavoring for sauces, soups, stews
Complement for grilled meat, like a juicy T-bone steak
Dip for chips or fruits and vegetables
The aji panca chile has a very unique flavor that I think everyone would love.  It's a great chile for those who can't handle the heat, but love the flavor of a smoky chile.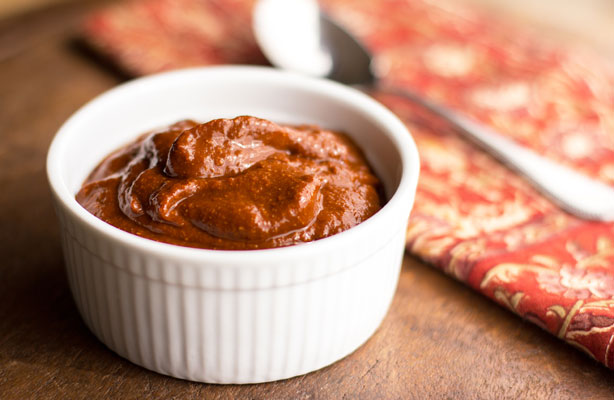 Now that I've made this Aji Panca Chile Paste, I can't wait to purchased some more so that I can make a sauce and use it like I do a red chile sauce.
Thank you so much Sissi for turning me on to this aji panca chile!
If you like this aji panca chile paste, then you would also enjoy these other pastes, spreads and salsas.
Red Chile and Chile de Arbol Paste