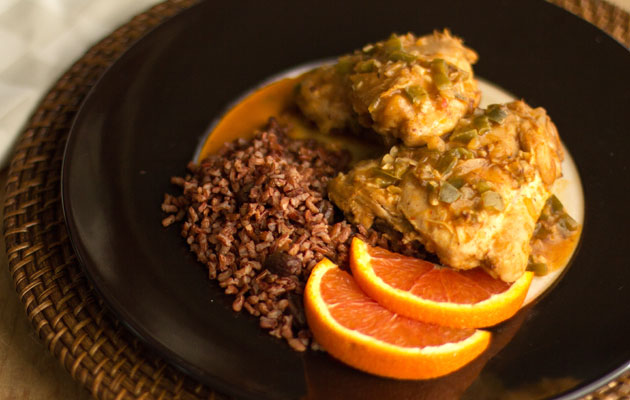 How many ways can one cook chicken?  Well, just out of curiosity I Googled "chicken recipes" and got 12,400,000 results! That's a lot of chicken goodness!  In my personal recipe book, I have over 100 chicken recipes that I've created, adapted or revised over the years.  This Braised Orange Ginger Chicken is one of those recipes and one of our favorites. It's easy to make, full of flavor and has an awesome sauce!  To make sure all of that awesome sauce gets fully appreciated, serve this dish with a side of rice, polenta, couscous or other grain.  A side of bourbon carrots makes a complementary side as well.
For the rice we usually use a mix of brown and wild rice cooked with a few raisins. However, last week when I made this dish, I had just purchased a Bhutanese red rice, a rice grown in the Paro Valley of Bhutan. Bhutan red rice cooks like regular red rice (20 to 25 minutes with a 2:1 ratio of water to rice), but is completely different in both flavor and texture.  It is a very earthy tasting rice with a firm, nutty texture.  Cooked with a few raisins and some urfa chile flakes it yields a spicy, sweet, nutty rice which works great with this chicken and orange ginger sauce.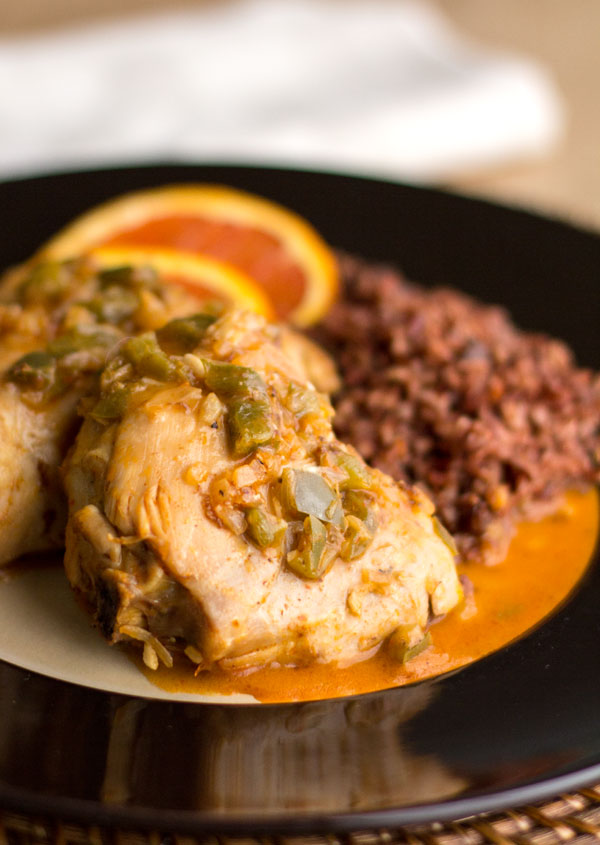 [print_this]
Braised Orange Ginger Chicken Recipe
Recipe author:  MJ of MJ's Kitchen
Serves 4 – 6
Prep and Cook Time:  less than 1 hour
Ingredients:
8 chicken thighs*, skin removed
2 Tbsp. peanut oil
1 small to medium green bell pepper, diced
1 large shallot, minced
2 tsp. garlic ginger paste*
½ tsp. red chile powder
½ tsp. paprika
¼ cup sake or vermouth
~2/3 cup orange juice (juice from 2 large oranges or 2 Tbsp. concentrate and 2/3 cup water)
½ – 1 tsp. cornstarch (optional)
Instructions:
Heat the peanut oil in a large brassier over medium low heat. Brown the chicken on each side until lightly browned. Transfer to a plate or bowl.
Add the bell pepper, shallot, and garlic ginger paste to the skillet. Cook stirring for 2 minute.
Add the red chile powder and paprika. Cook stirring for 30 seconds.
Add the sake and deglaze the pan.
Add the orange juice and stir to combine.
Return the chicken to the skillet along with any juices that have accumulated on the plate. Spread the chicken out for 1 layer if possible.
Bring to a boil, lower to a simmer, cover and cook on low (at a simmer) for 15 minutes.
Remove the lid, turn the pieces over, increase the heat to medium, and cook for another 5 minutes.
After 5 minutes, if you want the sauce thicker, transfer the chicken to a plate, increase the heat to high and sift in a little cornstarch, stirring, to desire thickness. (I usually add 1/2 to 1 teaspoon*.)
Place the chicken on the serving plates and top with some of the sauce.
[/print_this]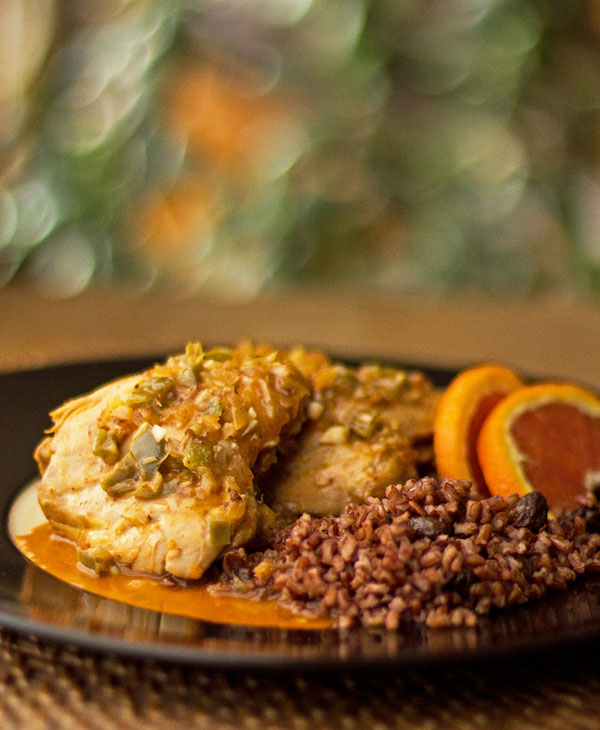 Kitchen Notes
Chicken – We usually make this with all chicken thighs so that all 8 pieces of chicken cook evenly.  However, you could use a whole chicken cut into 8 pieces.  If you do, I suggest removing all of the pieces except of the two breasts after 20 minutes. Cook the breast for an additional 5 minutes at least to ensure that the breasts cook through.
Garlic Ginger Paste – You can substitute the garlic ginger paste with 4 large cloves of garlic, minced and 2 teaspoon grated fresh ginger or ½ tsp. ginger powder.
Cornstarch – When we serve this over rice or couscous, I use about 1/2 tsp. cornstarch for a relatively thin sauce.  If I plan to serve it without a grain side, then I use 1 tsp. cornstarch for a thicker sauce.
If you like this Braised Orange Ginger Chicken, then you'll also like these chicken dishes:
Orange Tarragon Chicken Breast