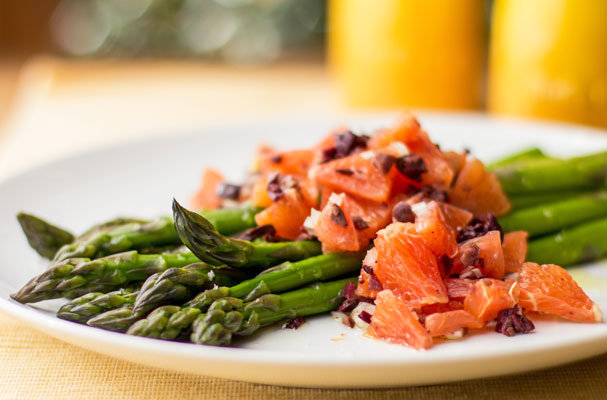 Asparagus with orange and kalamata is a light and delightful dish that I love making this time of year when there's the overlap between good quality citrus and young shoots of fresh asparagus. This dish that can be served as a warm side or cold salad.  For a warm side steamed asparagus is immediately serve with the cold orange kalamata topping.  The contrast of the hot asparagus with the chilled orange is quite enjoyable.  For a cold salad the steamed asparagus and the orange kalamata topping are both chilled at least one hour or over night.  As a cold salad, this makes a mouth calming complement to a spicy entree.
Asparagus with orange and kalamata makes an excellent lunch or dinner salad as well as a dinner side for numerous entrees.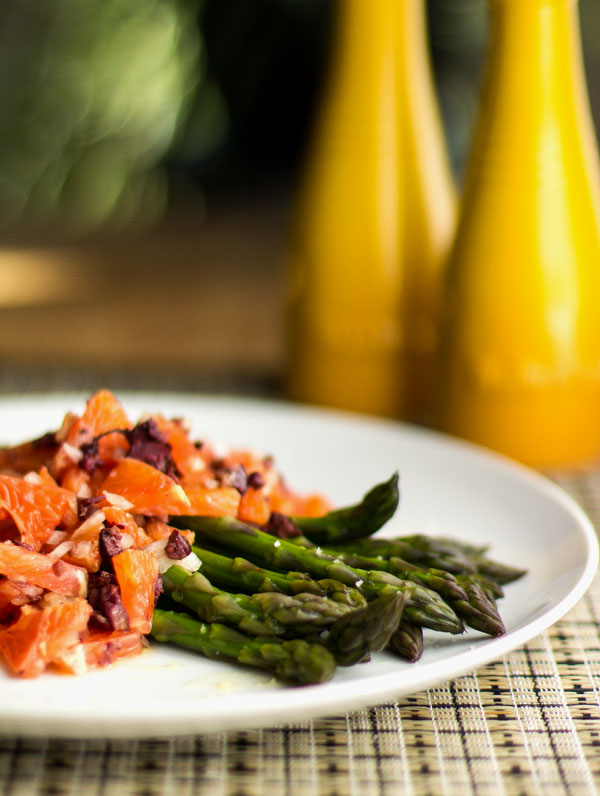 [print_this]
Asparagus with Orange and Kalamata Olive Recipe
Recipe author:  MJ of MJ's Kitchen
Serves 2
Prep and Cook time: less than 20 minutes
Ingredients
½ pound asparagus, woody ends trimmed
Water
Extra Virgin Olive Oil
Sea Salt*
Topping – Combine the following 3 ingredients in a bowl and chill

1 large orange*, peeled, wedges cut into small pieces
8 – 10 Kalamata olives, diced
1 Tbsp. minced onion
Instructions
In a skillet wide enough for the asparagus to be spread out in 1 to 2 layers, add about ¼ inch water.  Add a dash of salt and bring water to a boil over medium heat.*
Once the water reaches a boil, spread the asparagus across the bottom of the skillet, and cover.  Lower heat to medium low. Steam for 3 to 4 minutes or until the asparagus is firm but a touch tender (or to your preference).
Drain the asparagus and rinse immediately with tap water to stop the cooking process.
If serving as a hot side, divide the asparagus between 2 plates, top each serving with half of the orange topping, drizzle with oil and sprinkle with sea salt.
If serving as a cold salad, let the asparagus cool then refrigerator for at least an hour or overnight. When ready to serve, divide the asparagus between 2 plates, top each serving with half of the orange topping, drizzle with oil and sprinkle with sea salt.
Serve and enjoy!
*See Kitchen Notes
[/print_this]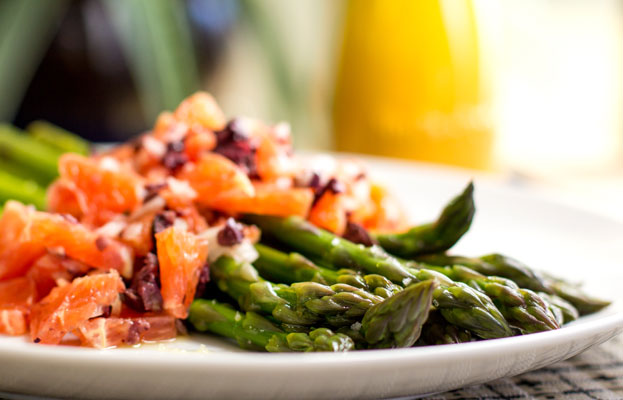 Kitchen Notes
Steaming the asparagus – I don't have an asparagus steamer or a vegetable steamer, so the method described in the recipe is the closest I can get to steaming asparagus.  If you have a steamer, then you can use it.  Just be careful not to over steam the asparagus to where it is mushy.  You want a rather firm, but not crispy texture.
The Orange – You know how I love Cara Cara oranges, so that's what I use; however, just find a really sweet, tasty orange and it will work great. This would be beautiful with blood oranges, wouldn't it?
Sea Salt – You can use regular sea salt or an infused sea salt.  When I want a little heat, I'll use a Thai Sriracha Sea Salt.  When I serve this as a hot side dish, a peppered sea salt is nice, like this Sichuan Pepper Sea Salt or regular sea salt with cracked black pepper.
A Parting Shot
The Road to Nowhere
We recently drove back to Texas and Louisiana to visit some of our family.  We usually do this drive at least once a year and sometimes two. For me, it's a drive I never get tired off. I love driving and love driving where there are big skies and big views, something you get plenty of in New Mexico (NM) and west Texas.  Below are a couple of pictures from one of my favorite New Mexico roads – U.S. Route 60.  It's only about 60 miles long and is the only road between Vaughn, NM, and Fort Sumner, NM.  It is a road that few travel making it a very peaceful drive.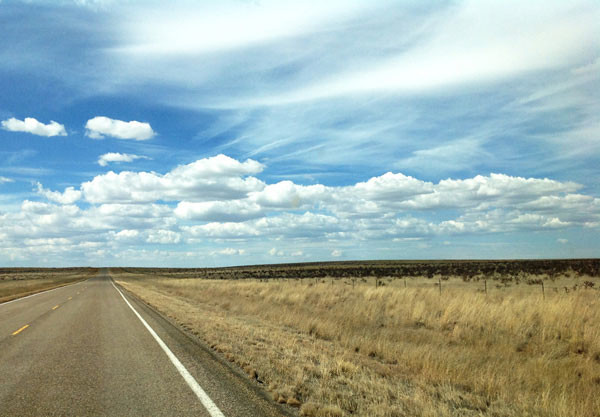 Every once in a while we get lucky and spot antelope and hawks; but most of the drive is spent enjoying the beautiful big skies and views that roll off the horizon leading to nowhere.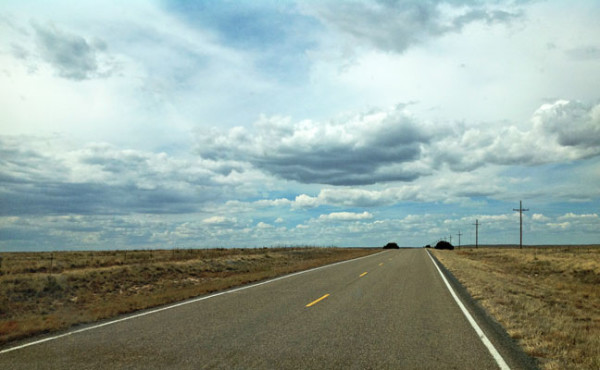 The only thing on this road besides for some telephone lines now and then and a small fence, is the tiny, mostly abandoned town of Yeso, NM. Even though most of the buildings in Yeso have long been abandoned and are ruins, there is still a working post office that is manned a few hours a week, and a few houses occupied by the handful of residents of Yeso.  Some say that Yeso is a ghost town, and having passed through it at night, I could see that as a possibility.
Hope you enjoyed seeing a little bit of New Mexico as well as the asparagus. If you did like this Asparagus with Orange and Kalamata, you may also enjoy these other asparagus recipes:
Asparagus, Chorizo and a Soft-Boiled Egg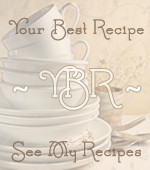 This Asparagus with orange and kalamata side has been shared with the Hearth & Soul Blog Hop.