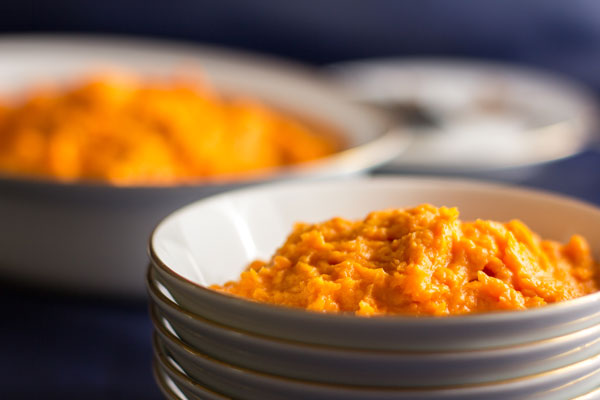 When you want a really quick and healthy side dish, reach for a couple of sweet potatoes.  Not only are sweet potatoes downright delicious, they are also full of vitamins A,  C and E, B6, iron, potassium, manganese, and fiber, as well as anti-inflammatory properties.  They cook up fast and don't need a lot of other ingredients to make them taste good because they are so sweet and scrumptious on their own.  The sweet potatoes that I buy at my local market are as about as sweet as a potato can get and you can see how orange they are.  Once mashed, they almost become florescent.
My method for making mashed sweet potatoes is to microwave them for 10 to 12 minutes, scoop out the flesh, add 2 other ingredients and blend with a hand mixer.  It's so easy!  If you'd rather not use the microwave, please be sure to read the Kitchen Notes for an alternative method.
Mashed Sweet Potatoes Recipe
Recipe author: MJ of MJ's Kitchen
Serves 4
Prep and cook time: less than 30 minutes
Ingredients
2 large sweet potatoes
1 Tbsp. butter
¼ – ½ cup milk or milk substitute
See Kitchen Notes for dairy alternatives.
Instructions
Wash and scrub the potatoes.  Poke with a knife or fork 3 to 4 times.
Place on a rack in the microwave and microwave on high for 4 minutes.
Turn over and microwave an additional 4 minutes.
Check for doneness by poking with a fork.  Continue to microwave 2 minutes at a time, turning potatoes over after each interval, until potatoes are done.
Remove from microwave and let cool about 5 minutes. Cut in half lengthwise and scoop out the flesh and transfer to a large bowl.
Add the butter and ¼ cup milk.  Using a hand mixer, blend the potatoes to desired texture. Add more milk if needed.
Reheat in microwave for 2 minutes right before serving.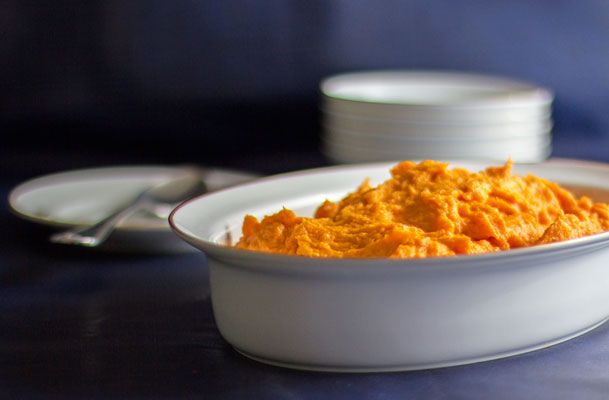 Kitchen Notes
Type of Sweet Potato – Sweet potatoes range in color from yellow to brown, violet to purple, pink to red and white to orange.  Some sweet potatoes mash easily into a beautifully creamy dish.  However, there are some sweet potatoes that are better used for other purposes.  For example, Japanese sweet potatoes…I love them roasted, but they have a stringy, tough texture when mashed.  Sweet potatoes with a red to brown skin and orange flesh seem to work best.
Butter – "If you're afraid of butter, use cream" (Julia Child). Cream can be substituted for butter and for the milk.  Just omit the butter and the milk, and add cream until you get the texture you want.  If you don't want to use any dairy, then omit the butter and use more milk substitute.
Milk Substitute – Unsweetened almond milk makes a great milk substitute for mashed sweet potatoes. I've used it many times and can't tell the difference between it and milk in the potatoes' texture nor taste.
Salt and pepper – With good sweet potatoes, you really shouldn't need any salt and pepper, but then that is a personal preference.
Cooking method – I know some people don't like to use microwave ovens, but I use mine so rarely, that I figure a batch of potatoes now and then isn't going to kill me.  However, if you don't want to use a microwave, then heat the oven to 375º F, poke the potatoes a couple of time, and roast for 30 minutes or until done.  The rest of the process is the same.
Shepherd's Pie with Sweet Potatoes – Following my  BIL's lead, I used this particular batch of sweet potatoes for my Shepherd's Pie, New Mexico Style.  It was like eating a completely different dish.  The sweetness of the potatoes was a great complement to the spicy chorizo and red chile sauce.

Speaking of sweet potatoes and red chile sauce…
If you like gravy with your potatoes, use a thickened red chile sauce.  For red chile gravy, I'll make red chile sauce from powder but cut back on the liquid by ¼ cup and cook down to a gravy consistency.  This red chile gravy is good on mashed sweet potatoes and mashed white potatoes as well.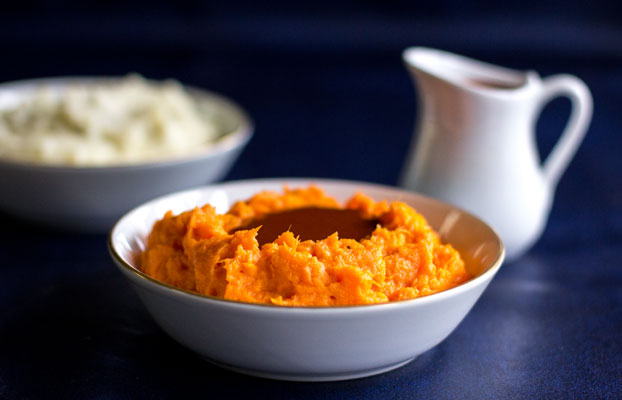 For more sweet potato dishes, check out these recipes:
Mashed Sweet Potatoes with Brown Butter and Bourbon
Spicy Orange Roasted Sweet Potatoes
Green Chile Sweet Potato Hash Browns
Massaged Kale and Sweet Potato Salad
Sweet Potato, Fennel and Andouille