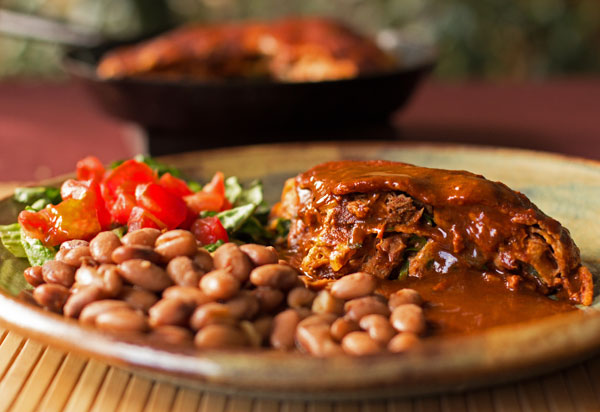 Oh…what to do with leftover carne adovada or pulled pork. In this kitchen, it's normally used to make a batch of enchiladas.  It doesn't take but about 1 cup of tender braised pork to make enough enchiladas for two people. If you have more than that, then make a larger batch and serve the whole family or family and friends.
Like with any batch of enchiladas, you can keep is simple by just using the meat, tortillas and the desired amount of chile or enchilada sauce, or, you can add other ingredients to create a complete, one dish meal. And that's what I've done with these carne adovada enchiladas. Fresh spinach and onion are added to each layer along with a little sour cream,  and, even though I don't show it in the pictures, a fried egg is placed on top along with a little more red chile.  Normally, our enchiladas are smothered in red chile, but because the carne adovada was already very spicy, I held back.
The recipe below is enchiladas for 2; however, if you have a larger family to feed, then use a casserole dish large enough for 4 to 6 corn tortillas in one layer.  Build your enchilada layers as described in the recipe until you have 2 to 3 layers.  Top the last layer with corn tortillas and either cheese or red chile sauce.  "Stacking" the layers is my favorite way to make enchiladas.  When enchiladas are made flat they are normally called "stacked" or "flat" enchiladas.  However, if you prefer "rolled" enchiladas, then build your enchiladas by placing a little bit of each ingredient on a tortilla and rolling the tortilla. Place the rolled tortillas on a plate or in a casserole dish and heat through (as described below).
Carne Adovada Enchiladas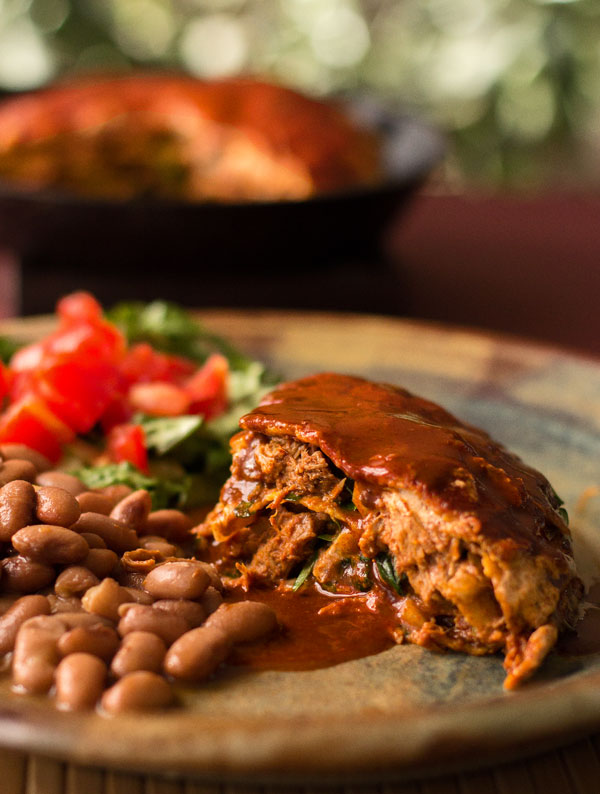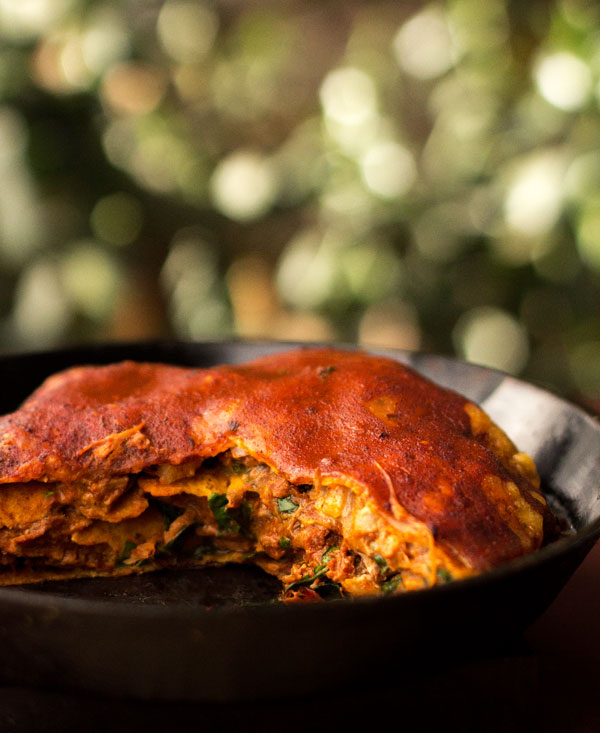 Carne Adovada Enchiladas Recipe
Meaty and spicy enchiladas.
Build these enchiladas using leftover carne adovada.
"*" See Kitchen Notes for more information or links to special ingredients.
Course:
Main Course, Red Chile
Cuisine:
New Mexico, Southwestern
Ingredients
1

cup

carne adovada,

torn into small pieces*

5-6

corn tortillas

1

cup

red chile sauce or sauce from the carne adovada*

½

bunch fresh spinach*,

stems removed, leaves chopped

½

cup

minced onion

cheddar or Montery Jack cheese,

grated

sour cream

(optional)

1

fried egg,

over easy or sunny side up per serving (optional)
Instructions
After assembling, there are two methods one could use for heating these enchiladas - microwave or oven.
For the microwave, assemble each serving of enchiladas on a microwave safe serving plate using 2 to 3 tortillas. Heat in the microwave on high for 2 minutes, remove, top with a fried egg, if desired, and serve.

For the oven, preheat the oven to 350º F. Assemble a multiple layer stack of enchiladas in a small cast iron skillet or oven safe dish using 4 to 6 tortillas. Bake for 20 minutes. Cut into serving size pieces and top each serving with a fried egg and more red chile if desired. Serve and enjoy!
To assemble a layer of enchiladas
Dip a corn tortilla in the red chile sauce (or carne adovada sauce) and place on the plate or skillet. Top with some of the spinach, carne adovada, minced onion, sour cream, and cheese or whatever you want to add.

Dip another corn tortilla in the red chile and place on top of the first stack. Assemble a second layer.

Continue stacking until you have the desired number of layers.

Top the last tortilla with cheese if desired.

Microwave or bake.

Serve with or without an egg, extra red chile, and a side of pinto beans.
Kitchen Notes
Carne Adovada – When I make carne adovada I leave the pork in large pieces. However, for the enchiladas, I'll use a fork and pull the pieces apart into smaller pieces.  Larger pieces would make these very difficult to stack or roll.
Red Chile Sauce – Sometimes I'll have enough sauce left in the carne adovada to use it as the red chile sauce.  However, if I don't, I'll make some red chile sauce from powder or use red chile I have in the freezer.  The trick here is getting the right balance of heat or spice.  Since carne adovada is usually quite spicy, be careful not to go overboard on the spice in the red chile; otherwise, you'll be needed some sopapillas and honey to put the fire out.
If you don't have red chile, you can substitute your favorite enchilada sauce.  Here in New Mexico, our enchilada sauce is a red chile sauce.
If you are using leftover pulled pork, then you will need to make a batch of red chile, either from pods or powder.  Toss the pulled pork in with the sauce OR pour a little sauce on top of each layer during assembly, in addition to dipping the tortillas in the sauce.
Spinach – Because spinach only needs to be wilted, you don't need to cook it before assembling these enchiladas.  The carne adovada and red chile have enough liquid in them to "steam" the spinach while it cooks in the microwave or oven.
Heating Method – When I want a quick meal and don't want to heat up the kitchen by turning on the oven, I'll use the microwave method.  Otherwise, I bake the enchiladas in the oven.  I find the when I bake them in the oven, I do need to add a little red chile to each serving because the sauce bakes into the tortilla as you can see in the picture above.  The microwave method usually yields a rather saucy enchilada; therefore, no additional red chile is needed, unless you want it.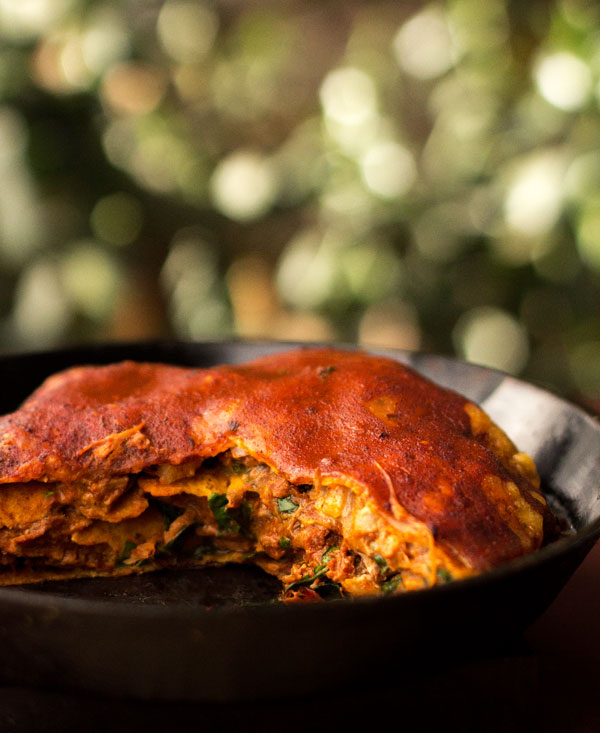 If you love these carne adovada enchiladas, then you might also like some of the other enchiladas I make:
Creating Bokeh in photographs
Recently, some people have commented on the "bokeh" in some of my photographs.  Bokeh is "is the quality of out-of-focus or "blurry" parts of the image rendered by a camera lens" (photographylife.com). The bokeh seen in my pictures is one of those "happy accidents".  Since the majority of my photography is done the a sunroom where there are some rather large plants, I have the privileged of using those plants for background.  Below on the left is a Jade Tree that sits at the end of my photography table.  As you can see, it extends above the surface of the table (on the left of the shot).  When I shoot with the plant in the background, I can create bokeh with my depth of field setting (aperture) or f-stop.  For the picture in the middle, the f-stop was at f/1.8.  For the picture on the right, it was f/16.
Since I normally shoot in the afternoon when the light is the brightest in the sunroom, I use a diffuser in the window next to the photography table and let the sun shine bright on the jade.  And thus my happy accident is created.